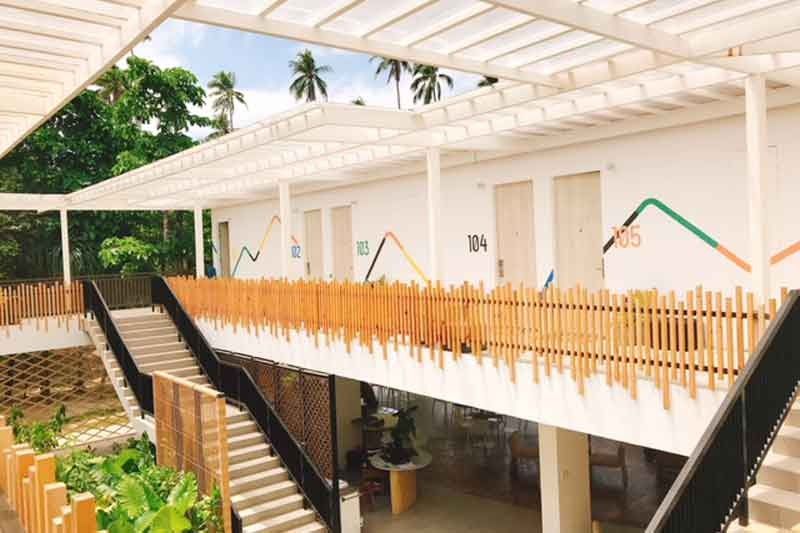 Made for millennials: Hotel Covo, built by Ed Calma
Text and photos by Therese Jamora-Garceau
Lio has it all for millennials: Beach, boutique hotels & an artisan village
(The Philippine Star) - April 7, 2018 - 12:00am
With its young, fun, stylish party vibe, the town of Lio in Palawan is like Boracay if Bora had followed all the laws of conservancy and protected the environment instead of succumbing to rampant commercialism.
As it stands, Lio is a model of what a resort village should and could be: a mixed-used development built around a long stretch of blue-water beach with B&Bs, low-rise boutique hotels that are no taller than the coconut trees, a strip of restaurants and shops, and an artisan village that showcases Palawan's arts and crafts.
On our way home from Apulit, we visited this artist's village first. Kalye Artisano is the pet project of Bea Zobel Jr., who brought local artists together to form this collective of six stores that feature products from all over the Philippines.
"We have Art on the Move, a gallery with El Nido-based artists," notes Rambie Lim, Kalye Artisano's development maven. "Jojo Asiano works with indigenous artists all over Palawan."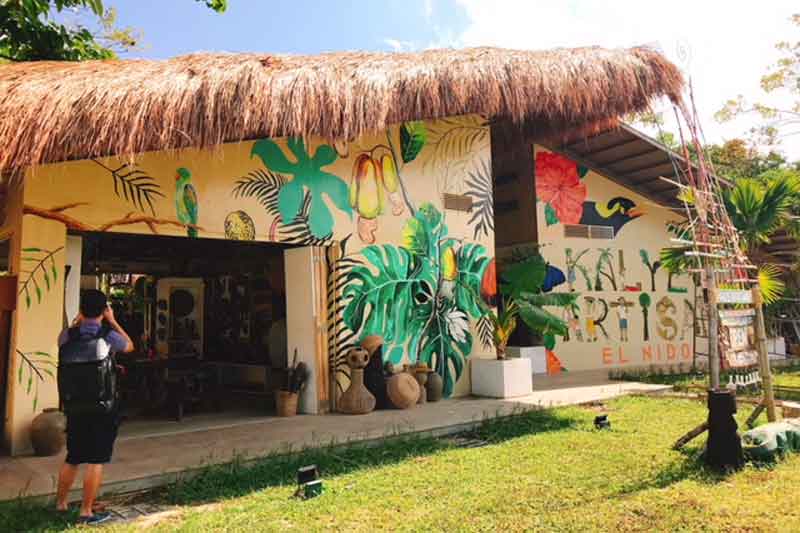 Kalye Artisano is the pet project of Bea Zobel Jr. and her daughter Paloma
She says Palawan artists specialize in basketry, as well as handcrafting natural materials into bags, fans, home decor and bamboo drinking straws.
Kalye Artisano has a workshop area where they hold talks, and this year they plan to open a flagship store for Piopio, Bea Jr.'s daughter Paloma Urquijo Zobel's line of resortwear; a restaurant with partner-chef Chele Gonzalez called Josele; a long-term hostel and "co-working space," Niknik Bar and an "experience desk."
"We pick experiences that are good for clients and recommend them," Lim says, "and we're also developing land-based tours."
We then head to the three boutique hotels adjacent to each other: Casa Kalaw, Hotel Covo and Balai Adlao, which together comprise 100 rooms, including the El Nido Resorts.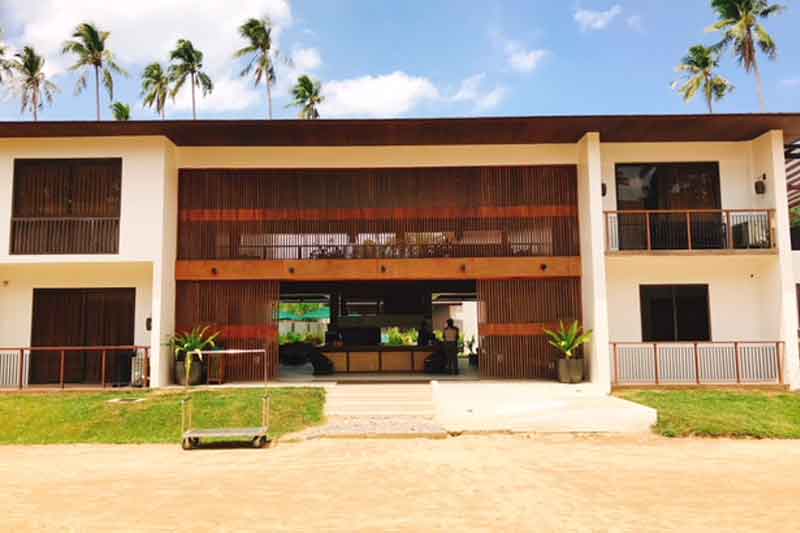 The
façade

of Casa

Kalaw

, designed by architect Andy Locsin
"Casa Kalaw was built by Andy Locsin for families and balikbayans, so there's a pool, meeting rooms and a restaurant with family cuisine," says Marian Isabel Reyes, project development head of Ayala Hotels & Resorts. Per night, a room costs US$120 dollars.
"Balai Adlao was built by Conrad Onglao for the long-staying European market," she continues. Rooms are $100 a night. "Hotel Covo was built by Ed Calma with interiors by Edwin Uy, who's done hostels for millennials so it's hip and colorful, for $80 a night."
Seda Lio will soft-open by May and officially open by June 2018, offering rooms at $150 to $200 dollars a night, compared to El Nido Resorts' more premium $350-800 per room per night.
On the opposite end, "We want to build a real hostel because it's a travel trend but not beachfront, for P1,500/bed or P3,500/room," Reyes says.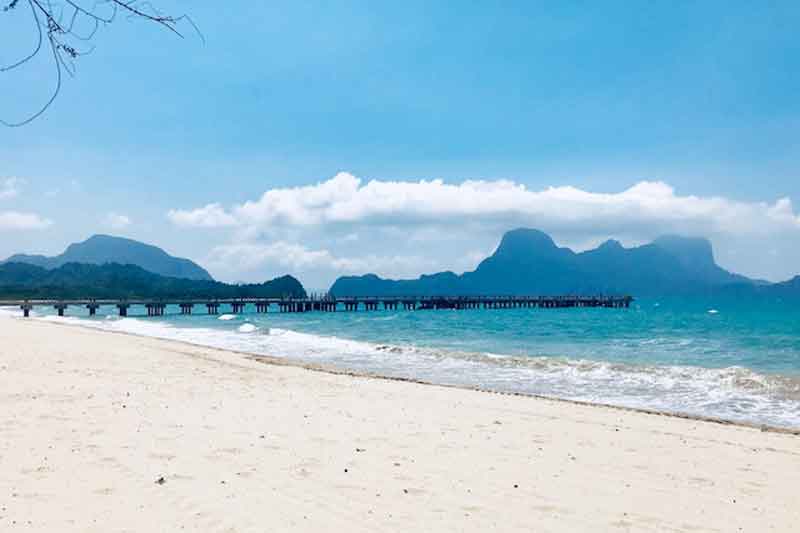 Lio

beach in Palawan attracts a millennial crowd of foreigners and locals.
The beachfront promenade features 22 dining and shopping outlets (and one spa), including Fat Choy for crisp and juicy Taiwanese fried chicken and other Chinese dishes; Globy Bar & Resto for homemade nachos and tortillas and other international faves; Pukka Bar for ceviche, BBQ ribs and cocktails; D'Factory by L'Assiette for French desserts like crème brulee, chocolate mousse and their bestselling mango cheesecake; Manille Beach Bar featuring hip cocktails using Destileria Limtuaco's local liquors; El Nido Grill's garlic crab, grilled unicorn fish and BBQ pork belly; Pizza Amore's pizza, pasta and calzones; Pair A Dice's burgers and cocktails; and Seafood Island's bounty from the sea.
While the Lio Tourism Estate encompasses 325 hectares, only 45 percent will be developed. In the rest Ayala Land will let nature take its course, though guests will be able to savor it via bamboo biking, kayaking, hiking nature trails, visiting mangrove forests and bathing in hot springs.
"We're building a town, basically," Reyes says, "with a church, a market, a drugstore and a bank to attract locals from the neighboring community."
* * *
Follow me on Instagram @theresejamoragarceau, Facebook (Therese Jamora-Garceau), and Twitter @tjgarceau.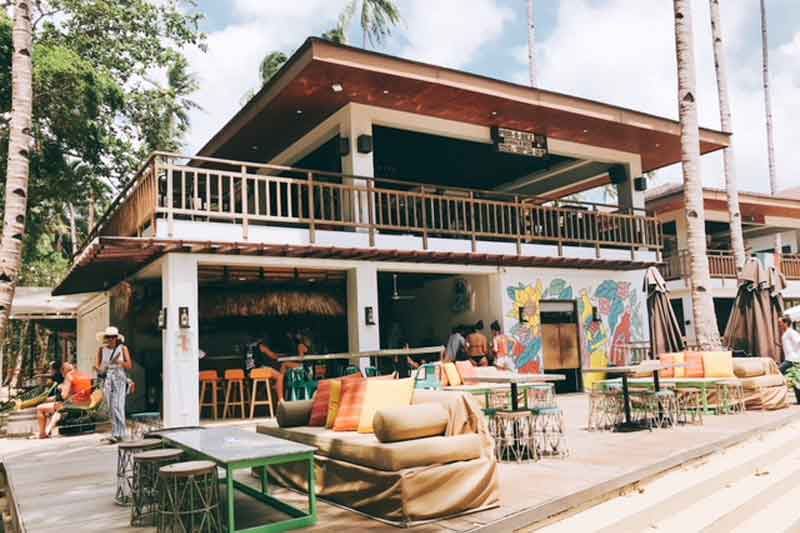 The
Lio

beach promenade includes 22 restaurants, the

Shops@Lio

and a spa.