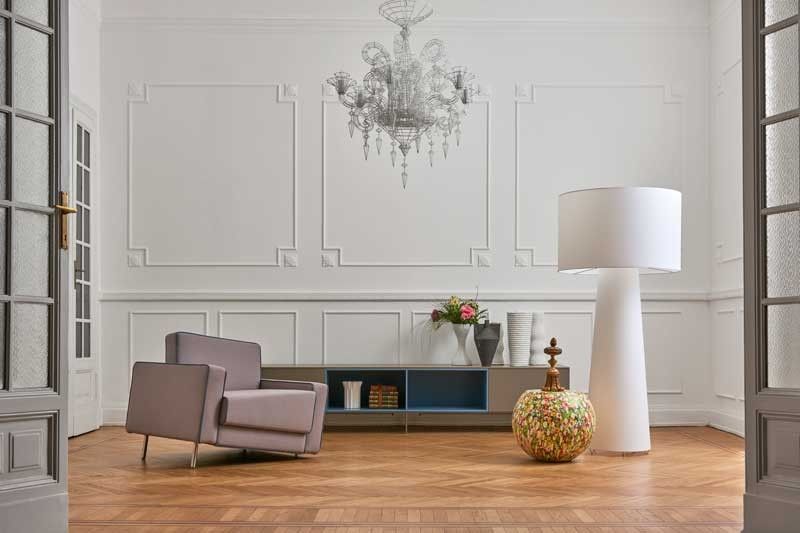 Adaptation chair by Fabio Novembre, Brest Giorno cabinet by Giulio Cappellini, Big Shadow floor lamp by Marcel Wanders
Giulio Cappellini & the future of design
(The Philippine Star) - March 17, 2018 - 12:00am
If there was one person who knew the future of Italian furniture design decades before the classic curves straightened into lines, it was Giulio Cappellini — the man who turned his father's furniture factory from producing classic pieces to contemporary furniture, the man who introduced Jasper Morrison to the world and other then-unknown designers.
He was in Manila recently to launch the book The Cappellini Method, a Performing Dream by Francesca Serrazanetti, a book that talks about Giulio's vision of design for today and the future. We sit down with Giulio at Studio Dimensione at One Parkade in BGC as he relates the story of that first meeting with Morrison.
Morrison had just graduated from the Royal College of Art and was at the 23rd anniversary of Zeev Aram's showroom in London, which featured ideas and innovations from new graduates. Morrison's The Thinking Man's Chair, which he designed the year before for a trade show in Japan, was on show.
The chair spoke to Giulio, who obtained Morrison's address from the college. "So I dropped in at Jasper's home studio and told him I had seen the prototype and wanted to produce it. I remember he stood gazing at me in astonishment, drinking a glass of water and saying nothing. I suggested he come to Milan and offered him a plane ticket for the following day."
Morrison flew the following week instead "and over a dish of pasta, a partnership was born," which has continued for 31 years.
"In our meetings, we end up talking an hour about his designs and three hours about the company. Jasper has had and continues to have a vital role in Cappellini."
The piece — an easy chair with armrests in varnished metal, frame in tube and back in flat bars — was exhibited the following year at Salone del Mobile 1988, and became Morrison's "first success and Cappellini's opening move on the international stage."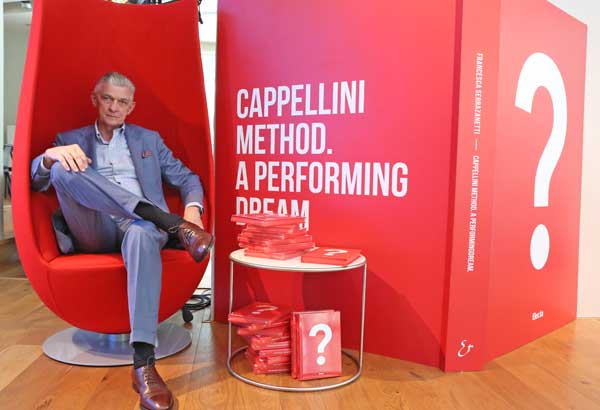 Giulio Cappellini in a Tulip chair by Marcel Wanders: "Our aesthetic is freedom. Cappellini can be minimal or maximal." The red background is the cover of the book by Francesca Serrazanetti. Cappellini's collections are available at its showroom in Studio Dimensione, One Parkade, BGC. Photo by WALTER BOLLOZOS
That move to export Cappellini's collections was spearheaded by Giulio, who had just joined the company and embarked on a hunger strike till his mother said yes – well, almost.
He relates, "My father was taking care of production, my mother the administration. I told them, 'We cannot sell only in Italy, we have to look around and start to export.' My mother was very upset, she said, 'Why do we have to export?' For three days I didn't eat until she said yes."
Needless to say, his parents were very satisfied at the results. What started out as a 15-employee classical furniture producer became a worldwide brand. Today, Cappellini's turnover is 85 percent export, doing strongly in North America and an emerging Asian market; globally Europe is only 30 percent. What's more remarkable is that Morrison's designs represent 50 percent of the company's turnover.
I'm sure you've seen Cappellini pieces in airports, hotels, offices and VIP lounges around the world.
Giulio says, "I've met in my life a lot of unknown young designers at the beginning of their careers like Jasper and Marc Newson, and also very well established architects and designers like Achille Castiglioni and many others. I like discovering talent."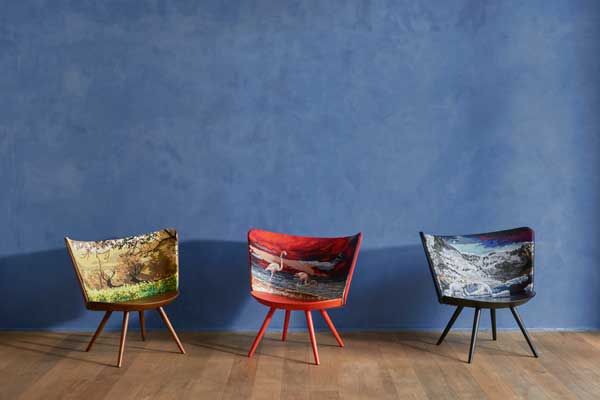 Embroidery armchairs by Johan Lindsten
He receives about 200 projects from designers every month. Sometimes, it's just a sketch or a prototype. "Sometimes, I speak to a designer and think, okay, I cannot work with this person. But if there is the right feeling with a designer, you can do a lot of good things; if that isn't present then it becomes very difficult to do a project. From the first draft to the final product, it takes years and sometimes we have to change the design due to technical or production problems. The choice always comes from my gut and the human relationship is very important."
As much as he has an eye for talent, he also has the sensitivity on how to bring together designers that would have never worked with each other, like Morrison and Philippe Starck.
"In one exhibit, the floor was by Jasper, the ceiling by Philippe. They didn't know they were working together. I was telling Jasper, so work on the floor, and he was asking me, 'What is going on in the ceiling?' I told him, oh I just put some lights there. And Philippe was asking me, 'What is going on in the floor?' When they came and saw the two things together, they wanted to kill me in the beginning, then they shook hands and became friends."
Last year, Cappellini began working with Apple Computer for their Cupertino campus. They sold 40,000 chairs by Morrison for Apple stores around the world.
It would seem that Apple and Cappellini's design aesthetics are the same — those clean lines and minimal but sexy curves — but Cappellini is more than modern.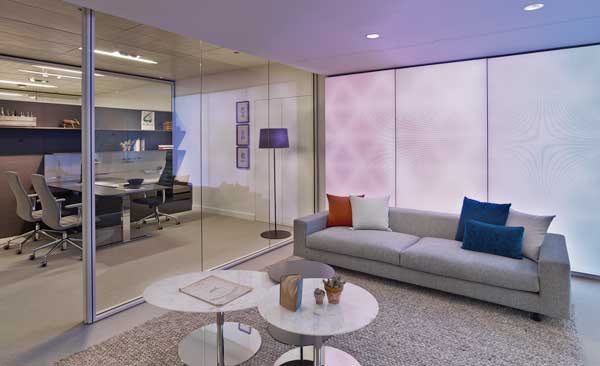 Petit Quack sofa by Giulio Cappellini
"Our aesthetic is freedom," says Giulio. "Cappellini can be minimal or maximal. When you think of the designers we work with, you have the minimalist of Jasper, the organic of Marc Newson and the decorative design of Marcel Wanders. I like working on projects that connect all the company design by all these designers. People like to use different styles — maybe a simple table and more decorative chairs. In the past, people wanted to have exactly the same house like their friends', now they want to have exactly the opposite, they want to live in a home and work in an office that reflects their own identity. When people ask me how my house looks like, I say it's like myself, it's a mix. I collect contemporary art, paintings and sculptures and books. I have Cappellini pieces for sure, but also other products. I also have some Filipino pieces."
Giulio reflects on the difference between a designer piece and a great designer piece, saying, "Good design creates bestsellers, great design creates long sellers. When people see a product still in the market after 10 or 20 years, then they know it's a good design."
A designer himself, Giulio has created some long-lasting pieces for Cappellini, including sofas and chairs, consoles and bookshelves. Born and raised in Milan, he trained first under one of Italy's biggest architects, Gio Ponti.
At Milan's Design Week in April, he will launch his redesign of the San Pellegrino bottle and label. "This collaboration is really important because it's promotion for both brands. From April 1, 15 million San Pellegrino bottles will be sold worldwide."
On Milan's influence on his design, he says, "There is the old Milano and the new Milano. Milano is really changing a lot. It was considered an old city, but now we have the new area with new buildings and a new energy. There is a lot of attention on Milan from the creative point of view, for design, for food and fashion. It's the city to be in. We have design schools and students coming from all over the world, it's becoming more international outside of fashion. Rome at this moment is a little bit dead, it has a lot of problems; but Milano is very dynamic."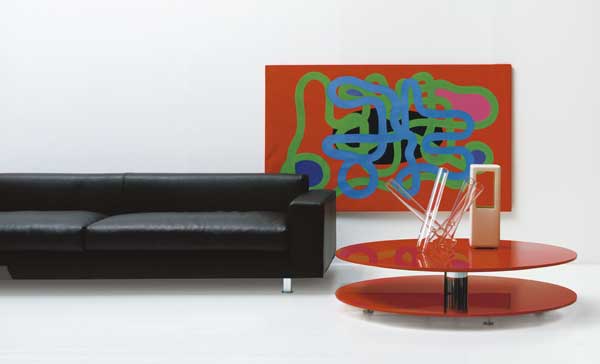 Altavilla coffee table by Giulio Cappellini
While Milan is famous for its fashion, Guilio says it's design that pulls in the visitors. "About 30,000 to 40,000 people come for Milan Fashion Week. For Design Week, last year we had 400,000 people. There is Salone in the fairgrounds, but so many things are going on everywhere. It's in all parts of the city. In fact, sometimes people come only during Design Week and say, 'Wow, Milan is fantastic.' But I say, laughing, it's not always like that."
In April, Cappellini is launching new collections. "It's the busiest week for Milano, we have customers, the press, museum directors and designers."
Even as he has his pulse on design's future, Giulio also likes to look back on the past. Asked what his fave building in the world, he tells me, "Because I had worked with Gio Ponti, it's the Pirelli Tower in Milan, which was the city's first skyscraper. It's 60 years old and it's still fantastic!"
* * *
Cappellini's showroom is located at Studio Dimensione, One Parkade, BGC. Call 856-6756, 856-6755.
Visit the author's travel blog at www.findingmyway.net. Follow the author on Twitter and Instagram @iamtanyalara.