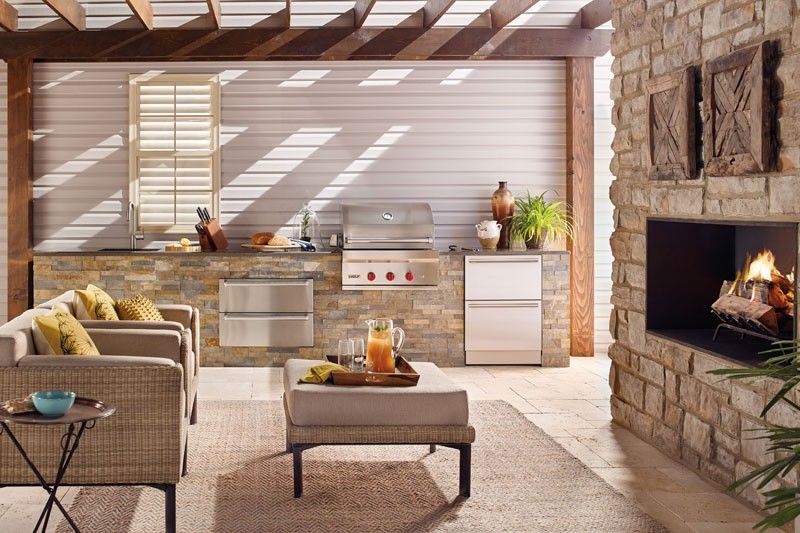 Outdoor grilling just got hotter
If you're the type who likes to entertain friends outdoors —because everything tastes better grilled and al fresco and with a cold drink — you now have more reasons to plan those summer picnics. Focus Global with multi-awarded chef Tony Boy Escalante of Antonio's Tagaytay last week launched a collection of luxury outdoor grills and warmers from Wolf, and refrigerator drawers from SubZero.
There's something about grilling outdoors that gets everyone participating in the activity. It's informal, it's fun and festive, and unlike in the kitchen, no one minds that there are too many cooks around the grill.
Wolf's new products are not your ordinary barbecue grills — these appliances are so gorgeous they'll make you design your patio around them — or build a patio! Like their indoor counterparts, the appliances marry form and function with their signature looks — the red knobs of Wolf and the modern lines of SubZero — and have the same quality of craftsmanship and performance.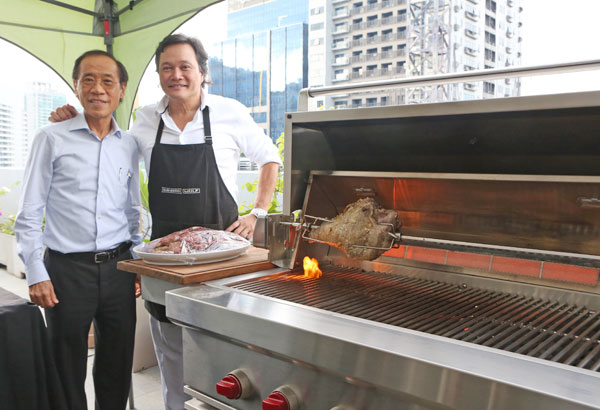 Chef Tony Boy Escalante of Antonio's Tagaytay and Focus Global founder and president Stephen Sy Photo by WALTER BOLLOZOS
Tony Boy's passion for farm-to-table cuisine (he started his own farm to supply his restaurants, which he purposely located out of Manila) is in line with both brands' philosophy, making him the perfect chef to grill-test the collection.
Winner of the Manitowoc Restaurateur of the Year award from the World Gourmet Summit in 2014, Tony Boy cooked the quintessential summer menu for the launch. He grilled spare ribs and burger sliders with freshly baked cornbread buns, made pulled pork sliders, and roasted a leg of lamb on the rotisserie. His sweet potato chips were accompanied by pecorino truffle dip; his corn tempura came with red pepper marmalade; and he made an array of salads that included watermelon feta arugula, German potato salad, Waldorf salad, mixed mesclun salad, risoni salad, grilled beef slides with caramelized onions and gruyere.
There was a taco bar where guests — mostly architects and designers — had a choice between fish finger and black prawn tempura filling. For dessert there was Antonio's homemade ice cream (panna with olive oil and sea salt, roasted pistachio, blackberry with sage cream, salt and pepper caramel, roasted strawberry, dark chocolate), chocolate blocks (hazelnut dark, rocher, dark orange and ginger, macadamia white), and assorted macarons.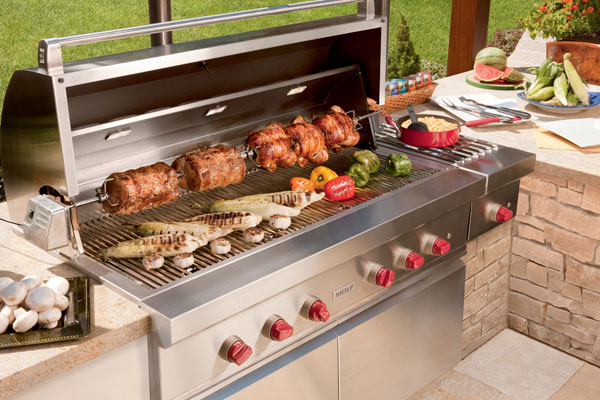 The 54-inch grill with burner module lets you do everything at once — grill, roast, cook.
The chef's favorite thing about the grill is the infrared sear zone to seal the juices and flavors of the meats. "It's separate from the grill, so I can sear and then grill or vice versa." He also loved the easy-to-control temperature. "The perfect temperature for grilling is about 200, but you can make it higher."
Wolf's grills ensure even temperature with direct heat from powerful gas burners that's evenly absorbed by a layer of ceramic briquettes that then distribute uniform heat to the top surface. The grill has individually contained grill burners that give you the freedom to work with varying temperature zones, so you can crank up the heat while grilling burgers, and carefully brown buns on a more medium setting — all at the same time. Once the meats are done, you can keep them warm in the warming drawer.
It comes with a rotisserie system and infrared burner too, so you can rotate whole chicken or even a leg of lamb without a hitch.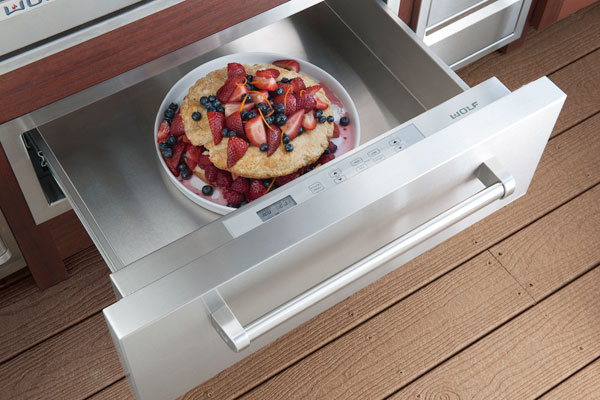 Thirty-inch outdoor warming drawer
The grills come in four sizes — 30-inch, 36-inch 42-inch and 54-inch models. They can be installed built-in to your outdoor cabinets or stonework, or you can choose to keep it mobile and freestanding with a cart accessory. If you need more cooking space, additional 13-inch burner modules can be purchased, making side dishes and sauces a breeze to prepare.
Tony Boy's rule of thumb when it comes to the perfect grill: "You have to have good quality meat. "
SubZero's outdoor-rated refrigeration drawer is engineered to take on sizzling summer days or ambient temperatures of up to 43-degree Celsius with its cladding of heavy-gauge stainless steel that withstands UV rays, salt and moisture — elements that would corrode lesser quality materials. The drawer is efficiently sealed to lock in cold, chilly air, ensuring maximum freshness for food stored inside. It was built to create an ideal low-temperature, high-humidity environment that's key to optimum preservation.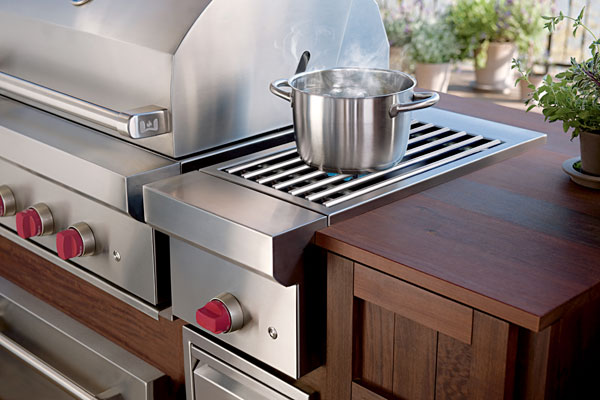 A 13-inch burner module if you need more cooking real estate so you can cook sauces at the same time you're grilling
Available in a 24-inch width, the Sub-Zero refrigeration drawer can find a place in even the smallest corner of your outdoor living area.
"Grilling is such a great thing. While you're cooking, you're entertaining. It's a very relaxed process and a drink always helps," Tony Boy said.
* * *
Visit the author's travel blog at www.findingmyway.net. Follow her on Instagram and Twitter @iamtanyalara.
Focus Global is the exclusive distributor of Wolf and SubZero. Its showrooms are located at The Residences at Greenbelt, Makati; Twenty-four Seven McKinley Bldg., Taguig; Pioneer corner Reliance Streets, Mandaluyong; and The Design Center of Cebu, P. Remedios corner A.S. Fortuna Streets, Mandaue City.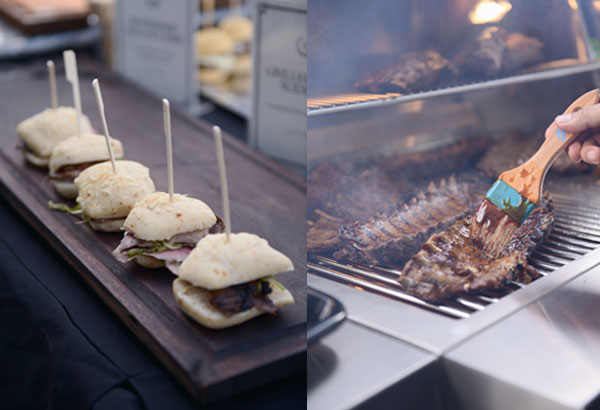 (Left) Chef Tony Boy Escalante's grilled beef sliders with caramelized onions and gruyere. (Right) Smoked pork ribs