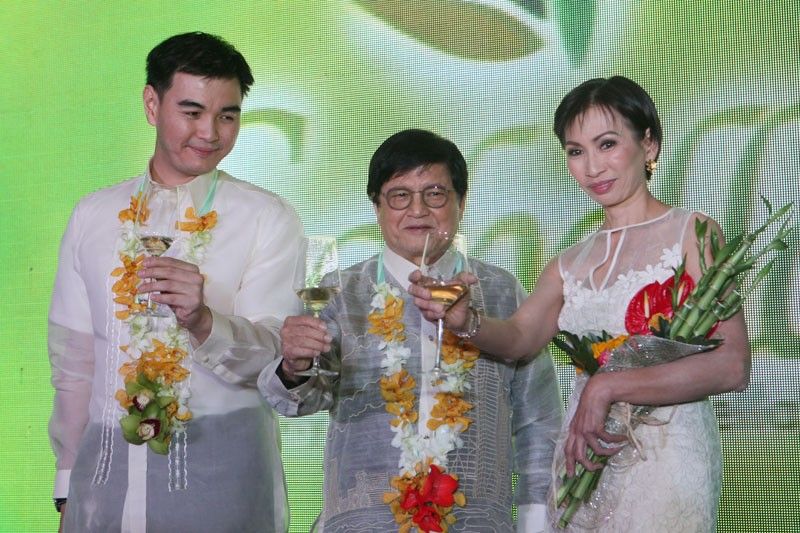 A toast to Sabella: MyCitiHomes vice president John Philip Wang, Palafox Associates founder and principal partner architect Felino "Jun" Palafox, Jr., and MyCitiHomes president Rosie Tsai toast the successful launch of the property developer's latest community, the 47-hectare Sabella in General Trias, Cavite. Photos by JESSE BUSTOS

MyCitiHomes, Palafox to build self-sustaining community in Cavite
MANILA, Philippines — General Trias, a first-class component city in Cavite, is fast becoming the next popular bedroom community for people looking to settle in the province. With large portions of the city still undeveloped and its increasing urbanization and gentrification, real estate developers are finding the city as the ideal place to locate their projects.
The city borders the largely pastoral municipalities of Amadeo and Silang; thereby, there are portions of GenTri that are still composed of farmlands and pasture. One such locality is Barangay Panungyanan along the Amadeo-Tagaytay Road. Compared to other barangays in the city, it has a higher elevation due to its proximity to Amadeo and Tagaytay and enjoys a cooler climate similar to the latter place.
This quaint barangay in the outer reaches of GenTri will be the site of a new township being developed by MyCitiHomes, one of the country's fastest growing real estate developers, in partnership with Palafox Associates, one of the country's most distinguished architectural and urban planning firms.
A Well-Positioned Township
The township, which is named Sabella (from the Hebrew word, meaning "pledge to God), will rise in a 47-hectare piece of land in Barangay Panungyanan just beside the Amigonian Fathers Pacience Hidalgo Laurel Youth Center. It is the largest community development from the rising property developer. The project site is just a 15-minute drive from Governor's Drive and from it, Tagaytay is just another 23-minute drive.
With such location, future Sabella residents can easily reach the educational, commercial, recreational, health and religious establishments in both General Trias and Tagaytay. Along Governor's Drive, there are malls such as Waltermart, V Central and SM City Trece Martires. There are also several schools and colleges like the Lyceum of the Philippines-Cavite Campus, Philippine Christian University-Cavite, and the AMA University Cavite Campus. In times of medical emergencies, Gentri Doctors Medical Center and Gentri Medical Center and Hospital can be immediately reached as well.
Through Governor's Drive, Aguinaldo Highway, and the Cavite-Laguna Expressway that is currently being built, Sabella residents can easily reach Metro Manila in just 45 minutes, thus making the township an ideal retreat for cosmopolitan workers. It is also the right bedroom community for those working within Cavite since it's near the major industrial zones such as the First Cavite Industrial Estate and the Gateway Business Park, also in General Trias. Whether they're working in Metro Manila or within Cavite, prospective buyers will definitely find Sabella an investment worth making.
Union of Man-Made and Nature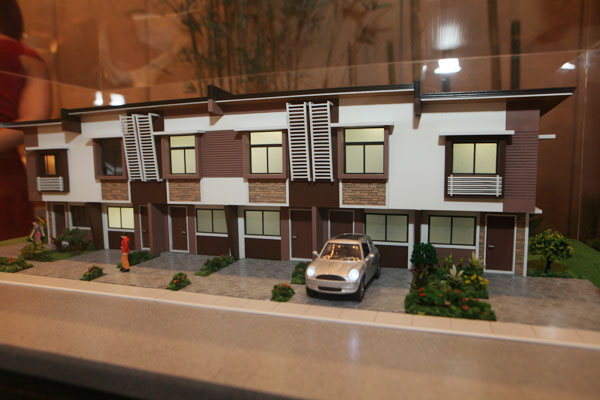 The two-storey Aliyah townhouse is also available in Sabella.
There are numerous townships and subdivisions in Cavite, but what sets Sabella apart is its seamless union of the built and the natural environment—a principle in sustainability that Palafox Associates is well known for. It became one of the top architectural and urban planning firms in the country for espousing such principle in many of its projects. Its principal architect and urban planner, Felino "Jun" Palafox Jr., has always worked on projects using the triple bottom line principle of "people, planet and profit." As the architect who made conceptual master plan of Sabella, Palafox also applied the same principle to the township.
As such, only 15 hectares out of the 47 hectares of Sabella are dedicated to housing. A three-hectare portion is allocated to an eco park that features a man-made pond and lush foliage and vegetation. The remaining land will be put on reserve for future residential and commercial expansions.
The eco park will feature several amenities that would enable future community members to be at one with nature and experience activities such as boating, fishing, greenhouse gardening, team building, ziplining, wall climbing, trampoline, arts and crafts, and retreats.
"Our partnership with architect Palafox is part of our intention to level up. My vision for the community is for residents to be more engaged in community activities and have a stronger sense of responsibility for the environment, and since architect Palafox is well known for that, we reached out to him and we collaborated in designing the master plan of the community," MyCitiHomes president Rosie Tsai explained.
Aside from the eco park, Sabella will also have other basic amenities that address the other needs of the community. The gated township will have a guarded entrance, a community chapel, a central park with trees, plants, playgrounds and picnic grounds, a swimming pool, jogging and biking paths, and a multipurpose clubhouse.
With these amenities, Sabella residents will be encouraged to be a more truly welcoming and participatory community. The community greenhouse garden will enable residents to plant fruits and vegetables, which they can consume or sell to their neighbors in community markets. Boating and fishing activities can encourage parents to spend more time with their children in outdoor activities. Arts and crafts and retreats can also hone community members' artistic skills and spiritual life.
"Within the village, there will be a growing bayanihan spirit of communal unity and cooperation. All these will surely bring about pride of ownership and a sense of contentment," Tsai said.
Low-Density, Affordable Community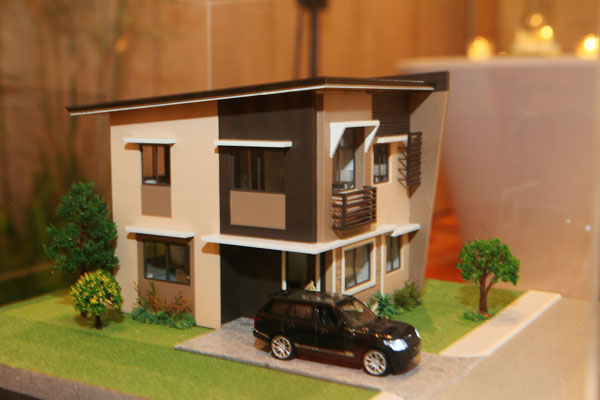 The Callista two-storey, single-attached house is one of the model house units on offer in Sabella.
MyCitiHomes recently launched the township in a grand ceremony at the Fairmont Hotel in Makati, and will have its official groundbreaking by May 2018. Project completion and turnover is expected by 2020.
During the event, the company revealed that out of the 15-hectare portion of Sabella dedicated to housing, it plans to build 1,800 townhouse and single-attached units.
The two-storey Aliyah townhouse has typical lot areas of 50 square meters for inner lots and 75 square meters for end lots. The house has a floor area of 54 square meters, three bedrooms, toilet and bath and provision for one-car garage.
For larger families, there's the two-storey Callista single-attached unit. It has a floor area of 81 square meters on a 100-square meter lot. Inside, there are four bedrooms, two toilet and baths, and a provision for two-car garage.
The prices of both housing options range from P1.7 to P2.4 million depending on the family's budget and space requirement. These can be paid through several financing options, such as Pag-IBIG, bank, and in-house financing.
Sabella is the product of MyCitiHomes' 12-year experience of developing affordable housing communities on the outskirts of Metro Manila. To date, it has completed 18 community developments, with Sabella being their largest project. These communities have become successful and self-sustaining communities that have provided its residents with the best quality of life possible.
With such an idyllic and strategic location, and with the tested experience and reputation of MyCitiHomes, buying in a home in Sabella is an investment that will surely be worth every penny.