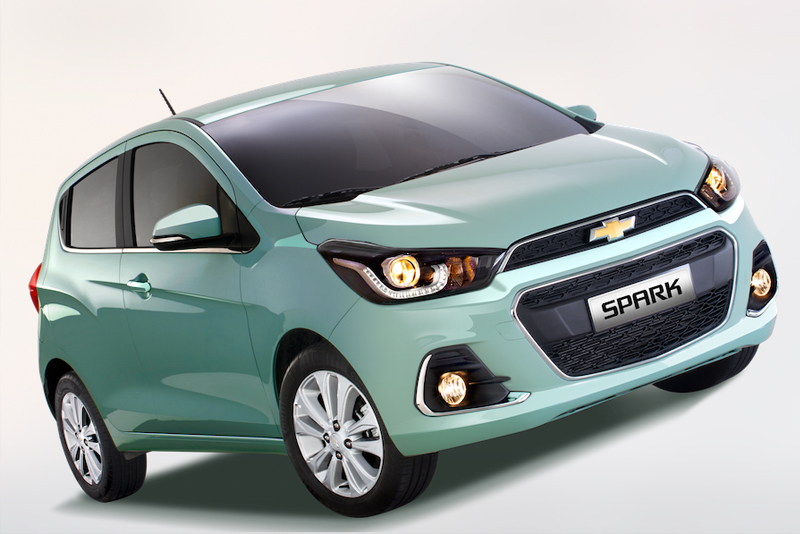 Cute and tough, too: The all-new Chevrolet Spark
A Spark in my connections
Cute.That was the first thought which popped into my head as I looked at the Chevrolet Spark that I was going to take me around Metro Manila for a week.
I was fortunate to be given the Chevrolet Spark 1.4 LTZ, the top-spec variant of the new-generation Spark. And I was excited about this test drive because I had read up a little about the tech connections I could make on this nifty cutie.
I stepped into the cockpit and, before I started the engine, I took a good look at the cockpit to check out just what techie connections I could make with my ever-reliable smartphone.
I was not to be disappointed as the all-new Chevrolet Spark is loaded with a 7-inch touchscreen MyLink Infotainment System. The good part: it was easy-peasy to sync my smart phone with the system through pairing and with mirroring. I was able to use my smartphone and stay connected to the world while still keeping your eyes on the road and hands on the wheel.
It also has a new smart feature: heated and power-folding side mirrors that give drivers added convenience and help keep them aware of their surroundings at all times. Plus, keyless entry makes locking and unlocking the vehicle a simple "press of a button" affair.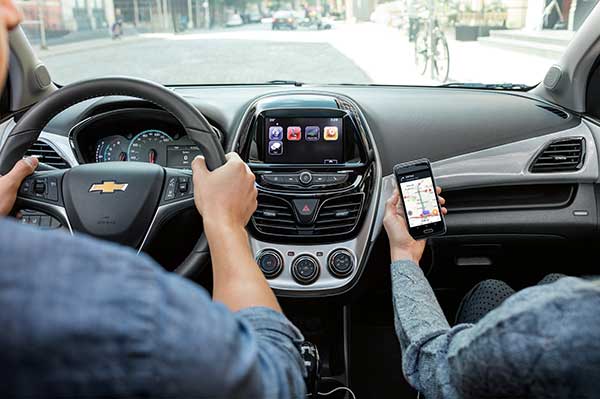 Stay connected: The 7-inch touchscreen MyLink Infotainment System

If there is one thing that I have learned about driving in the always-traffic laden streets of the metro, it is this — I need to have my gadgets connected to devices that allow me to use them and not have to hold them or look at them as I drive. Traffic enforcers are always on the lookout for drivers (like me) who are holding on to their smartphones as they navigate through the traffic.
Well, the Chevrolet Spark was lighted in my direction because as soon as I had synced my smartphone it was time to get going.
Spark and fly
It was time to get the motor running and so I did.
There is nothing more fun to me than getting behind a first time test-drive unit — except perhaps spending time with my pets or working out in the gym.
The engine was humming (since I was headed out to a new place in the Quezon City area I made sure to Google maps my way there), and thank goodness for the quick and easy route that the console showed me.
The all-new Chevrolet Spark that I was driving was powered by 1.4L DOHC L4 DVVT engine — perfect.
I was in awe at how nimble the Spark is. It is one of these really small cars that handle perfectly in our traffic-laden roads.
Green — Mind My Mind Green — is what the color of the unit that I drove is called. The all-new Chevrolet Spark sports a brand new look with its fun color, LED daytime running lights, and 15-inch alloy wheels.
As I drove, I recalled the first Chevrolet Spark I saw, which must have been over a decade ago. The Spark was a small, no-frills city car. Back in the day, the compact Chevy provided the basic transport requirements for those who needed to get in and around town.
The Covenant Car Company Inc. (TCCCI), the exclusive importer and distributor of Chevrolet automobiles and parts in the country, unveils this next-generation Chevrolet Spark. It is sleek, offers a peppy performance, and makes people take notice.
The Spark is definitely in its finest form.
I also noticed how the Spark is longer, wider and lower. The all-new Chevrolet Spark boasts a sportier stance that makes a bold statement. This is highlighted by Chevrolet's signature dual-port grille flanked by large sweptback projector-type headlamps with LED daytime running lights. The face alone conveys a truly confident demeanor.
15-inch alloy wheels that give the mini car its confident stance further enhance the Spark's good looks. The added exterior dimensions pay off handsomely in terms of interior room. The larger cabin means more space for you and your passengers to lead an active lifestyle. The hatchback configuration with flexible 60/40 split-folding rear seats allows various cargo and passenger arrangements. It is the perfect vehicle for the millennial on the move.
Putting that power to the front drive wheels is Chevrolet's vaunted Continuously Variable Transmission (CVT). The smart gearbox offers quick response while maximizing fuel efficiency. An Electric Power Steering System that makes quick work of tight city streets while remaining stable and composed out on the open road guides the engine-transmission combo.
Looks like we made it
I finally got to my destination in Quezon City after over an hour on the smaller streets of Pasig, San Juan and Quezon City that Google maps led me through. I was a bit tired — but happy, too, because the Spark made the drive easy.
A few more things to consider: the all-new Chevrolet Spark promises to protect occupants and pedestrians with its extensive suite of safety gear. Apart from the usual dual SRS airbags and antilock braking system (ABS), the little Chevy gets traction and stability control, as well as anti-theft alarm and immobilizer. The former keeps drivers in control during slippery conditions, while the latter set protects your precious investment while parked.
The all-new Spark is also backed by the Chevrolet Complete Care Program to give the motorist on the move a worry-free drive. The all-new Spark comes with the Chevrolet five-year warranty program or 100,000 kms. (whichever comes first); automatic enrollment to the 24/7 Chevrolet Emergency Roadside Support for three years; access to 24/7 Customer Care Hotline; as well as guaranteed one-hour express service for select services; and non-stop service for the always on-the-go motorist.