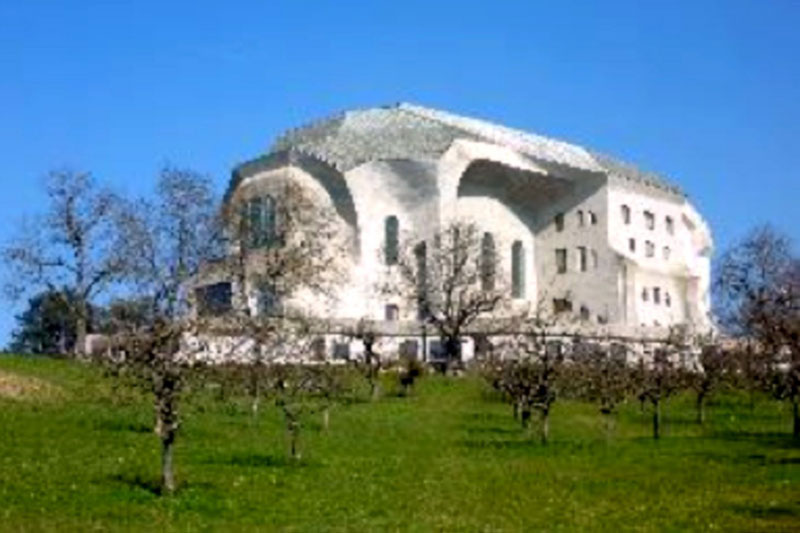 The second Goetheanum in Dornach, Switzerland pioneered the use of concrete to show organic sculptural forms and is considered a masterpiece of 20th-century expressionist architecture.
Artkitektura Festival: Bringing back wholeness in Philippine cities
(The Philippine Star) - January 27, 2018 - 12:00am
MANILA, Philippines — Dealing with the problems of the Philippines means making sense of its cities. Half of all Filipinos live in 143 cities across the archipelago. This will increase to 84 percent by 2050, with more and more rural citizens trooping to Metro Manila, Cebu and other regional centers in search of the proverbial better life. However, many of the nation's fundamental challenges are embedded in its streets and buildings, in the urban fabric of our communities.
Manila infamously has one of the lowest densities of public transport infrastructure among major global capitals. Crushing traffic jams occur just outside gated subdivisions. Glittering condos rise above informal settler communities where access to water, electricity, toilets and quality jobs is uncertain. Name-brand supermarkets have chased off local palengkes and sari-sari stores. The only civic spaces left are the malls.
Even secondary semi-rural cities such as Baguio, Naga, Bacolod, General Santos City, Mandaue and Puerto Princesa are starting to feel the pinch. While there are a number of sustainable tourism and cultural heritage projects in the country, these initiatives are almost always seen as mere window-dressing, when clean, safe and comfortable spaces where people can live, play and work are luxurious exceptions to the norm. The effect on mental, emotional, financial, physical and social health is less than positive, to say the least.
Man-made and natural hazards aside, all urban structures are shaped by human choices over time, individually and collectively. As such, Tacloban, Zamboanga and Marawi are just more extreme examples of a more disturbing reality: Philippine cities are the ultimate man-made disaster!
But the state of our cities and their infrastructure are just a reflection of social realities. In 1938, urban planner and historian Lewis Mumford said that cities are "the point of maximum concentration for the power and culture of a community," and that one of the chief functions of the city is to "convert power into form." All architecture and urban design immortalize and glorify certain social values and ideas, in the same way that our built environment affects us in different ways, whether consciously or unconsciously. In the words of Winston Churchill, we shape our buildings and our buildings shape us.
So what could happen if Philippine architecture and design were to be approached in a way that supported a healthier relationship between and amongst individuals, communities, and their environment?
These are questions that the Artkitektura Festival of Architecture and the Arts hopes to address.
Artkitektura: Wholeness Through Architecture and The Arts
Artkitektura is a three-part learning program celebrating holistic approaches to architecture and the built environment. It will be held over three years in the Philippines, from 2017 to 2019.
The first part of the festival, themed "Wholeness through Architecture and the Arts," was held from Aug. 24 to 28, 2017 at the Ayala Museum, Greenbelt Mall, and other satellite venues in Metro Manila, with additional activities in Iloilo on Aug. 31 to Sept. 3, 2017.
Lectures, interactive workshops, installations, and performances were built around the travelling exhibition "Living Architecture: Balancing Nature, Culture and Ecology." Presented by Ayala Museum, UK-based groups Architecture Steiner and Citydesigner, and the Iona Stichting Foundation of the Netherlands, the exhibition focused on living, or organic, architecture, which is not a style but a holistic approach to architecture and urban design that highlights the relationship between architecture and the ecological, social, and cultural life of the space and place in which these structures are built.
Organic architecture begins from the premise that the earth is a living being. Every artificial, man-made structure deprives the plot of earth it is built on of its natural energies, so to speak, and so the design of a building must make up for it somehow by its own qualities. Organic architecture therefore uses sustainable materials and processes to implement designs that reflect the spirit of the place and support the values and social development of the community that will use the space — with the aim of healing places that human activity has destroyed.
Influential members of the organic architecture movement include Catalan visionary Antoni Gaudi of Sagrada Familia fame; American architect Frank Lloyd Wright; and Austrian philosopher and polymath Rudolf Steiner, whose ideas are applied not only to architecture but varying fields such as education, agriculture, and economics. Scale models and presentations of their and other modernist and contemporary organic architects' work from all over the world were shown in the exhibition, which was translated from the original German and was brought outside Europe for the first time at Artkitektura. More information is available in the exhibition book written by the curator, Dutch architect Pieter van der Ree.
Exploring Living Architecture in The Philippines and Worldwide
Panel discussions and lectures on cultural heritage, urban renewal and life-enhancing architecture were given by Filipino and international experts from Australia, Colombia, the Netherlands and the United Kingdom. This included the introductory session by Van der Ree as well as British architects Richard Coleman and Nicolas Pople. Gregory Burgess, principal architect of the award-winning cultural center on Uluru, sacred ground of Australia's aborigines, spoke about participative approaches to architecture and community design.
Colombian structural engineer Luis Felipe Lopez presented on the use of bamboo for earthquake and typhoon-resilient social housing. All these global ideas were locally contextualized by lectures from popular urbanists Paulo Alcazaren and Julia Nebrija, as well as playwright Floy Quintos and cultural critic and historian Marian Pastor Roces. The series was rounded off by South African lecturer Joan Sleigh and environmentalist Nicanor Perlas, who spoke about the twelve human senses (as opposed to the usual five) explored by organic architecture — namely the senses of touch, life, self-movement, balance, smell, taste, vision, temperature, hearing, language, conceptual thought, and the sense of the "I," or understanding of others' individuality — and their implications to society and the planet.
The Twelve Senses: Experiential Activities and Performances
Artkitektura partnered with Ayala Malls to commission a garden soundscape by Teresa Barozzo, sound artist and recipient of the National Commission on Culture and the Arts (NCCA) Ani ng Dangal Award. Entitled "Vocalisations," the piece allowed evening shoppers to walk through a sonic thicket of chirping birds and urban murmurings, punctuated by a human, or is it digital, voice echoing "Tweet!." The motion-activated installation explored actions and interactions between man, nature, technology and space, recalling the journey of Greenbelt Park as once home to colorful species of birds in the 1970's, to the built up commercial hub it is today. Other local responses sponsored by Ayala included the chair exhibition "Silya" at the Greenbelt 5 Gallery, curated by the Chamber of Furniture Industries of the Philippines.
Festival-goers had the option of joining walking tours and exhibitions. Ivan Man Dy held Art Deco walks through Malate and Malolos, while Carlos Celdran hosted special editions of his popular Walk This Way! Intramuros tour, as well as a heritage tour of Escolta, Binondo, and Sta. Cruz. The Iloilo leg of the festival included talks from physician and heritage conservationist Kristin Trenas and former Iloilo City Councilor (now-Mayor of Lambunao) Jason Gonzales, on the tri-sectoral partnerships among the private and public sector and concerned Ilonggos that contributed to the success of the Iloilo River Esplanade. This landmark project has now given rise to other local urban planning initiatives.
An activity that showcased the festival as an interdisciplinary platform for creative collaboration and exchange was "Memory as Place: Place as Memory," a multisensory performance about revolutionary Gregoria "Oryang" de Jesus, staged on Sept. 9 at the Bahay Nakpil in Quiapo. It was at Bahay Nakpil that Oryang lived after the execution of her first husband Andres Bonifacio, when she married her second husband Julio Nakpil, a celebrated musician best known for composing the first Philippine national anthem. Produced by festival director Sarri Tapales and directed by Philippine Educational Theater Association artistic director Maribel Legarda, the piece brought together various talents from music, theater, and dance to speak of the life and loves of one of the great women of the Philippine revolution, in space and place.
Artkitektura 2017 was made possible by Mastercard, the Australian Embassy, the Embassy of the Kingdom of the Netherlands, Furnitalia, Fino, Metrobank and other community partners.
Movement And Flow in The Built Environment: Artkitektura 2018
With the belief that long-term solutions can only be achieved through creative collaboration by individuals and groups, globally and locally, Artkitektura strives to design opportunities to bring together like-minded people who care about sustainable, healthy spaces. In the words of Festival director Sarri Tapales, "Artkitektura Festival is for everyone, all are welcome — students, professionals, and anyone who cares about architecture and the built environment. Architecture affects us all, whether we are conscious of it or not, and the creation of healthier, more liveable cities is our collective responsibility."
The second phase of Artkitektura is scheduled for February 2018. With the theme "Movement and Flow in the Built Environment," various activities are being planned at the Vargas Museum of the University of the Philippines Diliman. Satellite events will be co-hosted with the Quezon City government, the UP College of Architecture, Ateneo de Manila's Arete, and other partners in Metro Manila. Events on architecture and cinema are in the works, in preparation for Artkitektura's third leg in 2019, with the theme of The City as Culture.
For information and collaboration, visit www.artkitekturafestival.com.
* * *
Ica Fernandez is a spatial planner and researcher who works on the interplay of space, place, culture, economic geography, good governance, and armed conflict. She writes occasionally at icafernandez.com.