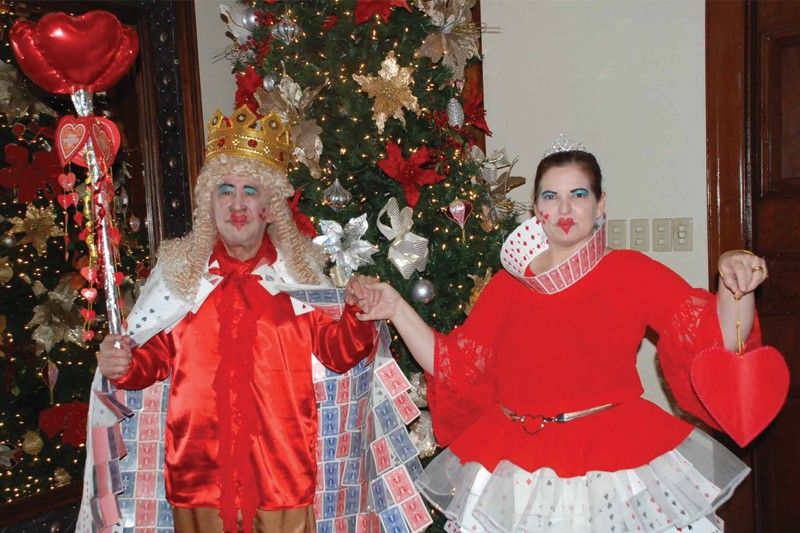 Gabby Leyson and Tina Jordana as the King and Queen of Hearts
Not just another New Year's Eve
New Year parties around the world ring another year with bands, DJs , dancing, feasts, spirits, festive hats and noise makers.
At Casino Español De Cebu these components are blended together with a century of traditions, close knit families, long-time friends and guests.
The dependents of yesteryears have grown into young party age adults who joined their parents in making it a grand family affair. The large families present in full force were the Gonzalezes, Del Gallegos, Sainz, Yapjocos, Chiongbians, Zuluagas, Chans, and Picornells.
Majority came in costumes, all vying for the much-coveted best in costume prizes.
The winners in the individual category were Jane Llaban as Most Colorful; Percival Llaban, Most Original; and Betty Young, Most Elegant.
The award for the Most Colorful and Elegant couple went to Gabby Leyson and Tina Jordana, who were dressed as the King and Queen of Hearts, while Fritz and Pearle Strolz in Midnight Dreams costumes were Most Original.
The grand prize for the Most Elegant group went to Ed Gonzalez and his brood who were dressed as Black Birds Revenge. Club president Paco Jarque and his team were proclaimed winners in the Most Colorful and Original category.
The Rennaisance Band roared all night and way past the countdown till the early dawn. Spirits were high as everyone came together to look forward with optimism to the coming of a brand new year.