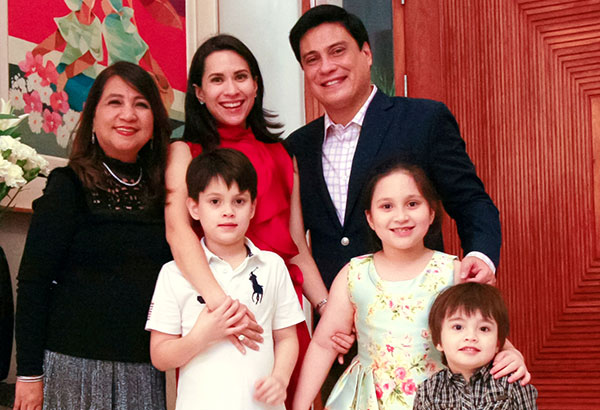 Juanmi, Adriana and Santi Zubiri; (back row) Dette Aquino-Tan, celebrator Audrey Tan-Zubiri and husband Senator Miguel Zubiri
OH YES, IT'S JOHNNY!
-
Johnny Litton
(The Philippine Star) - January 6, 2018 - 12:00am
Designa Italia Furniture president Audrey Tan-Zubiri was recently feted with a fun party by her youthful mother Dette Aquino-Tan and loving husband senator Miguel Zubiri. Thinking she was just dropping off her son at her mother's residence, Audrey entered the house with a head full of rollers, the sight of which surprised the guests and gave everyone a hearty laugh. Audrey, always a good sport with a jovial spirit, ended up greeting her friends and family in attendance. Together they were treated to some refreshing cocktails, a sumptuous dinner, and a talented band that played all of her favorite songs, giving the celebrant a pleasant surprise that she will never forget.
In black and white
The lovely Anna Sia recently celebrated her birthday via an elegant party held at at the exclusive Manila House in Bonifacio Global City, Taguig. Garbed in an immaculate white outfit, the fashionable socialite was surrounded by her longtime friends who all came in their best black ensembles. Everyone enjoyed the refreshing cocktails and the sumptuous cuisine, but what really made the night was celebrating a woman who has inspired so many with her grace, kindness, and friendship.