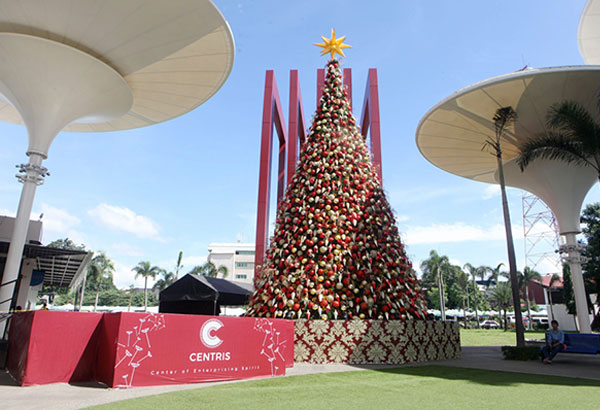 Christmas is more fun at Centris: Add holiday cheer to your shopping at the Sidcor Sunday Market with a lineup of festive activities. Photos by Bening Batuigas
Sidcor Sunday Market: Your one-stop shopping destination
It's Sunday, sweet Sunday! And nothing can possibly yank you out of bed as you lie in blissful slumber. But hey, there's something worth waking up for on a lazy Sunday, or so you must have heard some people, including your friends, swear by. It's the one-stop shop (till you drop) Sidcor Sunday Market at Centris on EDSA corner Quezon Ave. Rise and shine before the break of dawn as the Sidcor Sunday Market opens as early as 6 a.m. (and closes at 2 p.m.). Tip: Try to be early as the goods, particularly the foodstuff and wet-market items, sell really fast. Another valuable tip: As you will navigate and explore some 3,500 sq.m. of space that houses some 300 stalls (and counting, since the market opened in the early 2000s), you should dress comfortably and put on your walking shoes or footwear.
A venue for up-and-coming entrepreneurs interested to promote their products, the Sidcor Sunday market finds a new convenient home at Centris, a lifestyle, dining, and entertainment hub.
Your All-in-one Market
This all-in-one market has almost everything you need (and probably thought you didn't need). It's got everything — from dry goods to wet-market items such as fresh produce, fresh meats chopped by butchers, and fresh seafoods; from freshly cooked food to bottled foodstuff from all over the Philippines; from export overruns to secondhand items; from clothes, shoes, and bags to bling-blings; from plants to pets and pet supplies; from mats to placemats; from brooms to grooming aids; from cooking oils to massage oils; from local handicraft to imported home decor. And the list goes on and on.
I remember when I was a kid and my mother would go to the palengke, I often tagged along because there was so much food you could eat in the market. We would end our morning at the market with my mother carrying a loaded bayong of goods and I nursing a bloated tummy!
Your Eat-Inerary
Well, prepare for a gastronomic binge x 10 when you visit the Sidcor Sunday Market. For instance, Queenie Paras will delight your taste buds with her Empanada ti Ilocos cooked fresh. There's always something delicious cooking at Tita Mary's Kitchen. Smoke gets in your eyes — and into your stomach — at Smoke N Sweets as Jack and Rachel Ruivivar offer their smoked ribs, smoked orange chicken, smoked Wagyu bone marrow, and other smoked delights. Martin Gonzalez's paella is a must-try. Others worth including in your eat-inerary: A homespun, deliciously fresh (no preservatives) treat from Italian Chef Giuseppe's Commissario, Mang Ben's mouthwatering specialty foods; Ineng's longganisa BBQ and Pinoy chicken BBQ that come with garlic rice; Del Barro's grilled tuna delights; Geraldine Macainag's homecooked food, Melinda Gamalinda's special hopia; Rachelle Pilares' ice cream, Connie Young's Bataan ice cream, and sweet treats from The Sugarmommy.
Rare food treats include the pork pinangat na laing, adobong Bicol Express, and adobong Bicol pinangat that are all hot favorites.
And yes, it's a pleasant surprise to find at this market my childhood favorite binatog (boiled white corn kernels with grated coconut, a Pinoy street food).
If you haven't had your morning caffeine fix, get yourself an Amerikano cappuccino or a Vietnamese cafe latte. I'm no coffee drinker so I think I'll have a sugarcane juice or a smoothie or the Power Punch made of calamansi, ginger, and sugarcane for a wake-upper.
Enjoy all this at the market or if you have no time to cook on a Sunday (who really wants to cook on Sunday?), you can bring 'em home to share with the family.
But if you really like to regale your family with a lovely homecooked meal, you will find all the fresh fish (like the freshest yellow fin tuna and salmon) and seafoods (which are cheaper than in other markets, like the blue crabs, abalone, rare snails, sea cucumber), meats, vegetables and fruits, and other ingredients you will need at the Sidcor Market. Visit Florie Chua's C & F Fruits for the freshest fruits you can find.
For dessert, bring home some fresh-off-the-charcoal stove bibingka or some ginataan. Or if you're sugar-challenged, look for the sugar-free cookies.
If you're a plant lover, you just might find the plant you've been looking for at this market. And if you're starting to decorate for the holidays, there are fresh poinsettias for a cheery Christmassy touch to your home.
Going Organic
If you're looking for organic products, you'll likely find what you need at the Sidcor Market that advocates the green philosophy. Look what we found: virgin coconut oil (VCO) to boost the body's metabolism; massage oils in lime, lavender, jasmine, orange, ilang-ilang scents; scalp therapy massage oil; herbal shampoos (aloe vera, moringa, gugo, rosemary); natural (paraben-free) deodorant; chemical-free handmade soap; charcoal facial scrub; guava mint facial cleanser; natural eye wash and feminine wash; muscle liniment/ointment; colloidal silver (an antiviral, antibacterial, anti-fungal supplement); turmeric for immune system support; fine pink Himalayan salt that's said to be rich in nutrients and minerals; all-natural linen spray; herbal insect repellent; and a lot more.
To sum it up, one seasoned shopper gives a list of what you can do at the Sidcor Sunday Market:
1) Shop for clothes, shoes, and bags.
2) Do your grocery shopping.
3) Buy home decor.
4) Eat and drink.
5) Bond with your family.
6) Play and walk with your dog.
Christmas at Centris
After your marathon shopping at the Sidcor Sunday Market, relax and stay longer to catch the festive activities that Centris has lined up for one and all during the holiday season, as follows:
• The country's top bands and performers kick off the holiday season with a heartwarming "Dakila's Alab ng Puso" concert on Saturday, Dec. 9.
• There's Misa de Gallo (simbang gabi) at Centris from Dec. 15 to 23 at 6 p.m.
• "Carols at the Walk" will have the country's renowned choirs and chorales serenading guests with Christmas carols every Friday of December.
• To light up the holidays, a grand fireworks display is scheduled every Saturday of December.
• Kids and kids-at-heart, whether naughty or nice, can have fun with the jolly old fellow from the North Pole at "Santa Meet and Greet" every Friday and Saturday of December.
Surely, thanks to Centris' Sidcor Sunday Market, Sundays will always be fun days for the whole family.
* * *
For more information on the Sidcor Sunday Market, contact Jesusa N. Arcega at 0917-6283105, 0977-1667737, 0932-8748494.