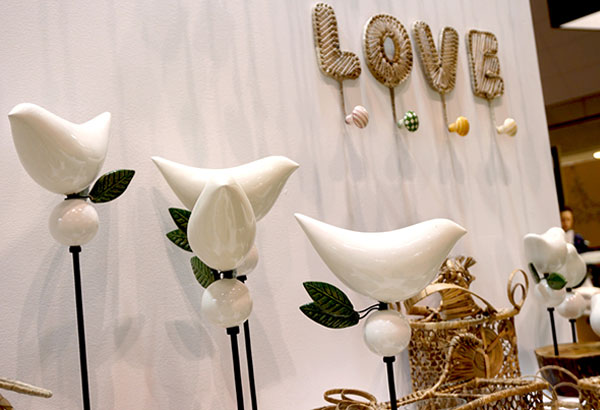 Assorted décor by Artisana Island Crafts
The Philippines showcases local fibers, indigenous sustainable crafts in Japan's biggest furniture fair
Did you know that furniture manufacturers in the Philippines follow a five-year plan that revolves around two of the biggest sporting events in the world?
"The Chamber of Furniture Industries of the Philippines follows a five-year program, which revolves around the Olympics and the World Cup," said Eduardo Zuluaga, national president, Chamber of Furniture Industries of the Philippines, at the opening of IFFT Interior Lifestyle Living 2017 held last Nov. 20 to 22 at Tokyo Big Sight. "Since Japan will host the 2020 Olympics, we are sure that they will be spending for it and we want to be able to supply the needs for their refurbished hotels and restaurants."
With the foreseen construction and expenditure on furniture and furnishings of interiors, the Philippine furniture and decorative manufacturers showcased the country's products and explored business opportunities in Japan through IFFT/Interior Lifestyle Living, which has become the leading trade fair for the Japanese high-end interior market.
"We will continue to invigorate the good trade relations between Japan and the Philippines by bringing in interiors and high-end fashion wear made from country's natural indigenous and sustainable materials, including abaca, tikog fiber, shells, raffia, sugarcane, and many more," said CITEM executive director Clayton Tugonon. "We want to highlight that Philippine design aesthetics can be seen through our sense of artistry, authenticity and visual dynamism. We will evoke the sense of beauty of material things and emulate the emotional appeal of every little detail that was put together by hands to create a sophisticated piece."
This is the first time that the Philippines is participating in the IFFT. The Filipino manufacturers at the fair are hopeful that their products will find a place in the Japanese market.
The show was organized by Messe Frankfurt, one of the largest trade fair organizers, with over 100 trade shows around the world. More than half of the company's trade shows take place in over 30 countries outside Germany covering sectors that include automotive parts, furniture and furnishings, gifts and houseware, home and contract textiles, consumer goods and many more.
To provide full service to Philippine exhibitors and the event's visitors is Worldwide Exhibitions Linkage Services (WE-Link), a division of Global-Link Exhibitions Specialist Inc. (Global-Link ESI) and the official sales and marketing partner of Messe Frankfurt in the Philippines. The company provides services that include stand management, special booth design and production, shipment assistance, support in visa applications, preparation of marketing collaterals, and travel package arrangements, among others.
"WE-LINK is here to build 'brand Philippines' all over the world by bringing the Philippines to major trade fairs through pavilion settings that showcase Filipino talent through products that combine quality, form and functionality," said Wilbert Novero, general manager of WE-LINK, a global export promotion business partner. "Aside from bringing exporters to these trade fairs to showcase their products, we also explore business opportunities for our clients' trade visit missions. This makes it a one-stop-shop for Filipino businessmen and their link to other parts of the world in the trade fair and industry conferences."
Look See
"We prefer markets that are five hours away by plane and five days away by ship," added Zuluaga, who owns Azcor Lighting Systems Inc., and is a veteran at these fairs. "China and Japan meet these two requirements, with the US, Germany and England completing the top five furniture markets in the world."
The manufacturers are grateful to CITEM, which not only helps with the cost for the space of the booths but also, more importantly, helps the furniture manufacturers conduct business in Japan.
"We are happy to be at this show in Japan so that we can get a firsthand feel of what the activities for the Olympics will be," Zuluaga added. "The Japanese business owners who come to these shows tell us what their needs are or what their needs will be as the Olympics draw closer. We try to make sure that we can provide these needs."
The presence of the furniture manufacturers at the fair is very important because if they have factories in the Philippines they can also produce what might be more appropriate for the Japanese market.
"I tell them I supply hotels with lights and I ask if I can be their factory in the Philippines since labor is so expensive in Japan," adds Zuluaga. "I invite them to come to the Philippines to see my factory and to see the quality of products that we produce in the Philippines."
Zuluaga is confident that the Philippine participation in IFFT for the next two years will bear fruit. He is aware that for the country to make its presence in Japanese furniture market felt, it is necessary to establish a presence, and that takes a few years.
"We brought furniture and other items that we feel the Japanese market might appreciate, but being here gives a better grasp as to what the market really needs," he says. "So we need to be here again next year so that the initial talks we make will become business for us. And, since we know the market better, next year when we come back we will able to display products which may be more in tune with what the Japanese market needs."
Proudly Philippine-Made
"On the practical side, we also made careful consideration and adjustments to the product sizes and spatial boundaries. The least space one occupies in a home, the more attractive it is in the market since Japanese people tend to live in small yet cozy houses," Tugonon pointed out. "The Japanese's preference in furniture is comprised of three qualities: functional, practical, and innovative without compromising style."
Philippine raw fibers, as well as products made from it, enjoy high demand from Japan. For instance, Japan was the second top importer of local abaca fiber from January to September 2016, accounting for 38.8 percent of the total exports during that period, based on the data of the Philippine Fiber Industry Development Authority (Philfida).
"It is crucial to present fresh ideas and new, exceptional products that showcase the abundance of natural resources that are used in our crafts and are proudly homegrown," added Tugonon.
There were over 18 manufacturers and exporters of furniture, furnishings and houseware producers from Pampanga, Cebu and Manila, subsidized by the Center for International Trade Expositions and Missions (CITEM) with the support of the Chamber of Furniture Industries of the Philippines (CFIP) that showcased Philippine products, namely Azcor Lighting Systems; Coast Pacific; Contemporaneo Inc.; Designs Ligna; Fashion Interiors Mfg.; Johansen World Group; Natural Craft; Nature's Legacy; South Sea Veneer; Southeast Metro Arts; Delza's Native Products; Lolo Bobby Handicraft; My Souvenir Banig de Basey; Artisana Island Crafts; Cubo Sustainable Furnishings; MLC Crystal Seas Inc.; That One Piece Enterprise and Tuy Arts & Designs.
Eight companies represented Tarlac, through the support of its provincial government. These companies are Betis Crafts Inc.; CB Creativity Mfg.; North Shine Enterprises; Oricon Corporation; Pascacio Pottery; Pumice Unlimited Ventures; Red Slab Pottery and RJ Southwestern Design.