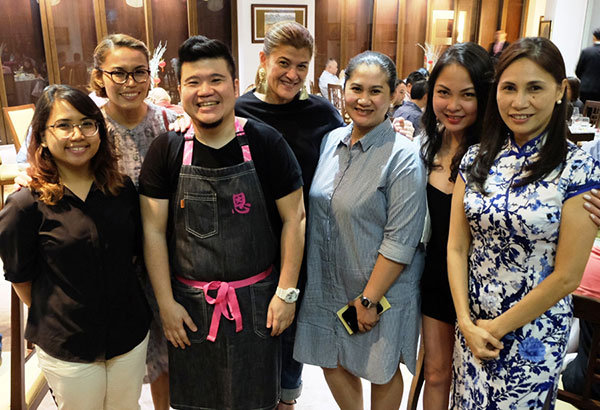 (Front) Malagos Farmhouse Cheese's Ingrid Puentespina, chef Sharwin Tee and Marco Polo Davao general manager Dottie Würgler-Cronin with (back) Malagos Farmhouse Cheese's Jamie Concepcion, Vicky Lauchengco, Ira Grafilo and Lagarde Wine's Laica Herrera
Fine Dining for a Good Cause
Marco Polo Davao continues its culinary exploration through an exciting partnership with TV host, author and celebrity chef Sharwin Tee. Led by Marco Polo Davao general manager Dottie Würgler-Cronin and director of sales and marketing Pearl Peralta-Maclang, the event was held at the five-star hotel's top-notch Cantonese restaurant Lotus Court. The Chinese fine dining and wine pairing event also raised funds for the libraries of various public schools – an advocacy that is near and dear to the heart of the chef. Davao's foodies and wine enthusiasts not only enjoyed the sumptuous food, they also came in droves to support this worthwhile cause. "… we are very delighted to take part in chef Sharwin Tee's mission," said Marco Polo Davao restaurants, bars and events manager Chel Galang-Yabut. Kudos to Marco Polo Davao for this inspiring endeavor!
Marriott Runs to Give
Over 280 associates of Marriott Hotel Manila joined the Asia Pacific-wide wellness campaign called Run to Give, in line with the brand's global TakeCare program that promotes the hotel's core value of putting people first. Led by Marriott Hotel Manila general manager Bruce Winton and director of marketing communications Michelle Garcia, the hotel associates together with their families raced through a 5-kilometer route around McKinley Hill in Bonifacio Global City, Taguig. All of the events proceeds were for the benefit of EPCALM Adult Leukemia Foundation of the Philippines and Philippine School for the Deaf. The marathon was also in partnership with Resorts World Manila's Run with Me event. "This seems to be above and beyond our work, but that's what world-class hospitality is for us – serving the world in and out of the corners of our hotel," said Bruce Winton.