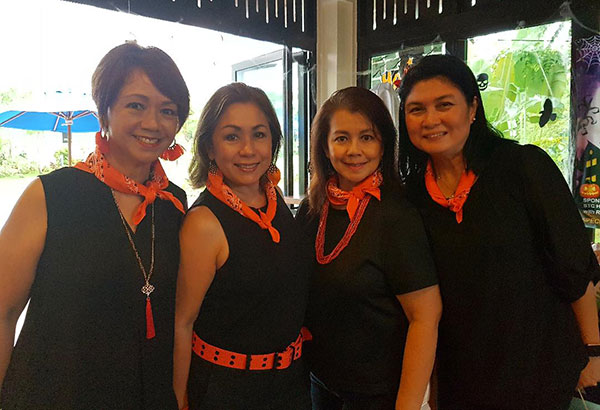 Ana Climaco, Annette Mendezona, Dory Salera and Faith Alfon
Halloween treats for kids with cancer
Untimely death is tragic. More so with the loss of a child that leaves a devastating experience most especially for young parents. Having one's only child pass on compounds that ultimate grief for it defies the expected order of life events.
Many mourning parents question whether life will still hold any reason or meaning for living and wonder how they will ever survive the pain of their gone loved one.
Some years ago, Jackee Gullas Weckman, a scion of the well-respected family of educators, lost her only child Kyle, then 14 years-old, in a unfortunate accident while on a school field trip.
To keep his memory alive, Jackie collaborated with the Kythe Foundation in Cebu and volunteered to renovate and refurbish the Perpetual Succour Hospital's childrens playroom, a haven for young kids diagnosed with cancer. Jackee named the room after her son.
She solicited the assistance of her own former high school classmates from St. Theresa's College Cebu and organized the annual Halloween party for these afflicted children at Paradise Village. This much-awaited event continued for five years.
Sadly this year, Jackee suddenly succumbed to heart failure at the age of 55. Her batchmates — among them Mary Anne Alcordo Solomon, herself a cancer survivor, Mariles Nable, whose parents recently both died of cancer, Annette Mendezona, Ana Climaco, Joy Ouano and Gemma Khodaverdi — took it upon themselves to pursue what Jackee started. The Gullas family led by patriarch Dodong Gullas extended their unconditional support.
With the participation of Rockwell at 32 Sanson, the dedicated ladies invited 30 children with cancer to the Rockwell Clubhouse for Halloween surprises. The young guests ages from three to 14 enjoyed Jollibee snack packs, hotdogs, popcorn, and lots of other kiddie delights .
Popular Olaf, the snowman from the Disney animated film Frozen and Captain America, the iconic super soldier performed for the children who were simply awed by their presence.
Magician John Lee Vergara entertained the guests with his bag of tricks, mind boggling illusions and interactive routines, which the audience eagerly joined in.
As the get-together came to a close, the ladies watched the grateful smiles of the children accompanied by their respective parents. They realized that happiness can come not only from sharing material things but from giving the young patients with cancer an appreciative break from their suffering and pain with fun memories of one enchanting Halloween evening.