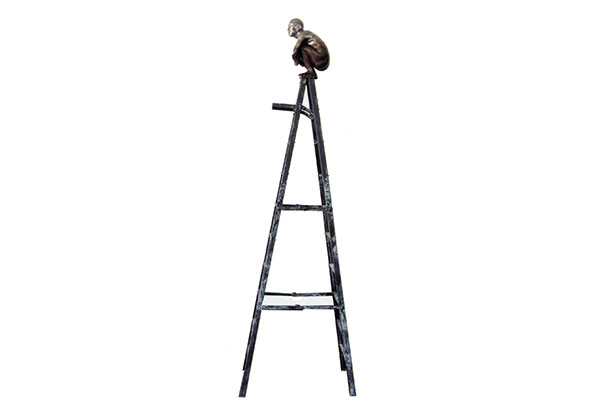 Winning bid for Daniel dela Cruz's "Forever Observer" is P370,000 at Hong Kong-based ICM's 25th anniversary fundraising banquet.
An auction that raises hope — and nearly a hundred million pesos
(The Philippine Star) - November 10, 2017 - 4:00pm
It was a scene towards the end of the night at an auction in Hong Kong which I found truly remarkable.
With a raise of his "paddle," one individual donated P5.250 million (HK$800,000) that night. No fanfare, no hesitation or negotiation — just champion auctioneer Kristine Fladeboe Duinunck saying, "Donate a sum that means something to you."
Attended by Hong Kong's richest, the bidders kept raising their printed numbers from their tables — for P4 million (HK$600,000), P2.6 million ($400,000) and so on with the last amount at P53,000 (HK$8,000).
This was the 25th anniversary banquet of the non-profit, Hong-Kong-based International Care Ministries' (ICM) at the HK Convention Center last month. What made this scene remarkable to me was that there were no more lots to bid for — all the artworks, vacation getaways, jewelry, designer bags and furniture pieces were already snapped up at this point of the silent auction.
The "bidders" weren't going home with anything tangible, but these amounts were the highest of the night. As a Filipino journalist surrounded by Hong Kong's elites and expats who head banks and multi-national companies, it was a very touching and humbling moment.
ICM board of advisers members Daphne Ceniza Kuok, who's also a dear friend and sorority sister from UP Diliman, bowed her head when the paddle for a P5.2-million donation was raised, and I could see her eyes filling up. It was the same for Town and Country editor Yvette Fernandez, artist Daniel dela Cruz and his wife Monica, and the rest of us seated at the table as a sense of hope swept up the room.
For the past 25 years, ICM has been helping to change the lives of families living in extreme poverty in the Philippines. One way it raises money to fund its programs is through an annual auction with all the lots donated by the artists themselves, individuals, hotels and resorts, and companies. Many of them (as well as the winning bidders) do so anonymously.
Unlike in previous years, this auction opened online ahead of the banquet and culminated during the three-course dinner, which divided the 96 lots into an Appetizer Lot, Main Course Lot, and Dessert Lot. A countdown clock at the banquet hall alerted bidders which lot was up and all bids were done online through an app.
Artist Daniel dela Cruz's "Forever Observer," a hand-hammered and welded sculpture of a man sitting squat on top a ladder, was hotly contested in the auction, its price going up to P370,000 and exceeding its estimated value by P120,000.
One of ICM's friends from the very beginning is artist Ramon Orlina, who himself has mounted solo exhibits in Hong Kong, as well as in galleries around the world. For this year's auction, he donated a sculpture carved in green spring crystal. The 27x26x16-inch piece fetched P300,000.
Ferdie Cacnio's acrylic on paper called "Where Are You Now," a signature depiction of grace and fluidity of the dancing form, was snapped up at P300,000.
Many other Filipino artists donated their works to ICM, including Seb Chua, Ombok Villamor, Jerrico Blanco, Richard Arimado, Salvador J. Ching, Migs Villanueva and Anna de Leon, Vincent de Pio, Jojo Ramirez, Ros Capili and Franklin Caña, among many others.
The lots weren't just composed of artworks, there were also vacation getaways that ranged from three nights at Shangri-La Boracay to five nights at Suneva Fushi Maldives, six nights for up to 12 people at an Italian villa in Tuscany, two nights at Park Hyatt Bangkok, and six nights for up to 10 at Niseko Chalet Japan (this was snapped up at P454,000, the highest of the getaways).
Among the accessories were bags by Bottega Veneta and Celine, and jewelry pieces by Janina Dizon and Ana Rocha. There were also fun experiences lots like dining at the Peninsula Hong Kong's Felix restaurant, a shoot session with Jill Carter, and massage and facial at Melomist Spa.
During the banquet, volunteers sold rooster stuffed toys made by Red Rope, a handicraft cooperative from Bacolod which provides jobs to talented and poor women to support their families. Priced at HK$1,000 (P6,570), each sold would provide 3,000 means to hungry children.
The only one of its kind was Lot 224 — a dinner with Vice President Leni Robredo, catered by Gaita Fores. Guess how much it fetched? The winning bid was P467,000, higher than the Niseko getaway.
Auctioneer Kristine Fladeboe Duinunck, whose stories from her 20 years in the auction world so entertained us during dinner the previous night, made an important announcement during the banquet. An anonymous donor was going to match up to US$500,000 (P25.6 million) the straight-up donations that night. And that inspired another donor to match US$25,000 (P1.82 million). Like hope, giving is indeed infectious.
By the end of the night, International Care Ministries had raised nearly a hundred million pesos or HK$14.8 million (P97.24 million).
I sat there trying to process the willingness of Hong Kong's richest to help the poorest in our country.
The efficiency of ICM to make the most of its funds to extend humanitarian assistance where it is needed most is based on "combining the best practices of the business and academic worlds with the passion and heart of a faith-based non-profit."
David Sutherland, chair of the ICM board, has worked with the organization for the past 20 years. With decades of corporate experience, David is passionate about bringing best practices from the business world to ICM.
We all know that poverty is complex — but so is trying to lift people from it. For ICM, it was a simple start. Hong Kong-based interior designer Sharon Tan first went to Bacolod with her Filipino maid to see the scholars she was supporting.
There, she met 21-year-old Josephine who was suffering from tuberculosis. Sharon helped not only the young girl, but also the community.
"Hope is the key: Through our Transform program, children have hope for a brighter future. Parents are equipped to provide financial stability, nutritional meals, a healthy home environment and an educational foundation."
"ICM started in 1992, when a group of passionate Filipino pastors were moved by the extreme poverty they saw everyday in their home city of Bacolod, Philippines. They started feeding and handing out medicines, and International Care Ministries was born. The new organization received strategic direction and funding from Hong Kong through Sharon Tan (who now runs an organization in Dumaguete) and soon expanded to work in several provinces in the southern two-thirds of the Philippines."
For 25 years, ICM has been providing help, hope and change to impoverished families. They have touched the lives of the ultra poor in the Visayas and Mindanao from 10 regional bases: Palawan, Capiz, Iloilo, Negros Occidental, Negros Oriental, Cebu, Bohol, Zamboanga del Norte, Koronadal and General Santos.
In its 25th year, ICM reached its one-millionth person in its transform program. It hopes to reach the next million in five years. But the real hope is that poverty intervention would no longer be neeed.
"We look forward to a day when no child has to live in ultra poverty."
* * *
Visit the author's travel blog at www.findingmyway.net. Follow her on Twitter and Instagram @iamtanyalara.
For more information on ICM, log on to www.caremin.com.