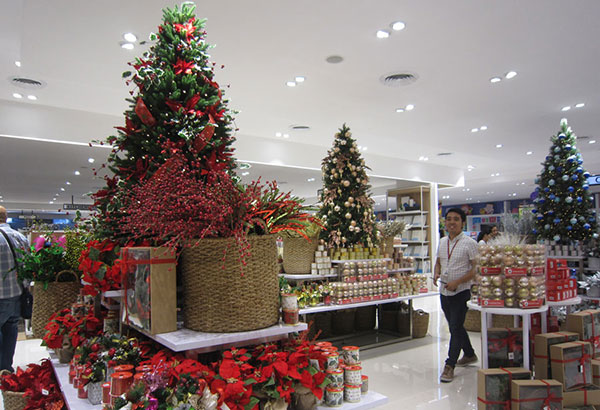 It's Christmas at Robinsons Department Store, anchor store at Ayala Malls Cloverleaf
Ayala Malls Cloverleaf turns over a new leaf
MANILA, Philippines — We symbolically turn a new leaf at Cloverleaf," said Jay Teodoro, estate head of Cloverleaf, strategic land bank management group of Ayala Land Inc. (ALI), at the opening of the Ayala Malls Cloverleaf in Balintawak, Quezon City.
The mall is the first to open within the 11-hectare estate that is envisioned to become another one of Ayala Land's master-planned mixed-use developments that will include, in addition to the expansive shopping mall, office buildings and towers for various enterprises and institutions, as well as residential projects led by Avida and Alveo.
"Ayala Cloverleaf is a strategic part of Ayala Land's expansion plan, to tap new markets and harness Ayala expertise in developing large scale, integrated, mixed-use and sustainable communities," Teodoro remarked.
Strategically located just a stone's throw away from the busy interchange where EDSA and NLEX intersect, Ayala Malls Cloverleaf is the first in the Balintawak and CAMANAVA (Caloocan, Malabon, Navotas and Valenzuela City) area. The result of comprehensive research and planning, it was no mean feat for the mall to open right on schedule, considering the numerous challenges it faced at the start, Teodoro shared.
The mall's gross leasable area, which covers about 39,000 sqm., has already been leased out. "The positive uptake is an indication that businesses believe in the potential of Cloverleaf," Teodoro observed. Besides the wide spectrum of residents in the vicinity as well as transients from nearby, it is also expected to draw travelers from as far as Pampanga on their way to Quezon City and other parts of Metro Manila.
With 150 retail and dining concepts, Ayala Malls Cloverleaf is home to "fresh finds and new flavors," said AC Legarda, area head of the Northern Ayala Malls. With Robinsons Supermarket and Robinsons Department Store as anchor stores, the mall also houses a number of both local and foreign brands such H&M and Uniqlo, Bench and Penshoppe, Samsung, Daiso, Egg, The Baker's Co., National Bookstore, Dogs and the City, to name just a few.
They also brought in new food concepts from Banawe and Binondo such as Mr. Ube Rice & Noodle House, Tra Vinh Authentic Vietnamese Noodles, Botejyu Express, as well as Soy Yummy, Santouka, Kumori, and Turks, among many others. Also in the mall are fitness centers such as Slimmers World and Anytime Fitness, as well as Time Zone and Kidzoona for kids. It has six cinemas.
Ayala malls are known for their distinct and original concepts, each one memorable for its unique creativity. On the fourth floor foyer of Ayala Malls Cloverleaf, a special heritage wall mural designed by Googly Gooeys highlights the mall's special connection to the historic Balintawak area as well as Camanava. It features graphic images of iconic landmarks such as the Balintawak market, the Quezon City circle, Navotas fish port, and the heritage houses in Malabon. Attention is also given to the festival celebrations of the northern provinces.
A unique advantage of Ayala Malls Cloverleaf is its superior location and accessibility,
Teodoro observed. It is directly connected to the LRT Balintawak station, and close to the Skyway Stage 3 extension project along A. Bonifacio Ave., which is expected to be completed by 2020, thus cutting the Makati-Balintawak travel time to 20 minutes.
The Ayala Cloverleaf site will effectively serve as a multi-mode transport hub. "Our physical design will offer the best vehicular access and public transport connection for motorists and commuters, providing them with seamless connections," Teodoro explained. "Other than the LRT, commuters will have access to other modes of transportation such as buses, taxis, and shuttles, ensuring hassle free commute round the clock."
"We put people first, so we've designed a solid pedestrian system that will ensure a safe and secure walking experience wherever you are in Cloverleaf. There are covered walkways, enhanced sidewalks, landscaped areas, and wide open spaces, to provide better ways to enjoy communal spaces that are free, clean and orderly," Teodoro added. Ayala Cloverleaf is not only a real estate business investment but also a social investment, and they aim to deliver what the market really wants.