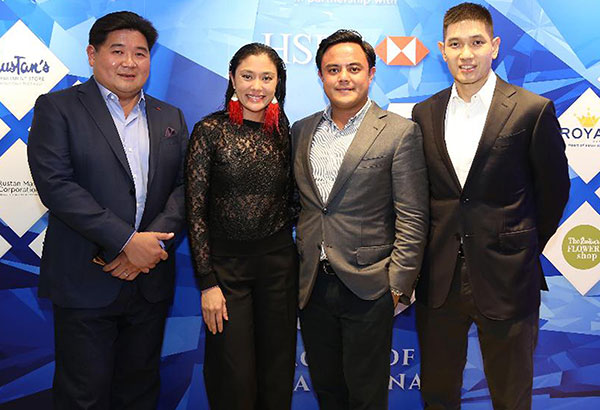 SSI Group Inc. president Anton Huang, Rustan's marketing communications manager Dina Tantoco, Rustan's administration manager Paolo Tantoco, and Rustan's VP for store planning Michael Huang
Rustan's celebrates 65 years with Fashion show in Cebu
To celebrate its 65th anniversary, Rustan's presented the Sapphire Collection Fashion Premiere, which was held at the 2nd floor of Rustan's Cebu. The well-attended fashion show featured sapphire pieces from Rustan's exclusive brands — Ricardo Preto, U by Ricardo Preto, Criselda Lontok, Jill by Jojie Lloren, Lady Rustan, Oleg Cassini, Rustanette, Kiddos, and Rustan Jr.
Welcoming guests were SSI Group Inc. president Anton Huang, Rustan's marketing communications manager Dina A. Tantoco, Rustan's administration manager Paolo Tantoco, and Rustan's vice president for store planning and expansion, Michael T. Huang, who all flew in for the occasion.
"Rustan's has come a long way. Through 65 years, it has been changing, evolving, and expanding," said SSI Group Inc. president Anton Huang. "Yet, it remains true to its mission of bringing the best brands from all over the world to the Filipino, and showcasing the best of the Filipino to the rest of the world."
"When we decided to open here in Cebu back in 1981, we had a vision of the great potential and possibilities that city represented. Now a bustling metropolis, a major tourism hub, and one of the most progressive cities in the country, we are proud to be one of the pioneering retailers here in Cebu. It was an alluring promise of progress and quality. We are gratified that this vision has found its fulfillment," Huang added.
The Rustan Group of Companies envisions a luminous lifestyle with well-known brands that fit the distinguishing taste of the market, continuing to be the multifaceted jewel that brings the best of the world to the Filipinos.
The event was attended by luminaries from the corporate and social scenes who enjoyed canapes, cocktails, champagne and in-store promotions all anchored on the theme 65 "Facets of Extraordinary."