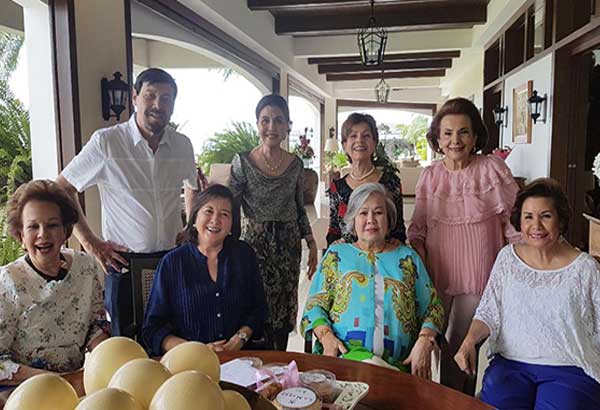 Rosebud Sala, Margie Taylor, Annabel Luym, Annie Aboitiz; (standing) Michel Lhuillier, Ana Marie Dizon, Teresin Mendezona
Birthdays are celebrated for different reasons. For the very young, the parents may wish to recognize a significant milestone while for the young once, it's a time to rejoice and reflect on past accomplishments and appraise their progress toward their journey in life.
Recently three special occasions provided me with the opportunity to experience joyous and meaningful celebrations of life.
On the occasion of Amparito Lhuillier's birthday, dear friend Mariquita Yeung hosted a special lunch at Pig and Palm. The table set for six and the hearty rapport of the guests made the event truly an intimate gathering.
A few days later, Amparito, a lady of class and distinction, reciprocated and invited her closest friends to lunch this time at her well-appointed home in Maria Luisa Park. In attendance were real-estate developer Annie Aboitiz, event planner Teresin Mendezona, style icon Rosebud Sala, sister Anna Marie Dizon, sister and daughters in law Angie Mathiew and Joanna, wine connoisseur Margie Taylor, pediatrician Vivina Chiu, art enthusiast Annabel Luym and working socialite Carmen Campbell.
The much-admired celebrant made her wish, blew out the candles and marked the beginning of another year.
Businessman Ed Alegrado marked his milestone with a sit-down dinner surrounded by family and long time friends. Adding to the relaxed ambiance was a quartet who prepared a repertoire of familiar '60 songs.
Wrapping up the evening was the cutting of Ed's splendid cake. The celebration continued on high energy as the gaiety went on with lots of food and wine to keep the party going.
First time parents Mic Alvez and Alessandra Borromeo-Alvez spared nothing to make their daughter Olivia's first birthday party meaningful and fun. Held at Happy Garden Cafe there were large pink balloons, an arch with a flamingo theme, and a dessert table decked out with favorite treats like mini cupcakes, designer cookies, tarts, macaroons, petit fours, gourmet popcorn and assorted candy. Proud grandmother Candy Alvez together with Dindo Borromeo and Lisette Garcia were more than overjoyed at seeing Oli aglow with happiness.