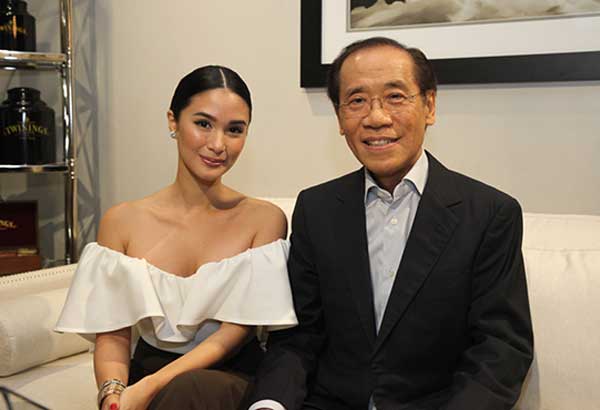 Focus Global Inc. president Stephen Sy with actress Heart Evangelista-Escudero
Heart Evangelista gets her hands dirty at Ethan Allen's Tea Tuesdays
Seeing the always put-together Heart Evangelista-Escudero touch dirt is a rare treat, but it's like her perfectly manicured hands naturally repel it. I remember asking her what her artist space is like some time in 2015, and, you guessed right — it's as neat and as shiny as her hair. It's like she's incapable of making a mess. I witnessed this myself at Ethan Allen's "Tea Tuesdays" terrarium-making workshop with gardening expert Raab Bustamante at their BGC Showroom. Of course, Heart wore white, because she loves white and never gets dirty, inspite of dogs, paint, and apparently also soil.
Tea Tuesdays is Ethan Allen's way of helping homeowners access their inner creatives. There's food and good tea, as well as a lot of applicable designing tips. Last Sept. 19, it was all about plants. Guests made their own open succulent garden, while Raab and Heart made a terrarium.
Some of Raab's tips: 1) Always make sure your pebbles and stones are super clean and dry. "I like to wash them and then microwave them to avoid bacteria and mold from forming. You don't want any molds in your terrarium," he said. 2) Use distilled water to clean the glass so it doesn't get spots. 3) Keep the terrarium out of direct sunlight or heated areas, such as beside the fridge.
Ethan Allen selected Heart as a partner because she is a homemaker with a sense of style that matches Ethan Allen's classic-chic aesthetic. "I love everything white, everything timeless and clean. But since I'm also an artist, I want to see a burst of color. I got a lot of my furniture from my Dad's house. He loves collecting furniture. I love mirrors, nice chairs and anything with a brass finish. When I have no work, I'm just usually at home, so it's important for me to create an atmosphere where I can relax and get inspired to paint," Heart said. "And I do like plants! I cover my walls with really nice plants. I like everything green. It's very homey."
Heart, who describes her home as "chic," decorates her favorite spaces — her walk-in-closet-slash-office-slash-showroom — with her painted bags. "It's in my showroom where I put the clutch line that I'm working on. Some of my clients' bags are also there waiting to dry," she shared.
Currently Heart is working on a fictional book called Heart at Home. "Hopefully I could go back to work and start fixing my book, but I'm also gearing up for a nice home line and it's something I'm excited about," she said.
Ethan Allen agrees with Heart's love for self-expression through decorating — the custom order program is one of the most important features of the brand. There are design options that allow homemakers to customize or personalize their orders, mix and match fabrics, colors and accent pieces to help customers discover their own style and home personality.
Heart shares, "Your home says a lot about who you are. When you take a picture of your home, it's like taking a picture of your diary because people can see your personality through the objects you choose for your home, and how you place things together. That's what makes a house beautiful."
* * *
Ethan Allen showrooms are at Twenty-Four Seven McKinley, 24th street corner 7th avenue, Bonifacio Global City, Taguig (tel. no. 705-9999); and at Pioneer cor. Reliance streets, Mandaluyong City (tel.no. 634-8587).