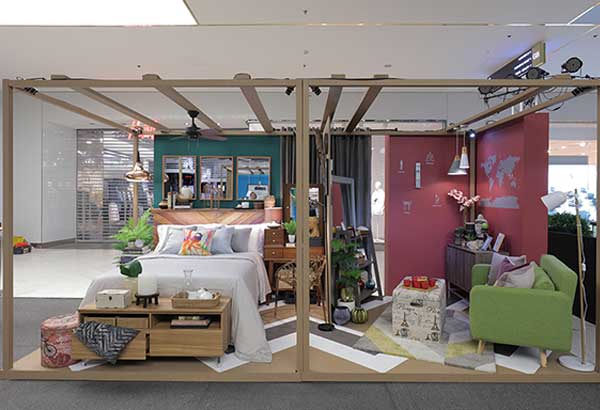 A maximalist bedroom and a minimalist living room are on display at the recent SM Home's The Essentials of Condo Living.
Space Planning 101: Essentials of living in a small condo
(The Philippine Star) - October 6, 2017 - 4:00pm
MANILA, Philippines — Condos are getting smaller and smaller in Metro Manila. The average studio apartment is about 22 square meters, while the average one-bedroom is 30 square meters. With a very tight and limited space, most condo residents find it difficult to design their pad to have everything they need and feel the comforts of home without feeling cramped.
The client profile: A newlywed couple living in a studio-type condo. He works in finance and she works in marketing. He is more analytical; she is more creative. They love traveling. They love nature and the outdoors. And for their love nest, they picture a modern, Scandinavian-chic look.
After the successful unveiling of SM Home's "Complete Your Home" campaign in June, "Essentials of Condo Living," the second of the series, featured a studio condo setup complete with designer pieces from SM Home. In a one-of-a-kind open house at the SM Makati Concourse, SM Home AVP for marketing Tom Castañeda led teams of architects and interior designers who worked together on a small space, marrying the styles of the newlywed couple and showing the essentials they need for life in a small condo.
The weeklong event was highlighted by talks dedicated to Space Planning 101: maximizing space, how to use multifunctional pieces, how to use color to make the space look larger, and more.
"It's nice to have talks but people want to see it in action, so we created studio-like spaces on the ground floor of SM Makati," says Castañeda, who comes from a home magazine background. "We wanted to bring the experience that I've had from magazines to retail. Part of that is creating lifestyle setups. We wanted to be a partner for our customers, not just a source. Yes, you can come to SM Home and find everything you need — furniture, accessories, even small appliances — but we wanted to show them how they can mix and match items, how they can make smart choices when they're buying. So we're showing them lifestyle setups, talks and events where they can learn from professionals like the designers that we hire."
SM Home has in-house designers who compose its visual merchandising team. The brand is now looking into having designated days for free design consultations and to have on-staff interior design talents to help customers make decisions and shop easier.
Full House
Using four colors from Boysen's Color Trends 2017 collection, the setup consisted of four eight-foot by eight-foot frames to represent different areas of the home. Dining room and kitchen were combined on one side, and the living room and bedroom on the other.
Castañeda shares, "When you move into a studio, you don't have walls. You don't have a designated area for kitchen versus bedroom, living room and dining room. So we spread out the frames to give an idea on how to divide space, how you can work to create distinct living areas. If you put the four frames together, you will get the overall studio look."
Surprisingly, the four interior designers picked similar same shades for the wall, which made the spaces very cohesive.
Maya Franco, an architect based in Cebu, designed the kitchen, while Erika Uichanco designed the dining area. The two had never met before the event but were able to achieve a cohesive style. Originally, Maya had a lot of plants and Erika had some but not as much; the latter added hanging plants when she realized that Maya was also using it. They used a more open-air layout and chose Boysen's Scout's Honor (dark green) and Tribal Teal for the wall.
The kitchen setup disproves the misconception that small spaces like condos should be painted with light colors. "With darker colors, you end up getting the transition of light throughout the day and you get shadows and texture. The color sort of changes because it absorbs the light and changes the mood of a space. So it actually blurs corners and lines, and the room ends up bigger as well," says Castañeda.
Franco also added shelving. If one opts for open air, it's nice to display the items as well as the appliances. The architect also turned a rolling kitchen cabinet into an island, which can also function as a working station. Since the cabinet is on wheels, it can be moved easily to the side to lend more space for entertaining guests.
In the dining area, Uichanco chose a small, unobtrusive four-seater table that could seat guests. The chairs were silver with very thin legs, also lending it an open-air feel. Bulky dining tables and chairs take up a lot of space and feel big.
For the other sections, Essentials paired Ivy Crisostomo for the living room and James Razo for the bedroom. The very close friends worked in a different way from Franco and Uichanco. Razo placed a panel wall between the rooms, so one could see a minimalist living room and maximalist bedroom. The green color in the kitchen was reflected in the bedroom, while the living room was in a maroon called African Herbsman. To make the design and two rooms cohesive, the designers painted a zigzag artwork on the floor.
Crisostomo chose a sleeper sofa for the living room that didn't occupy too much space but allows guests to sleep over. Her wall art showed a map of the world, displayed together with all the condo owners' travel collectibles.
Despite the limited size of the bedroom, Razo opted for a fuller, queen-sized bed so as not to sacrifice comfort. For the designer, the bedroom is the most private space where one relaxes and spends the most time.
Castañeda adds, "In the grand scheme of things, you want to have a good night's rest. You want to invest in a good mattress and a bed that you can actually enjoy and be comfortable in."
To maximize the space, the designer elevated the bed, allowing owners to store things underneath. Instead of putting a bench in front of the bed, he opted for a media centerpiece with drawers and shelves, and a headboard with a shelf on top. A dresser and desk in one offers more storage below. Another trick to use in a condo is to place mirrors, giving the illusion of more space.
SM Home offers a vast selection of items to choose from, like sofas with over 50 different sizes, shapes, colors and fabrics. The Essentials of Condo Living mixed and matched items right under SM Home's roof.
"By having these setups, or vignettes, as we call them, you can put pieces together and see how they would look in a space," Castañeda says. "It may not necessarily be your style but at least you see how items can be put together, how you can play with color. You will learn how you can use art, mirrors, and things that you can hang on the ceiling, like pendant lights. You will have a bigger view of what you can do to a space."
For inquiries, visit smhome.com.ph.