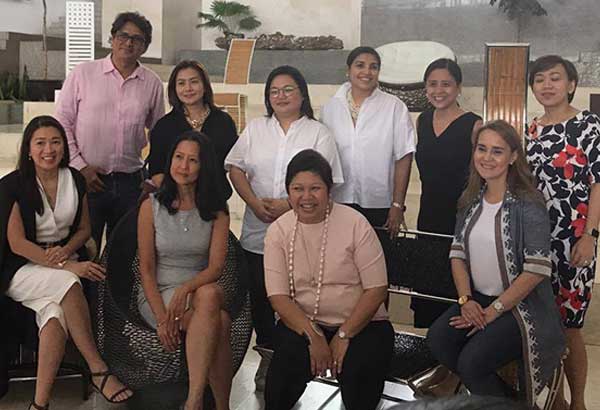 At the launching of Artkitektura at Greenbelt 5 are Ayala Malls executives Rowena Tomeldan, Maricris Bernardino, Pivi Diaz, Tin Enriquez-Yabao, Mina Domingo, Mañosa & Company's Bambi Mañosa, Artkitektura festival director Sarri Tapales, sound artist Teresa Barrozo, and CFIP's Nicolas de Langhe and Carmen Regala
The sound & feel of Artkitektura x Ayala Malls
MANILA, Philippines - When walking through the gardens at Greenbelt, don't be surprised to hear birds loudly chirping — or a person doing the same by literally saying "tweet." This is the work of sound engineer Teresa Barozza, composer and recipient of the NCCA's Ani ng Dangal Award. She created the garden soundscape called "Vocalizations" as part of Ayala Malls hosting Artkitektura Festival (you can hear the birdcalls from 6 to 9 p.m.).
There are two components of the festival: first is the international exhibit at Ayala Museum called "Living Architecture" and the second is the partnership with Ayala Malls, which is an expansion and the local response to the exhibit. Apart from the soundscape is "Silya" at The Gallery of Greenbelt 5, curated by CFIP (Chamber of Furniture Industries of the Philippines) and highlighting Filipino organic design.
Artkitektura raises awareness about living architecture and demonstrates how it can exist in harmony with nature and enhance the human experience. It delves into the role of architecture responding to space and creating an environment that promotes growth and harmony for all those who move and live within it.
Artkitektura Festival director Sarri Tapeles says, "Artkitektura started as a group of architects and designers looking at the practice holistically. One of our colleagues, a Dutch architect, wrote a book on organic architecture and created this major exhibition and we decided to bring it to Asia. I said, let's bring it to the Philippines first because the exhibition has toured European cities but was never launched in the English-speaking world."
Ayala Land Malls Inc. president Rowena Tomeldan says, "In all our developments, Ayala Malls takes into consideration the environment we are present in. With Greenbelt, we preserved the park; in UP Town Center, Fairview Terraces, and Centrio in Cagayan de Oro we built our malls around the trees that have stood in that location for years. In our regional malls like Glorietta and TriNoma, we integrated greens through pocket and roof top gardens. What distinguishes us is the amount of space we allocate to greenery."
The partnership with the malls led to satellite exhibits that are independently curated like "Mañosa: Beyond Architecture," which is now at TriNoma Mall until Sept. 9. The exhibit was first launched at the National Museum and the architect wanted to bring it to a wider, younger audience.
Mañosa, whose works include the Coconut Palace, Amanpulo and Pearl Farm resorts, is widely recognized as the country's champion of Filipino architecture. Visitors now get to see his original drawings and models from his body of work, including plans and projects never before seen by the public, while new and archival photographs, examples of vernacular materials, furniture, interior elements, and audio-visual presentations offer insights into his diverse practice.
"The Mañosa exhibit came at the right time and his works are such great examples of organic architecture. He really pioneered the use and appreciation of natural materials and vernacular architecture," says Sarri.
There will also be public talks and lectures on living architecture and what it means to different people. "I think there's no one way to define it but it has to do with the process of placing the human being and nature in the center of all the questions that guide your design process," says Sarri. "It's about designing in harmony with the living principles of nature. The soundscape installation at Greenbelt touches on an aspect of this process, which is to try to understand the history and spirit of a place, before attempting to design anything that will alter its course. Living architecture is about designing with thoughtfulness and sensitivity."
People who knew the Greenbelt area before it became a complex of malls remember an aviary being there, and Sarri relates that researching on the bird species wasn't an easy task because records were not diligently kept. She somehow managed to get a partial list of the birds and the soundscape represent their birdcalls — more than 30 years after.
Perhaps living architecture also means visiting — if not preserving — memory and what once was there.
* * *
Visit the author's travel blog at www.findingmyway.net. Follow her on Instagram and Twitter @iamtanyalara.
Artkitektura Festival will have lectures and panel discussions at Ayala Museum from Aug. 22 to 27.