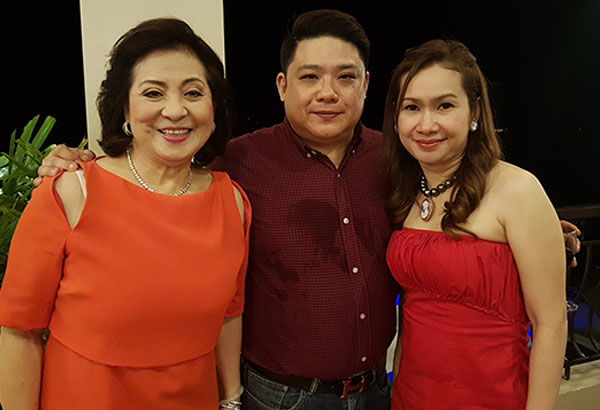 Aida Uy with son Troy and his wife Sheila
On the occasion of Aida Uy's birthday, a travel expert and a multi-awardee of tourism citations from the industry, a dinner party was held at the Maria Luisa Park residence of her son Troy and his bubbly wife Sheila.
In attendance were her son Mitchel, his caring wife Cathy, her driven daughter Twinkle and husband Warren Chu.
The outdoor setting among relatives and friends made the evening a truly intimate gathering. Each table was filled with delectable treats — a sample of what was to come with the buffet, to be enjoyed under a starry night with a light cool breeze.
Aida gamely took to the stage for a spontaneous musical performance and sang her signature Chinese love song, The Moon Represents My Heart, which is always presented with a different rendition each time.
Not to be outdone, her multi-talented grandchildren followed suit. Thirteen year-old Lawrence, son of Troy and Sheila, played the piano with great attention to all the musical dots and dashes, while Amanda, daughter of Twinkle and Warren, fascinated everyone with her guitar-led acoustic ballad, Say You Wont Let Go.
Glasses clinked to more good times ahead, and after much feasting, Aida capped the night by blowing out her birthday cake's candles. Nobody bothered to count how many candles there were, for she never seems to grow older, probably due to all her travels crisscrossing the entire world, enjoying the local cuisine, shopping for unique goods, attending wonderful festivals and meeting clients who have become more than just acquaintances through the years.
* * *
On the other side of town the ever gracious lady, the universal no-fuss tita for different walks of life, ages and generations, Nena Garcia, celebrated her 85th birthday surrounded by parientes y amigos.
Cocina de Casa was filled and made brighter by the presence of her son R-montito, his wife Liz, daughters Melinda and part owner of the resto Margette together with friends.
The generous cocktail spread, followed by the celebrant's much-sought after specialty dishes, which were so familiar to the guests, that each bite made them recall past memories and endearing times. Delightful desserts were personally chosen by Margette who made all the arrangements to make the occasion special.
Wrapping up the evening was the cutting of tita Nena's splendid cake, a moving sight for a truly big-hearted lady.