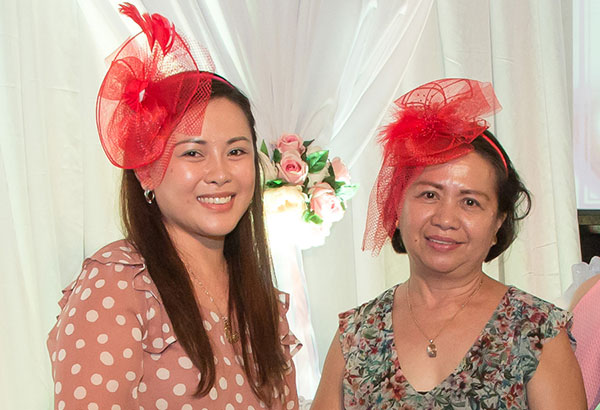 Annie Cel Canete of Wealth Bank with mom Rosalinda
An afternoon tea for Moms at Cebu City Marriott Hotel
Cebu City Marriott Hotel paid tribute to mothers of all ages with an afternoon tea party to celebrate their special day.
Accomplished and hardworking moms from the corporate world traded their business suits for sun dresses as they brought their children along for "An Afternoon Tea Story" with special guest, image and etiquette trainer Pauli Antoine.
Pauli Antoine is a graduate of the John Robert Powers International's Personality and Development course and is part of its roster of trainers. She is also the president of Etiquette de Manille and Red Archon and is the skilled craftsmith behind the portrayals of fashion, business and political icons.
As the moms arrived with their children in tow , they were given fascinator hats to match their outfits before proceeding to the ballroom. Fresh blooms in hues of pink and blue, together with tiered dessert stands filled with cakes, cookies, sweet tidbits and tea sandwiches enhanced the long tables that were charmingly decorated for afternoon tea by Blooms and Bubbles.
Cebu City Marriott Hotel general manager Patrick Carroll gave everyone a warm welcome and enjoined both moms and kids to learn and have fun. With poise and grace, Pauli started her first "lesson" on visual poise, that centered on achieving the picture-perfect pose with a flattering stance and confident posture. Interesting topics also included sitting down like royalty, discovering your five different smiles and giving an appropriate and well-intended handshake.
Invitees were then given a refresher on internationally accepted table etiquette. This was followed by a short talk on tea appreciation, brewing and the art of pouring tea with grace. She also shared some pointers on tea pairing with sweets and savories.
Promising young musician Gabriel Alfonso Balantucas surprised guests with a violin perfromance. All the kids then made their way out of the ballroom and returned to their moms with pink roses greeting them a Happy Mothers' Day.
The delightful event finally came to a close with a heartwarming message from a fellow mom herself, Cebu Marriott new director of sales and events Frances Alfafara. Everyone then took the opportunity to thank Pauli and instantly applied what they learned on visual poise as they posed with her for photos to remember the afternoon by.
I could spend a lifetime and never come close to thanking my mom for all she has done. She transformed life's many difficult and challenging moments into life's greatest memories. I love you, mommy.