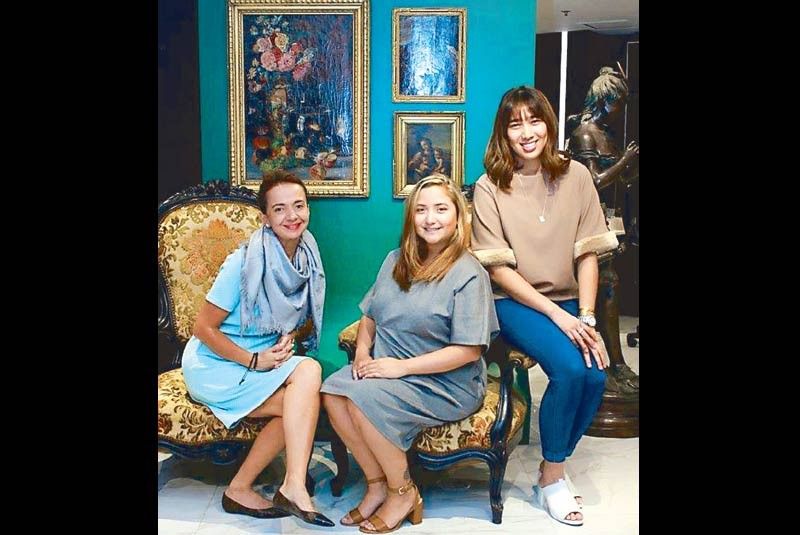 Casa de Memoria director Angelique Miranda, marketing manager Camille Lhuillier, and operations manager Tiffany Mathay
Casa de Memoria gives Filipinos a taste of European nobility
(The Philippine Star) - February 25, 2017 - 12:00am
MANILA, Philippines - Beautiful azure seats are the first to welcome guests to Makati's little corner of European grandeur — the Casa de Memoria. The detail and trimmings of the furnishings are a sight to behold coming through the simple doors of this relatively new auction house.
With a quick glance at the periphery, it is easy to get a sense of the craftsmanship and technique on display; this is artistry carved for the aristocrats of Europe centuries ago, and today, these are treasures that can accentuate the Filipino home.
"We don't want these pieces to end up in a museum. We want to be the place where people can find their dining table, chair, and favorite desks. For these items were not made just to be looked at," says Camille Lhuillier, Casa de Memoria marketing manager.
Asked about her favorite, Lhuillier shares she has her eye on the grand sofa piece and miniature pieces of ivory animals with bejeweled eyes. Farther across the floor, varying tones of lacquered wood work are present, collections of ceramics and porcelain that are generously spread, silver and bronze sculptures adorned tables, and magnificent paintings lined the walls.
Sourced from the private collections of families and individual collectors, these pieces of nobility all underwent strict authentication and restoration measures and placed under the care of Casa de Memoria's local curators and European advisers.
Viewing for this lot is scheduled on Feb. 28, while the gavel will go down for these consigned pieces at Casa de Memoria's fifth auction,"The Casa Open" on March 4, starting at 2 p.m. Displayed pieces will represent the full catalogue of items that Casa de Memoria will auction off for the rest of the year.
Art enthusiasts will be treated to masterpieces like the "Adoration of the Magi," an oil painting depiction of the Holy Family on wooden canvas, sculptures by French contemporary artist Francis Bérille, Renaissance pieces designed with ivory and precious metal inlays, and a 152-piece Limoge porcelain dining set that is guaranteed to bring splendor to Filipino dining.
Lhuillier explains, "We're the most cohesively European auction house in Asia right now. Collectors will find that Casa de Memoria offers a more extensive selection of pieces from that part of the world, even when compared to other auctions houses in Asia."
Casa de Memoria is located at 156 Jupiter corner Comet Streets, Bel-Air, Makati City.