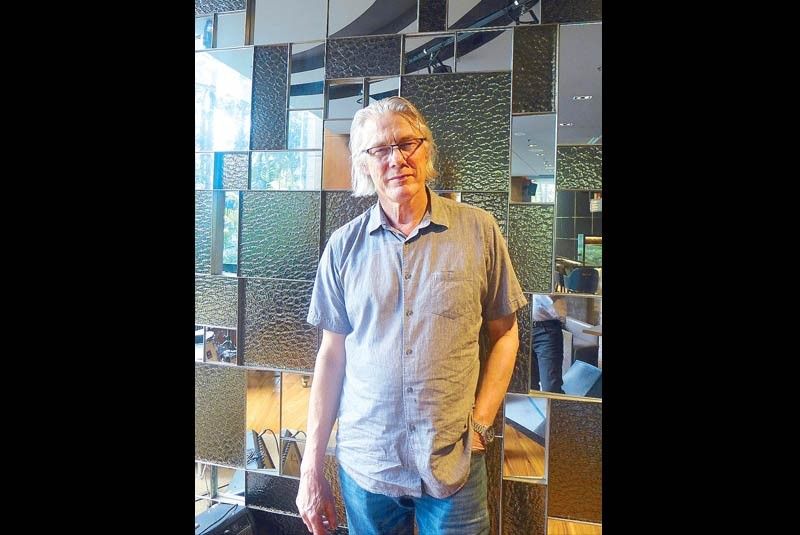 "Street" artist: "A little old lady came up after the Met showing and said to me, 'That was wonderful! How did you get all those people to do that?'" recalls James Nares.
How to people-watch in New York from the streets of Makati
British artist James Nares likes to slow down time, revealing people's lives between the flickering frames, hinting at hidden potentialities. In his 61-minute video "Street" — now showing on an outdoor public screen at Ayala Triangle Tower One until Sunday, with repeat screenings from 12-2 p.m. and 5-9 p.m. — the New York-based painter and filmmaker tracks random city dwellers on a series of days in September 2011.
The result is like a mannequin challenge that subtly changes as the camera moves: capturing random life from the back of a cruising SUV at 870 frames per second, New York's urbanscapes reveal themselves in slight incremental movements and exquisite detail — a man's head wrapped in a torn plastic garbage bag to block the rain, a young girl dashing through rain-swept streets in a white dress, people's hands raised in frozen cab-hailing gestures, lonely figures crossing the glossy-wet streets, and the city pulsing with the AC flicker of fluorescent light, just as dusk descends.
Nares shot 16 hours of footage using a Phantom Flex high-speed digital camera with an Angenieux lens mounted inside an SUV's window, then edited the final project down to one hour. "I wanted it to be watchable without being too much, and one hour just seemed like the right amount of time," he says while visiting Manila. Later, he will be introduced by Fernando Zobel de Ayala as the video has its Asian premiere on a 16-foot-wide screen in downtown Makati, part of "10 Days of Art," a side festival sponsored by Art Fair Philippines, which is simultaneously taking place nearby at The Link carpark this week.
Nares, a lanky fellow with flowing white hair, first came to New York amidst the '70s punk scene. His paintings — large, horizontal canvases that reveal flowing, single brushstrokes loaded with hyper-detail — flowed into filmmaking, sculpture and playing rhythm guitar with James Chance & the Distortions — a jazz-noise outfit that made waves on the No Wave scene.
"I felt a little like I shouldn't be there onstage," he says of his guitar-wielding days, "but I contributed a kind of rhythm — I'm good on rhythm, and rhythm is part of my paintings and things I do as well."
"Street" is paired with a gripping, improvised music score played by Sonic Youth founding member Thurston Moore on 12-string guitar, lending the images a sense of impending urgency, even dread. Either watching casually or hypnotically viewing, each moment of "Street" takes on impact — in one segment rain threatens, and there's an air of impending… something… hanging over the slowed-down images of pedestrians checking the sky conditions, donning umbrellas and braving a slow-motion pelting.
Initially he didn't want a score for "Street," but felt Moore uniquely understood New York's "inner voice" — there's a clatter and minimalist din to the score that could only be birthed by the Big Apple. "I didn't want him to 'illustrate' the film; I wanted it to be like a parallel world," says Nares. "I wanted him to wander around his interior mind the same way we wandered around the city — we just followed our noses."
I asked Nares about the connection between his paintings and films. "It kind of parallels my paintings, because the paintings are one movement of the brush, and the film is one long movement. Recently the paintings have been horizontal, too — there's horizontal motion.
"Also with the paintings, you find you're bearing witness to the actual creation, you can see something the eye wouldn't be able to see as I make it. It's a moment in time. They're very time-based. I think the paintings reference photography in its temporal aspect, rather than its visual aspect."
In an age where even iPhones can take slo-mo videos — though nowhere near the rich density or high frame rate of Nares' film — it's worth recalling that high-speed digital cameras were much less accessible back in 2011. Nowadays, we shoot everything in sight. Nares finds it strange, our modern relationship to time, photographs and technology: "It's amazing and wonderful, and I don't quite understand it. Like my kids like Snapchat, where the pictures you take disappear, because you don't need to hold on to them; or photography has become a way of communicating, like words or music. It's there and then it's gone." In the past, our photos were objects: we kept them. Now we glance at them, store them, forget them. "Street" is a way of looking at a moment frozen — and unfolding — in time.
It was local art patron Marcel Crespo who saw "Street" showing in Miami Basel in 2012, and convinced Ayala Land Corp. to bring it here. "I was leaving the exhibition and saying goodbye and there was this thing — I couldn't take my eyes away. As the show was closing — they were saying 'Everybody out!'" So he went to New York, where it was being screened at The Metropolitan Museum of Art. (It's now part of the Met's acquired collection.)
Considering the date of its filming, I asked if "Street" had any political connotations in mind. "It's a kind of musing on our place in the world and the similarities, the things that hold us together. I lot of people have said the same thing to me, that it's a movie from the heart. So that's my political statement."
I asked if it would be any different if he'd shot it in one of the "Red States" that voted for Trump, instead of New York City. "It would certainly not be as racially diverse," he allowed.
There's a moment in the film where two young girls stand with their mom on a street corner, notice the passing camera, and strike poses, flashing V-signs and waving. James Nares likes that a lot. "I love those girls. It connects you as a viewer, almost with a jarring moment where it reminds you that you're in a privileged position as a viewer."
Within 16 hours, Nares toured much of the city, including 47th Avenue and Harlem; he didn't feel so welcome on Wall Street. ("I sensed a chill there. It just seemed there was a much better chance of someone trying to stop you filming there. They might have thought we were FBI.")
When he had to figure out how to cut down the film, he decided to "simply follow the chronological path I shot it, and that absolved me of that problem. There's a truth, it's linear, it's perfect because we wandered around the city like that." Clearances for all those random people were not a problem: "In fact, you can film anybody in America. If you're on the street, you're available to have your life torn from your control."
"Street" is the kind of video you can watch in small doses, or over and over again; each time reveals new details, hidden stories. "I found what I've made is like a collection of little narratives: you kind of invent the story yourself. Each moment something happens, there's a before thing, then there's an after.
"I think what drives the narrative is because you're always wondering what's coming next, because of the linear motion: it tracks."
Not everyone was sure of what they were seeing up on the screen. "There was a little old lady who came up after the Met showing and said to me, 'That was wonderful! How did you get all those people to do that?'" That amuses James Nares a lot. God is in the details, they say.