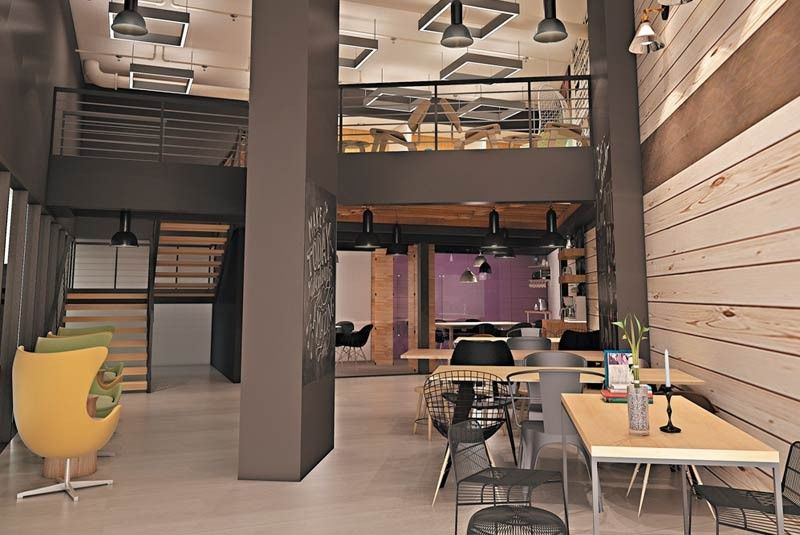 CoLAB shared spaces: A co-working space where residents can simply walk in, grab a cup of coffee, plug in their laptops and start working.
Photos by JOEY MENDOZA
A space for the creative mind
The pinnacle of success — what is it? But more importantly, for today's generation of entrepreneurs and freelancers, how do we get there?
Megaworld recently gathered experts in branding, entrepreneurship, and investments as they shared their experiences on how to pursue their passions. They are the inspiration behind Megaworld's latest development The Ellis, held at one of the country's first workspaces, A Space in Makati.
"For the baby boomers, it's about climbing that corporate ladder. Generation X is about work life balance," compares Lamudi Philippines founder and managing director Jackie Van de Ende, herself a millennial that founded the startup that connects buyers and sellers of real estate online in Manila and Cebu. She describes the work culture as one that values independence and flexibility, of being able to work in their own time, whether in a cafe or on beanbag.
Megaworld's vice president of sales and marketing Eugene Em Lozano affirms this. "Today, there are more people doing side jobs unlike in my generation where we focused on getting promotions and salary increases," he says, citing that The Ellis, named after the gateway island for New York immigrants, was born out of a curiosity with people who have staked claim in coffee shops as their working spaces.
A lot of today's freelancers are from the creative industry. Shaira Luna is one of its most recognizable figures in the country, if not for her childhood days as a Promil gifted child but more and more today as a photographer whose signature is a distinct cinematic style. When she's not lensing some of the country's top campaigns and magazine covers, she gets her creative juices flowing with personal shoots where she also conceptualizes and styles the clothes and set.
During the talk, Luna admitted her journey is wrought with society trying to put her into a box (she confessed she is actually bad at math). Blinders on, she stuck to her guns and is now able to command a signature aesthetic, something not many in her field achieve.
Anyone who aspires to be social- media famous would know self-made entrepreneur Vince Golangco or his site WheninManila.com which fuels internet discourse and influences public opinion on the next dining and drinking hotspot (a popular watering hole in The Fort, Tipsy Pig, is also his). This kind of influence doesn't just happen. Golangco credits "happy" content, easy-to-digest listicles with an average of 10 items in it, and sharing content on the day of the week that most people are glued to screens and devices (it's Tuesday).
His most valuable tips were not just of the technical sort but must start with a mindset. "Give everything a chance. Be a yes man," he encouraged. "Be truly happy with what you have and where you are. Judge each day by the seeds that you plant." The most important tip of all? "Just post, keep posting."
Van de Ende adds, "Millenials value experiences over assets." Car sales are going down as more invest in their travels and social events, she says. "Those between ages 25 and 34 buy real estate instead of cars, prioritizing amenities. They avoid being stuck in traffic," she cites a figure from Lamudi's research.
Before arriving in Manila three years ago, Van de Ende's jobs took her from her hometown the Netherlands to Australia to Kyrgyzstan. At age 21, she invented a bicycle to generate energy to create juice. When she was 24, she was a young consultant at a non-profit company before she went into buying companies. She would change her computer password yearly to remind herself of her dream of starting a startup. Three years ago, Rocket Internet acquired online real estate database MyProperty and presented her with an opportunity. They sent her to the Philippines to grow Lamudi from a small corner in sister company Zalora Philippines' office with a handful of equally passionate people to help grow the startup — and the rest is history.
Luna's present career is a far cry from sneaking out her bedroom mirror to go to gigs and shoot for free because she kept expanding her repertoire, photographing everything from food and still life to portraits. "Why choose if you could learn from not being choosy?" she quips.
Golangco advises, "Develop good relationships. The more you help others, the more others want to help you." With this, he affirms that getting an influencer to share your content increases your chances of higher readership by more than double.
When you are your own boss, all three can attest to the power of making the right connections and opening the right doors as entrepreneurs and freelancers. Co-working is hitting two birds with one stone because it connects them to a network of like-minded individuals. Sometimes you just have to be at the right place at the right time. Lozano says of The Ellis, "With this project, I believe we have provided a place where everything is an amenity for the creative mind. It is not just a residential condo. It's an outlook in a life, a mindset, and a lifestyle."
* * *
The Ellis is be located along L.P. Leviste Street, Salcedo Village, Makati.
For information, call 0917-887-6223, email info@megaworldmakaticbd.com or visit www.megaworldmakaticbd.com.