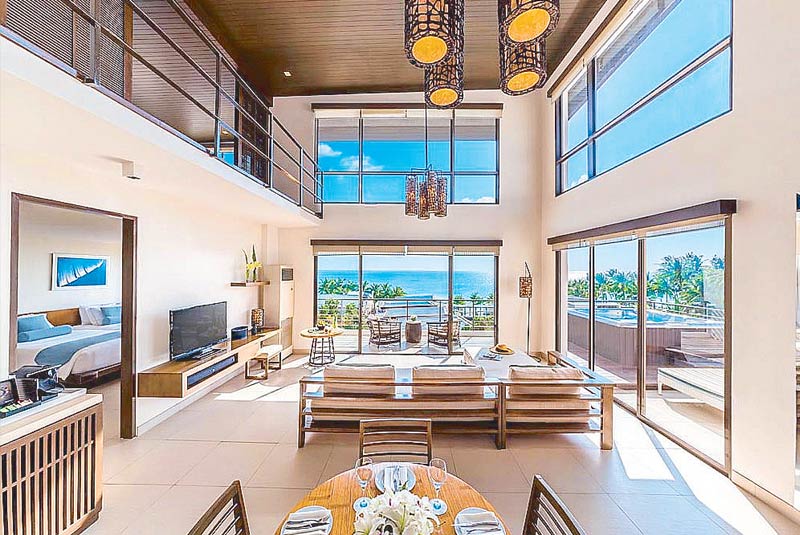 Those who prefer privacy after Boracay's famed sunset parties and watersports would enjoy the spacious deck and outdoor Jacuzzi at Discovery Shores' premier suites but by December, guests can have more space and plunge pools at one of the 11 premier suites in the 1,200-sqm. extension.
Discovering that personal touch in Boracay
BORACAY, Philippines – It's a cloudless sunny day, like every other day in picturesque Boracay. Just before I close my eyes under two slices of cucumber — offered by a waiter along with hors de oeuvres, a liberal misting of Evian, and wet towels galore — to de-puff my partied out peepers, I caught a glimpse of the athletic Japanese and Koreans in my group who said they would go parasailing, and they did. Me, I am the kind of traveler who prefers excitement in the form of a cliffhanger from a campy paperback while parked on a beach chair, soaking up the rays. Pairs of my fellow locals had gone on a picture-perfect stroll along White Beach, stopping by my beach chair to recount their D-Mall purchases, Station 2 eats, and #ootds all within walking distance. Only the Shores burger — juicy and crisp at the same time — could rouse me off my beach chair and the blissful signature massage at the Terazi Spa that followed afterward, something we all agree to come back for. Ours are travel styles so disparate yet here we are, all holed in Discovery Shores Boracay.
At Viva La Vida, the Mexican-themed sundown fiesta honoring the group's 2015 Top Producers later that night, I learned about their typical guest profile: local Filipino yuppies come from March to May, dictating the island's peak season, while families come mid-year; Taiwanese, Korean, mainland Chinese, and American honeymooners and group tourists of all ages come all year round. And they're all basically any of us three kinds of travelers. A consistent "best hotel" awardee in international industry lists, how are they able to please each demographic?
From December to the first quarter of this year, a 1,200-sqm. block housing an air-conditioned osteria and 11 premiere suites each with a plunge pool on its deck overlooking the sea. You can watch Boracay's famed sunset from there, see the shadows of paraws sailing against the light… that you've probably seen before, whether from a different vantage point on the beach or on social media. But there's more to ticking these must-sees off a proverbial list; in this increasingly globalized world, all seasoned travelers know this much. This is Discovery Shores setting the stage for something we can only get here, something memorable.
Resort manager Erwin Lopez differentiates what they offer from luxury travel which is strictly "high end and formal" as opposed to giving the emerging demographic he and his group coin as lifestyle travelers something unique and personal. "Lifestyle travelers are still as discerning but it's not all about luxury. They want the whole experience and value a personalized touch."
Lopez recalled the prime of the action traveler, diving, jet skiing, going on banana boat rides and getting thrown into the water for a laugh, you name it (they still offer these) while being at the lap of luxury in an island paradise where, 10 years ago, the only other options were budget inns targeted to the Spartan needs of backpackers. Today, luxury is the keyword du jour in resorts throughout White Beach, and even as new hotel chains pop up, Discovery Shores has their regulars, and the staff would know them by their names — and their preferences, their whims.
The day before, I did my sun worshipping on a sunset cruiser the resort had arranged, a tropical house DJ set scoring it from the decks, Boracay-style, hydrated by mojitos as the same adrenaline-junkie half of the group screamed their lungs out from going down the two-story high slide on the side of the boat into clear, cool turquoise waters. The trigger-happy bunch were still at it, orchestrating staged candid shots against the sunset. This is the island's personality, the vacay dream it inspires, the Boracay experience. Still, when I returned to my room, I had a lemongrass and rose petal foot wash waiting (the resort offers this as a complimentary treat) alkalizing my body after laying out in the sun. It was the perfect pause before freshening up for dinner and perhaps another drink with some live music. After all, Boracay is a 24/7 party island.
For Yogis and health buffs, A deserted island paradise
Three years ago The Discovery Lifestyle Company acquired a Palawan property and it is Club Paradise. Serenity is the order of the day here. It's been fully-refurbished, Discovery-style, so guests have modern amenities while on Dimakya Island, a lush islet only a 30-minute boat ride from Coron.
In Club Paradise is a tropical rainforest and just off its shores is a house reef where stingray, clownfish, blue starfish, and black tip reef shark habituate. In the coming year, Club Paradise resort manager Joegil Escobar reports it is carving a new niche from being a deserted island as they consciously tap into a wellness-conscious market. Think doing yoga whether in the gardens or by the shore and connect with yourself – or simply perfect your poses with all the beauty of nature around you; here, it's no longer just a place you retreat to in your mind. They are also working on a food concept to complete this journey.
For guests who miss their watersports, three months from now, the resort will open an island extension complete with a barbecue restaurant, only a thirty-minute boat ride away. Apart from keeping it quiet at the main resort, motor sports, when done on the main island's surrounding waters, can damage the reefs and disturb the marine life of the protected UNESCO Biosphere Reserve. A lot of yogis can attest to benefits of exercising our connection to Mother Earth; we must care for her, too.
* * *
Discovery Shores is located in Station 1, White Beach, Boracay. Airline partner SkyJet flies to Caticlan, Coron, and Batanes in 30 minutes.