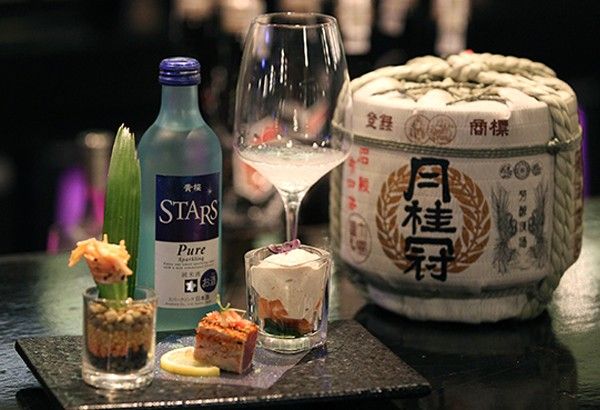 Well-paired: A trio of spicy tuna with salsa tomato, salmon with sesame foam and mixed crab stick on a charcoal cone with Kizakura Stars sparkling sake.
Sake goes 21st century at Spiral fest
The first thing you notice at Spiral's La Veranda is the welcome drink: a slim glass of refreshing, fizzy, iced sparkle. Told what it is, you do a double-take: Wait… this is sake?
Sake has gone beyond traditional cedarwood cups and warmed bottles, and a food festival at Sofitel's Spiral (ongoing until Jan. 22) shows how the Japanese rice wine has become more continental.
The Chef's Table festival is called "Obanzai: The Flavors of Kyoto," and it's no coincidence that Kyoto is also known for its exceptional sake. Japan's largest sake brewer and exporter, Geikkekan, is located there. The best sakes require excellent water, rice and yeast, but also skilled polishing of the grains. Philippine Wine Merchants, which supplied seven sakes for a pairing menu prepared by Spiral chef Hiromi Yonekawa, guided us through the rice wines — all served chilled with a special menu. Besides the Wine Dinner last Tuesday, Spiral held a Cooking Class (Jan. 18) and Chef's Table (Jan. 19), all overseen by chef Yonekawa.
Serving sake is highly ritualized in Japan, but the guests at La Veranda went with an array of wine glasses, first pairing a trio of spicy tuna with salsa tomato, salmon with sesame foam and mixed crab stick on a charcoal cone with splashes of Kizakura Stars sparkling sake (yes: "sparkling sake"). This went particularly well with the salmon and sesame foam, served with Japanese mayonnaise that is less sweet than Western varieties.
At its best, sake should be as crystal-clear as possible — if you keep it too long, it gets yellowish — and the Stars had an almost translucent taste to match its color. But it came alive with the salmon, seaweed and mayo combo.
Our menu progressed from sparkling sakes to ginjo varieties, just as a wine menu gets more complex towards the main courses, and ended with an iced dessert sake using ume — a Japanese fruit nearly identical to plum in flavor.
We learned from Philippine Wine Merchants sales and marketing director Raymond Lim Joseph that, like wine, sake should not be over-chilled; you can warm the glass with your hands and nose it to release aromas — rice, mostly, but also subtleties of flavor and variety. As we progressed through the menu, we worked up towards the ginjo sakes. These are more refined, because the rice has been at least 40 percent polished: according to Joseph, this gets to the "white heart" of each rice grain where starch is concentrated, removing unwanted fats and proteins and retaining flavor. Like beer, sake rice grains go through a two-part process — converting starch to sugar and then sugar to alcohol — but unlike beer, it's done simultaneously (multi-parallel fermentation). Typically, the brewing process is 48-60 days.
The ginjo sakes were more complex, and for me, the standout was a Hakushika Ginjo Namachozo paired with a tempura dish of ebi kawari-age (shrimp coated in a cornflake batter), crab claw isobe-age and eggplant tempura with mixed salt and ponzu sauce. The ginjo was powerful enough to stand up to the juicy, sumptuous crab claw and eggplant tempura. Didn't even need the salt. At this point, sake becomes like a tunnel, revealing deeper flavors.
We had a Hakkaisan Daiginjo sake next to go with sous vide beef tenderloin teriyaki with balsamic reduction. The sake was full-bodied, strong enough to match the beef tenderloin, but so aridly dry that one's palate actually cries out for a luscious cabernet sauvignon instead.
We enjoyed an array of sushi prepared by chef Yonekawa — smoked salmon, scallop sushi, aburi crispy salmon, spider roll and kani-jiru — with a Hakkaisan Tokubetsu Honjozo, winding down from the deeper Daiginjo of the previous dish, and finished dinner with a Choya Light Umeshu with ice and ume paired with matcha cake and sliced fruits.
Chef Yonekawa — who prepared the Imperial Dinner for Sofitel's royal Japanese guests last year — has a strong background in Kyoto's unique cuisine: his mother was born there and shared recipes with him growing up. For Sofitel, he explores modern and traditional variations on obanzai, Kyoto's native fare, using seasonal ingredients flown in from Kyoto for the three-part dinner festival. The "Obanzai" sake pairing dinner continues until this Sunday. Says Sofitel Manila sales and marketing director Alice Jenkins, the Japanese festival ties in with Japanese new year and lunar year celebration mid-January, followed by a series of Chinese New Year food events at Spiral ("Abundance: Celebrating the Year of the Rooster" from Jan. 25-29) and, of course, Valentine's Day ("#SpiceUpSpiral: 21 Recipes for Romance" on Feb. 14). It's definitely a way to kick off 2017 with a clean slate, as clean as the freshest sake.
* * *
To explore Sofitel Manila's "Journey of Taste" events, call 551-5555 loc. 1935, +63917-3092111, email H6308-SM2@sofitel.com, or visit www.sofitelmanila.com.