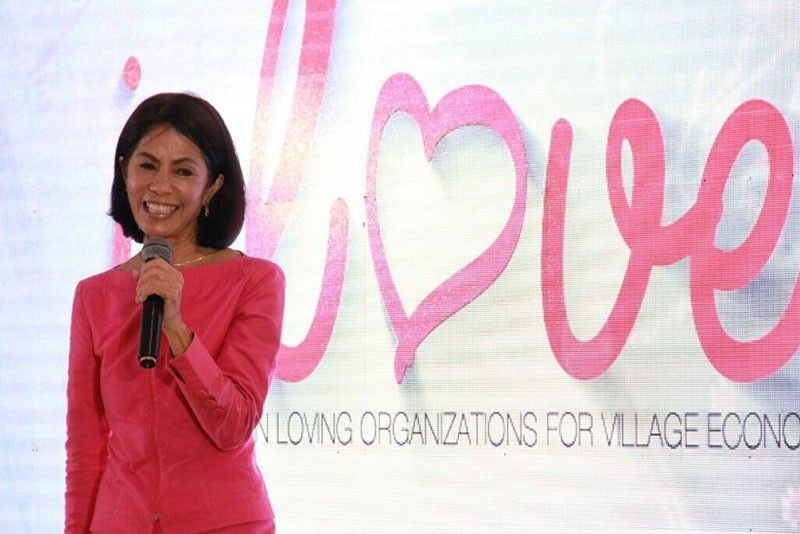 Former Environment Secretary Gina Lopez succumbed to brain cancer at the age of 65.
ABS-CBN/Released
'Time to fly again': A eulogy for Gina Lopez
I met Gina 25 years ago when she knocked at my door one early afternoon. She was inquiring about a brand new house that I initially built for my spiritual guru who changed her mind and asked me to just open it to the market. After several exchanges, she found out that I was also a vegetarian and that was what clinched the deal. And It was a deal that changed my life forever.
Gina not only became my neighbor but we became the closest of friends. Our ideas about life, our aspirations, and our 20 year dedication to our own spiritual paths though uniquely different, run in a parallel course. In short, our souls resonated with each other.
Being with Gina all these years will make you feel you are always riding a roller coaster. You will just never know what she will ask you to do.
She will ask you to sing, not just the two of you, in the privacy of a room but in front of a big number of people. And mind you, dare not decline for she will hound you forever.
She will ask you to dance. We danced three times a week for two hours non-stop with our own personally chosen handsome and nice smelling DI's. Complete with strobe colored lights in her basement which she turned into a disco dancing room. And these went on for months.
She will ask you to play "patintero" and hide and seek with her two sons and her domestic helpers, drivers and security guards in her house — games I have forgotten to play for the last time I played them was 60 years ago. And you better remember to be agile as a young kid again or else you will always be the "taya."
She will ask you to sleep beside her on the sand, on a full moon, on a beach in Kinatarcan, until you are lulled to sleep by the gentle waves of the ocean. Your feet being sprinkled by sea water, a heavenly way to go on a slumber.
She will ask you to go with her to Benguet to do the Ifugao dance together with authentic Ifugao tribes (which by the way was one item in my bucket list) and go 750 stone steps down the mountain and climb the same 750 steps up, still smiling.
She will ask you to dip into the Benguet hot springs, hot in your buttocks, chilly 18 degree wind on your face, sing any song you like, really, really hot and really, really cold sensations, enough to make you feel you are drunk.
She will ask you to go on a simple forest hike to Mount Masungi. There's no warning at all that the forest walk consists of vertical rope climbing of mountain sides triggering a mystical experience of how to live in the now, a walk on a spider like web with lime stalagmites three floors below ready to turn you into human barbecue should you decide to fall and start your journey into your next life. A feat that qualified me as the oldest Ninja warrior.
These and many more exciting adventures is life with such a wonderful friend. But life with her is not just all fun and games.
She will make you go down deep into the very depths of your being through her meditations, she will awaken the child within you, make you experience life and influence you to shed away any inhibitions you even didn't know you have.
She will share with you her wisdom filled personal insights on life. And lastly, being with her will make you look at life in a differently drastic way.
She will make you see and feel the purity of the soul of any human being that she holds or hugs in her arms.
She will trigger a divine spark in your heart to see life as one inclusive existence, no matter who you are, rich or poor, educated or not, young or old, nationless, genderless human beings, worthy to be hugged and listened to, and worthy to accept the blessings that she has so much in abundance of. This inclusive acceptance of everything and everyone in life propelled her intense passion to take care of everyone, including nature for they are all part of our very own existence.
And in closing, I would like to share with you my last moments with her when she opened her eyes that morning on her second day in the ICU. She looked at me and smiled, put her right hand on her heart, lifted my hand and kissed it and motioned to Sara (her personal secretary) to hand to her keyboard. She started typing with her eyes closed and what came out in the cell phone at first were just a number of letters. She opened her eyes again and tried to look at the phone on what she has written.
And again typed these words: "I will still live …to help".
Gina, you are still living for every ounce of your heart and your spirit lives with every human being you have touched.
You have taught us how to love beyond ourselves, how to look at people no matter who they are and where they come from and what is their status in life. You have made us see not the physical form of any person that we encounter. You showed us how to perceive the Divine in every human soul and recognize the Divine presence in all of life.
So it is not only the material help that you gave that will always be remembered but your unique way of bestowing respect, caring and love for any of God's creation. And this is what I will personally remember you by and I know that the rest of humanity who has known you will also feel the same way.
There is a common saying, the good die young. I do not believe that a good God will want life to be this way. My own personal insight based on the philosophy I have lived by all these years is that because of Gina's deeds and passion to do more her physical vehicle cannot handle the avalanche of blessings, tools and opportunities to do more good that will come her way in her many future lives.
That thought gives me comfort to say good bye to Gina.
To quote some words from your favorite song "I believe I can fly."
Gina, run, run to the many doors opening for you, you wanted to create many miracles you did! You wanted to fly but you have already flown and you brought with you many, many souls. You made them touch the sky, for you gave them their dreams.
Now it is time for you to fly again and liberate your soul from this particular existence — a feat that not all humans can do in just one lifetime.
Fly, Gina. Thank you for sharing your short life with us and with those whom you all loved.