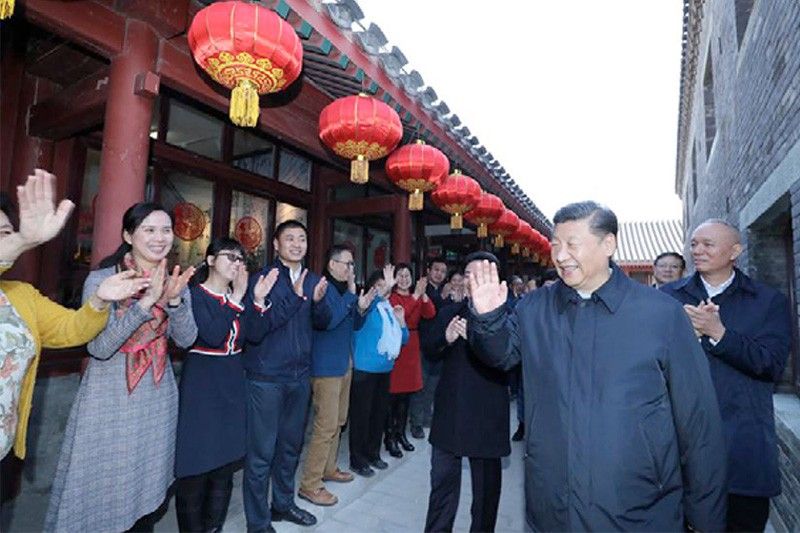 President Xi is a people's man and has kept this great tradition of spending time with the public before Spring Festival. He spent a busy day visiting various locations around the nation's capital.
Photo Release
Chinese New Year: Leadership and the people
(The Philippine Star) - February 14, 2019 - 12:00pm
Chinese New Year, or Spring Festival, is the most popular holiday in China, one that Chinese people all over the world enjoy with their families. It is understood that Chinese New Year has to be spent with family and friends back home.
Yet China's political leadership remains busy even during these public holidays, a historical tradition passed down from previous leaders like Jiang Zemin and Hu Jintao to the present-day leaders of China. Even in this festive time, the political leadership focuses on people's standards of living through visits and public contact.
From the top down, the Chinese political leadership reaches out to the general public or the more poverty-stricken class of society.
This may be a symbolic effort, but it has a deep-rooted and significant impact on average people. It also demonstrates that the political leadership's major focus is on bringing about improvement in the lives of common individuals.
President Xi is a people's man and has kept this great tradition of spending time with the public before Spring Festival. He spent a busy day visiting various locations around the nation's capital. Beijing has turned into an international and cosmopolitan city, but it still has a number of more traditional residential areas called hutong, where the buildings are as much as a century old. Hutong have narrow streets and offer few facilities.
While visiting these areas, President Xi spent some time with the community there. He inquired about their health and well-being, reflecting the people-oriented approach of the Chinese leadership. During his visit, he also asked about the living conditions of the local residents after renovation projects in the traditional alleys. He stressed providing hutong residents with all the modern facilities of a cosmopolitan city.
These visits play an important role in the Chinese political system and show that the leadership is not only aware of public issues but also cares for common citizens by directly engaging with them. This strengthens the trust of people in the ruling leadership.
"What the CPC pursues is to make people's lives better," Xi told residents, adding that the Party aimed to create a more comfortable and better living environment for the people and solve problems they care about, so they can enjoy a more modern life, even in older hutong areas.
President Xi visited northwestern Gansu province in 2013, Inner Mongolia autonomous region in 2014, northwestern Shaanxi province in 2015, eastern Jiangxi province in 2016, northern Hebei province in 2017, and southwestern Sichuan province in 2018. Interactions between the Chinese leadership and the public, a common sight during inspection trips, allow the leadership to truly assess development work on the ground.
China is striving to become a "moderately prosperous society in all respects" by 2020, just before the centennial anniversary of the founding of the CPC. That means all rural residents living below the current poverty line should be lifted out of poverty by 2020. It will be the first time in China's history that extreme poverty is eliminated.
In 2019, the goal is to raise 10 million rural residents above the poverty line. However, China has already set a world record in eradicating poverty, bringing around one billion people out of poverty over the last four decades of reform and opening-up, which was first introduced in China in 1978.
Besides poverty reduction, new dimensions are also being discussed, such as issues concerning people's aspirations for a better life in areas of education, jobs, food safety, healthcare, social security and environmental protection. China has developed and entered into a new stage where higher expectations are achievable.
Following the people-oriented approach, the Party must first and foremost ensure the backing, approval and endorsement of the people, in considering and introducing more friendly policies for the welfare of its citizens.
Summing it up nicely in his Chinese New Year speech, Xi said, "Our people are the solid foundation of the country, and are our main source of confidence as the ruling party."
The spirit of "governance for the people" is the real beauty of the Chinese system, which brings the people and its leadership in harmony.