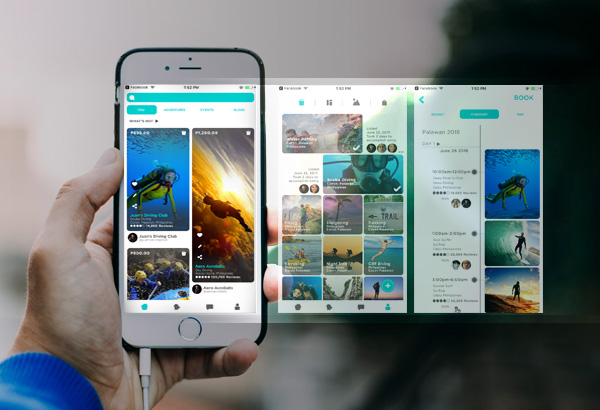 At present, the Bliimo mobile app has a gallery of 183 verified activities while there are close to 400 activities waiting in the pipeline. Meanwhile, payment methods are as flexible as doing it via credit card, money transfer services, or even bitcoins. Photo by Philstar.com/Jonathan Asuncion
Filipino bizmen launch travel experience-based app to help boost Philippine tourism
MANILA, Philippines — After losing some investments when he was still starting, Filipino entrepreneur Ronn Mitchell Esguerra found himself lying on the bed crying with his wife because they couldn't afford to travel.
"I was really down the drain," Esguerra recalled. "And then I thought I need to think of something big."
So he tapped three other Pinoy businessmen and together they created the first experience-based mobile application in the Philippines that would not just allow Filipino travelers to explore and book unique destination activities, but also help promote the country's thriving tourism.
"That's homegrown in the Philippines, I guess. But what's life for if you're not ambitious?" Esguerra told reporters during the media launch of Bliimo app on January 27 in Subic, Zambales.
The Bliimo allows users to personalize their itinerary by selecting from a pool of activities and adventures. They can also create their very own bucket list.
At present, the app has a gallery of 183 verified activities while there are close to 400 activities waiting in the pipeline. Meanwhile, payment methods are as flexible as doing it via credit card, money transfer services, or even bitcoins.
For travel experience providers, Bliimo also aims to "level the playing field" by opening an online marketplace that includes small-time merchants who underwent the company's stringent verification process.
Merchants on board Bliimo will be provided with analytics of their business, including regular revenue tracking and customer reviews, for free.
"What we want to happen is a seamless flow of adventures, of experiences for the users, and a seamless flow in terms of business for the merchants," said Esguerra, founder and CEO of Bliimo.
For his part, Jesus Paolo Montero, Bliimo cofounder and chief technology officer, said the company gets "the smallest commission compared to all travel agencies" and has no registration fees for now in order to help small merchants compete.
"We just get a maximum of 10 percent and it goes lower as your price increases. So we don't really want to take out from the merchants, it's just that we want to give them a way to market themselves," Montero told reporters.
Partnerships
Bliimo founders said the company is eyeing to expand into international markets in two years, but getting more merchants and experiences within the country is their priority for now.
"So we really have big plans," said James Leonard Cruz, Bliimo cofounder and chief revenue officer.
"We're talking also of partnerships with local government," he also said, adding that Bliimo is also working with the Department of Tourism to help the agency find ways to harness technology.
"It's not to say that they (DOT) don't have parang the capability but rather they don't have a dedicated department or dedicated wing to do that," Cruz explained.
"Even with that limitation we still continue to work with them. In fact, there will be a lot of partnerships coming out — not just the DOT but we're also working with local government tourism offices," he added.
Data from the DOT show visitor arrivals reached 5.47 million from January to October 2017, up 11.54 percent from the same period in 2016.
However, in terms of travel and tourism competitiveness, the Philippines in 2017 ranked 79 out of 136 economies tracked by the World Economic Forum, slipping five notches since the last assessment.
Travel experience mobile apps are seen to take center stage in shaping the future of travel industry while market competition helps travelers find best deals and offers.
"That's something we're really proud of. The developers are 100 percent Filipinos. We've used 100 percent Filipino workforce. We've used 100 percent Filipino funding," Montero said.
"So it's about time that something like this in terms of technology comes out of the Philippines because we've been bombarded by international and foreign technology companies like this. It's about time that we stand up. Filipinos can do this as well," he added.