DOH, Watsons partner for generic medicine use advocacy
September 21, 2023 | 6:11pm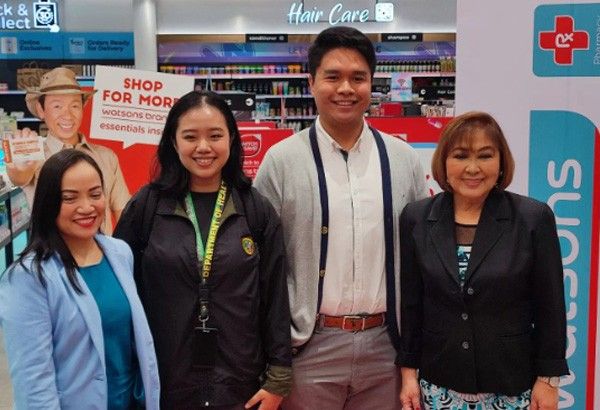 MANILA, Philippines — The Department of Health (DOH) and health, beauty and wellness retailer Watsons have partnered to advocate for the use of generic medicines.
This commitment was reaffirmed during the recent visit of DOH representatives at the SM North Edsa branch in celebration of Generics Awareness Month.
Dr. Constante "JJ" Caluya III and Amirah Natangcop, along with key executives from Watsons Philippines, led by Blesie Espin, Globally Owned Brands and Exclusives (GOBE) Health Controller, and Belle Pesayco, Trading Health Consultant, were present.
"We stand behind the promotion of generic medicines. They provide accessible and cost-effective alternatives without compromising quality. This initiative aligns with our mission to ensure affordable healthcare for all Filipinos," said Dr. Caluya III, Medical Officer IV of the Pharmaceutical Division of the DOH.
Watsons offers a wide range of high-quality generics at affordable prices, allowing customers to save up to 80% on prescription costs. Additionally, customers can enjoy up to 30% off when they purchase 30 pieces of Watsons generics through the Comply and Save program.
Since its inception in 2014, the Watsons Brand Health Portfolio has significantly expanded over almost a decade. They offer a wide array of branded generic medicines, including vitamins, supplements, prescription medicines for all age groups, cold and flu remedies, pain relief, digestive health, skin care, allergy medications, and more. All of its products undergo rigorous testing and adhere to European quality standards.
"As Watsons Philippines remains steadfast in its commitment to helping customers look good, do good and feel great, we are dedicated to setting new standards in the health, wellness and beauty market. This entails offering market-leading products, as well as providing affordable, high-quality and diverse generic medicine options. Additionally, we aim to pioneer innovative healthcare delivery through initiatives such as the Watsons Health Clinic, vaccination services and consultation," Espin said.
RELATED: Father's Day: Watsons launches waiting area for men