Seeing pharmacists in a different light
September 19, 2023 | 12:00am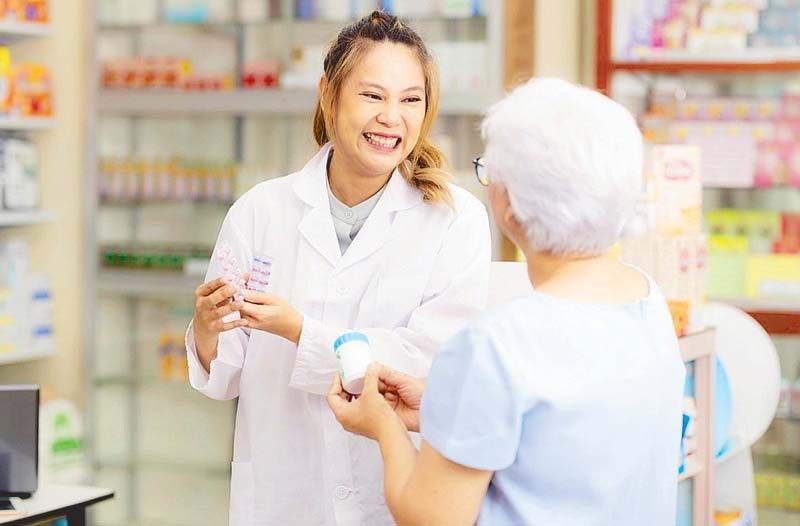 They were among the most accessible healthcare practitioners during the height of the COVID-19 pandemic. And yet, they were relegated to the background and overlooked when frontline workers were being heralded.
Community pharmacists should have always been considered frontline workers. Not only did they help reduce the burden on the healthcare system by diverting the influx of patients away from medical facilities through triaging and screening patients during the pandemic, they also helped manage drug shortages, and ensured that the medicines prescribed to patients were suitable.
"How ironic, right?" lamented Gilda Saljay, immediate past president of the Philippine Pharmacists Association Inc. (PPhA), in an exclusive interview. "We were even asked to justify why pharmacists should be considered as frontliners since, according to some Health officials, 'we're not delivering direct patient care.' When in fact, we were in the pharmacies 24/7 — not just dispensing medications (directly) to patients, with just face masks and acrylic barriers as protection, but also offering medical advice to those who can't afford to consult a doctor for minor aches and ailments."
This prompted Gilda to write a letter to then President Rodrigo Duterte for the government to recognize the role pharmacists played during COVID-19.
"Thank goodness, the pharmacists' role were finally acknowledged," enthused Gilda.
Filipino pharmacists: Highly educated, underutilized
Time and time again, institutions and consumers alike fail to recognize the role of practicing pharmacists in the healthcare system in providing critical information and proper education for Filipinos all over the country, especially in areas where access to hospitals is difficult or even non-existent.
For most of us, pharmacists are just there to dispense medicines and interpret the doctor's prescription — nothing more, nothing less.
But did you know that you can go and ask your friendly neighborhood pharmacist for advice on medicines, including how to take them, and what reactions may occur? They can also provide tips on smoking cessation, blood sugar, and cholesterol management. In some pharmacies, pharmacists are also on hand to take your blood pressure.
"Pharmacists are usually the first and also often the last line in healthcare you go to for health concerns. We see this as an opportunity to give customers the correct health information, medication counseling, and ways on how to address their health issues," shared Gilda.
She added: "Our pharmacists are highly educated, but underutilized. While most of them are shy, timid and lack confidence, it takes an inquisitive customer to bring them out of their shell. Our pharmacists can do more than just dispense medicines."
Licensed and aspiring pharmacists in the Philippines, however few, already have the will that they need to step into their role as the front line of aid within their communities. And for this "will" to actualize, it is crucial to equip them with proper education tools to help them serve customers and patients who seek their expertise.
Enter pharmacademy
Did you know that for every Filipino that sees a doctor for medical help, 10 visit their local pharmacist instead? This means there is an opportunity for the public to learn more about their health if pharmacists are better equipped with the right skills and knowledge about medication and disease management as well as responding to varied medical assistance requests.
This concept is validated by PPhA, as the organization strives to maximize the potential of pharmacists in the country, working to disprove the notion that "pharmacists are merely 'medical salespersons.'"
Though well-trained, pharmacists also need to continually upskill and be involved in capacity building through Continuing Professional Development Programs, especially when it comes to their soft skills and communication skills.
"Filipino pharmacists are trained to counsel patients, but there is also a need to empower them to gain the confidence to approach patients and address concerns in their respective pharmacies," Gilda remarked, "This is the biggest challenge for all Filipino pharmacists, one we're working towards improving. We want to empower and educate pharmacists with the right skills to help unburden the country's healthcare system."
As a response to this need, Sanofi Consumer Healthcare, in partnership with the PPhA and SwipeRx recently launched PharmAcademy, a free learning platform within the SwipeRx mobile app, built to upskill the everyday pharmacists through self-taught modules, on-demand webinars, and training programs, ultimately making them more credible and indispensable in the industry.
"The thrust of PharmAcademy is to really educate our pharmacists, empower them more, and change their behaviors as well," noted J Ann Mirasol, activation lead for PH, Sanofi Consumer Healthcare. "PharmAcademy offers a mix of modules. And coming off from what the issue is — lack of self-confidence — the modules aren't just about science and disease management. It's also about self-enhancement, and improving their soft skills, like how to start a conversation with their customers."
PharmAcademy was launched in 2019 as a private-access website in Sanofi CHC's effort to support and empower pharmacists whom they often collaborate with.
To date, it has been able to reach over 5,000 pharmacists every year through Sanofi CHC's strong relationship with various retailers.
For 2023, Sanofi CHC decided to embed the program in SwipeRx, a mobile application dedicated to pharmacists, and PPhA, extending the platform's reach and accessibility to the public, even in remote areas nationwide where access to complex healthcare resources is scarce.
Self-care is the best care
Pharmacists have the power to educate the public on the importance of self-care.
"Supporting and empowering individuals to responsibly engage in self-care is an important part of a pharmacist's daily practice," shared Mirasol.
Self-care spans the whole wellness spectrum — from disease prevention to the management of symptoms and common ailments.
"Most people equate self-care with self-medication," Mirasol said. "And that's where the role of pharmacists comes in. Their ability to engage the public and encourage them to practice self-care empowers individuals to act on their health and well-being."
And this is just one of the things pharmacists can learn from PharmAcademy.
"Self-medication is not preventive. It could harm your health," shared Dr. Yvonne Ferrer, medical head for SEA, Sanofi Consumer Healthcare.
"Self-care is preventing illnesses. And if you already have a chronic condition, self-care can help prevent further complications."
Through educational tools like PharmAcademy, Filipino pharmacists can effectively frontline the country's journey to self-care.
Recommended