LIST: 3 kinds of stress among kids, adults; expert tips to manage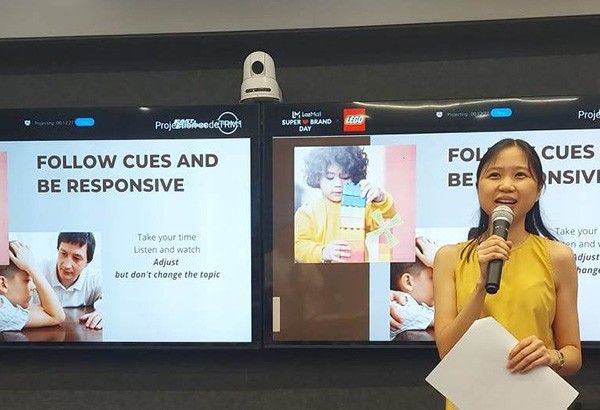 MANILA, Philippines — Suffering, pain, losses – many of us experienced this during the COVID-19 pandemic, and these are among the top causes of stress, the so-called "highest killer of the 21st century and beyond," according to the book with such a title by mind power teacher Raphael Motlotlegi Sikwane.
But stress, according to developmental psychologist Dr. Angel Dy, afflicts not only grownups but also children.
Thus, at a recent Lazada-hosted Lego Play Workshop facilitated by Bahay Turo with the theme "Dream it, Build it," Dr. Dy enumerated the kinds of stress anyone of any age experience so we could all know when and how to intervene.
"There are different kinds of stress. So ang stress po hindi lang sa tayong mga adults. Ang mga bata, nastre-stress din po sila," she said.
Positive stress
"Yes, may tinatawag na 'positive stress'," Dr. Dy affirmed, giving as examples travel planning or traveling for adults and for children, playing for the first time with other kids.
"Small adjustments, positive stress, are things that are short-term. Dahil short-term, 'di nila kailangan ng help ng adult. Kaya nila mag-isa," Dy explained.
Tolerable stress
Dr. Dy defined tolerable stress as something that lasts longer than positive stress and may require a grownup's help depending on the child's age, experiences and personality.
"Ang tolerable stress ay isang bagay na medyo mas matagal at depende sa ages nila at experiences at personalities ng bata ang kailangan nilang tulong galing sa adults para ma-overcome din ang stress na 'yun," she said.
An example is a shy kid entering a room full of people or a student entering a class for the first time. Such kind of stress, said Dy, can be prevented by briefing the kid first before entering the class, for instance.
Toxic stress
Do you get a heightened feeling when you're stressed and you feel like you need support to overcome it? You might be suffering from toxic stress, said Dr. Angel.
"Toxic stress – ito 'yung stress na pinag-dadaanan ng kabataan pero walang adult na tumutulong sa kanila. Walang responsive na adult para tumulong sa kanila ma-overcome 'yung stress kaya kapag napabayaan, nagiging toxis stress," she explained.
Toxic stress, according to her, should not be ignored as it could affect in children's brain development.
"Ang toxic stress po kasi nakaka-affect s'ya sa brain development ng isang bata kasi mayroon tayong tinatawag na cortisol. Stress hormones s'ya. 'Pag nastre-stress tayo, nagiging heightened 'yung feeling. Parang ako, kinakabahan ako ngayon kaya may cortisol ako na tumataas."
Dr. Dy's advice to help handle children toxic stress is by first, helping the kid solve the problem and not scolding at the child.
"Kung mayroon tayong mga bata, mas masyadong na-stre-stress kung wala na ngang tumutulong, sinisigawan pa natin. Tuloy-tuloy 'yung stress n'ya kapag ganu'n. Na-aaffect 'yung brain development, na-aaffect din 'yung social skills n'ya."
According to her, supporting children handle tolerable to toxic stress enables them to be better at eventually handling toxic stress on their own.
As for adults, her advice is to seek support. Encouragement would also help calm a person with toxic stress.
Childhood emotional quotient (EQ) is linked to brain development and higher success during adulthood. As Dy quoted the American Journal of Public Health in a 2015 study: "Children who were able to share, cooperate and follow directions at age five years old were more likely to obtain college degrees and begin working full-time jobs by age 25."
"So hindi porket mataas ang IQ, not necessarily magiging successful sa buhay. Mas important 'yung mataas din ang EQ," said Dy, citing studies that say that kids with high EQ are more likely to have college degrees and get job promotions.
According to her research, resilience has been defined "as the ability to bounce back after challenging tough times"
"Resilience is actually connected to EQ. 'Di ba ng lagi nating sinsabi IQ? Ang bagong buzzword ngayon ay EQ."
EQ is "our ability to have resilience to face challenges in life" – a person's flexibility in handling different situations, Dy explained.
Tips to nurture resilience:
1. Follow cues and be responsive – "Minsan kasi konting tingin lang, cue na 'yun, naghahanap na sila (kids) ng pansin sa atin… Hindi kailangan 100% of the time na nakatingin tayo sa kanila. Perong not all the time but majority of the time, mas napi-pickup natin 'yung cues. And when you pick up the cues, be responsive about it. Take your time, listen and watch," Dr. Dy said.
She cautioned against changing the topic – "Don't advise the child to just abandon what he or she is doing if he or she cannot accomplish it – it's better to help the child."
2. Build upward – Building blocks, she said, are developmentally appropriate especially if they are right for their age.
"Toys can be a medium for kids to talk about their problems and stress," said Dy, a development advocate from online tutoring platform Bahay Turo.
Instead of hastily reacting on a child's stress, the best way to engage is through patience and a longer interaction, she enthused.
3. Use play and playfulness to teach and engage – playfulness means being present, willing to engage and interact with our kids, said Dr. Dy.
She recommended nurturing kids' natural interests and to just help solve, not solve the problem, for them. Symbolic play or pretending, she added, is how kids can learn how to solve problems through different stories and situations. Reading books together can also spark a conversation.
4. Embrace feelings – In the context of play, emotions are not good or bad, she said.
Thus, she encouraged parents and guardians to tell kids that getting angry or sad is not bad – but what you do with your emotions is what matters more.
"I'm not saying crying is bad because crying is actually relieving kasi 'di ba when you're in stressful situations, 'di ba ng sarap ng pakiramdam kapag nailalabas at nai-iiyak? So crying is not bad. If you hit someone because you're mad, that is bad."
According to her, it is important to label feelings as sadness, frustration, among others.
Similarly, she said that while it is important to address kids' stress, you should also look after your own – and this can be done by taking a deep breath to calm down before starting the conversation.
5. Provide logical explanations – "Just because" is not enough, said Dy.
6. Self-reflect – "Know yourself – pay attention to your own emotions, our own readiness, consider how were we as children, how were our parents when they raised us, kasi when you know where you came from, you can also see the difference – how you discipline, choices, schools where you send them to," Dr. Dy explained.
"Journaling can also help – and this can also be done through pictures not only writing."
Finally, it is important to have a support system – ask your family and friends on how you were and how to handle different situations.
"Family is key! Kasi kung hindi natin mabigay sa social situations, sa family muna natin binibigay sa kanila. Damihan muna natin sana 'yung mga times na may nakakausap, may nakakalaro 'yung mga anak natin."
RELATED: COVID-19 pandemic lockdown stress still here, how to handle – Psychologist