How this powerful enzyme helped a mom beat ovarian cancer
August 16, 2022 | 12:00am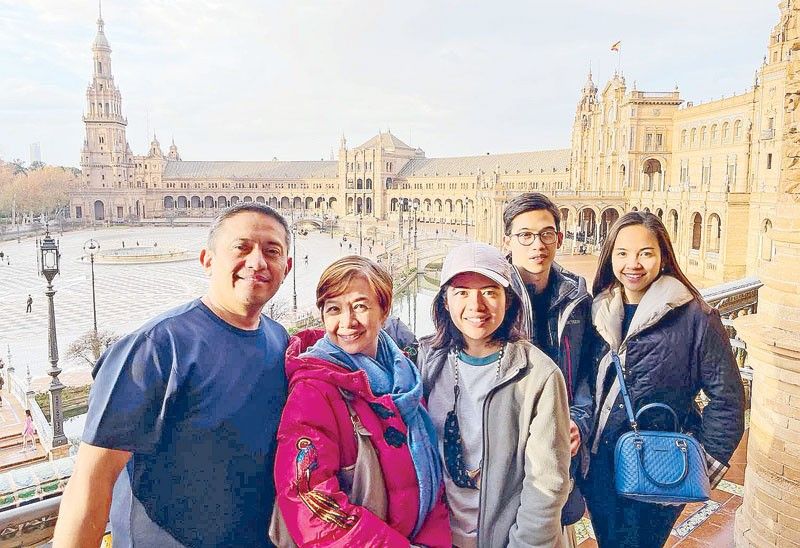 While you can plan and prepare everything exceptionally well, Murphy's Law is bound to strike at some point, and often, when you least expect it.
Marisa del Val was living the life in the UK with her husband and children when she got a health scare in 2011.
"I was diagnosed with Stage 2 ovarian cancer," shares Marisa. "We were based in the UK then. My husband was an expatriate and had a global career, while I was very much involved in taking care of the family and helping my children prepare for their acceptance in university."
She immediately went under the knife and then underwent chemotherapy treatment. Sadly, she couldn't complete the cycle due to the side effects.
While Marisa and her oncologist were relieved that the Big C was detected at its early stage, the cancer cells were very aggressive.
"In just two years, the cancer had spread to other parts of my body — my lungs and my spine. In 2013, it was already Stage 4. I got really scared," recalls Marisa.
Keep calm and carry on
Since chemotherapy was out of the equation, Marisa took a step back, stayed strong, and pressed on.
She started doing research about homeopathy, a system of alternative medicine, which practitioners claim "can cause the body to heal itself."
"My family and I decided to go for it since I my body couldn't really take the side effects of chemotherapy," adds Marisa.
And so she went to Gerson Institute in Mexico for her holistic therapy.
Founded in 1978, the Gerson institute was created to spread awareness of the Gerson Therapy, which "naturally reactivates your body's magnificent ability to heal itself — with no damaging side effects. It's a natural treatment that boosts the body's own immune system to heal cancer, arthritis, heart disease and allergies. It was developed by Dr. Max Gerson in the 1930s as a treatment to his own debilitating migraine.
"It was also at the Gerson Institute where I got introduced to Coenzyme Q10 (CoQ10), a powerful enzyme that has been shown to assist in the prevention and treatment of cancer," explains Marisa. "It is part of their standard package of supplements to help cancer warriors get stronger since cancer really takes its toll on your body, and you always feel depleted of energy."
Because of Marisa's cancer spread in 2013, her family decided to relocate back to Manila.
"Dr. Gary Lorenzo took care of me and gave me his unique approach to chemotherapy: the 'baby doses' treatment," shares Marisa. "And it worked. I managed to get better without suffering the intense side effects every time. After my chemotherapy, I continued to take my cocktail of health supplements from Gerson to help get my body back to normal."
Convinced of the healing power of CoQ10, Marisa, together with a group of entrepreneurs, pharma executives, consumer healthcare organizations, research scientists and technical and marketing technology professionals, formed Vivaro Health Sciences, a pharmaceutical firm that aims to provide accessible, affordable and nutritional products to help elevate Filipinos' health and their quality of life.
The founders of Vivaro are believers in a holistic approach to wellness.
"It's got to be a combination of a healthy lifestyle, balanced diet, exercise, sufficient rest and rejuvenation, combined with the addition of the right supplements to keep your body functioning optimally, especially in the new normal," says Dr. Bernadette Arcilla, medical director of Vivaro Health Sciences.
The health benefits of CoQ10
"CoQ10 is a compound made by your body and stored in the mitochondria of your cells. It's an antioxidant," explains Dr. Arcilla at the launch of Vivaro Health Sciences' BIA 300, a CoQ10 supplement, via Zoom. "Research has shown that CoQ10 provides energy to the cells, helps improve heart health, and reduces oxidative damage caused by daily stress and pollution."
Antioxidants are compounds with anti-aging and anti-inflammatory properties. These are found in fruits and veggies.
"Our body naturally absorbs and produces essential substances, including vitamins, minerals and antioxidants. These keep our body healthy and functioning correctly. But it is not always possible to get all the essential nutrients we need just through our regular food intake," notes Dr. Arcilla. "Also, our body's ability to produce, say, CoQ10, declines as we age. That's why we need to rely more on external sources like food supplements. Lack of CoQ10 in the body has been associated with health issues like cardiovascular problems all the way to certain cancers."
And so, those who are receiving treatment for health issues or who have depleted energy levels due to their medical conditions can greatly benefit from taking food supplements like CoQ10.
"CoQ10 supplementation is clinically proven to help manage cardiovascular problems, help improve heart health, and assist in the prevention and treatment of cancer," adds Dr. Arcilla.
BIA 300, for instance, provides the maximum recommended daily potency of CoQ10, which helps support heart health while restoring the body's energy and vitality. This is recommended for males and females aged 50 years and above.
"BIA Daily, on the other hand, helps fight the free radicals in your body that could otherwise damage cells and may lead to heart disease, high blood pressure, high cholesterol and diabetes," notes Dr. Arcilla.
BIA Daily is recommended for those 35 years and above.
"Having BIA supplements here in the Philippines means CoQ10 is readily available for those battling cancer," says Marisa. "CoQ10 has been my source of energy and immunity booster. It's my partner in maintaining my overall wellbeing."
Marisa has been cancer-free since 2018.
"When you are a cancer survivor, staying healthy and exercising regularly are very important to keep yourself in tip-top shape," she adds.
* * *
To learn more about Vivaro Health Sciences, browse its product offerings and check out promos and deals, visit https://vivaro.com.ph.
BIA range of products are available in select Mercury Drug outlets in Metro Manila, and on Shopee and Lazada.