Weight and see: Fight obesity today!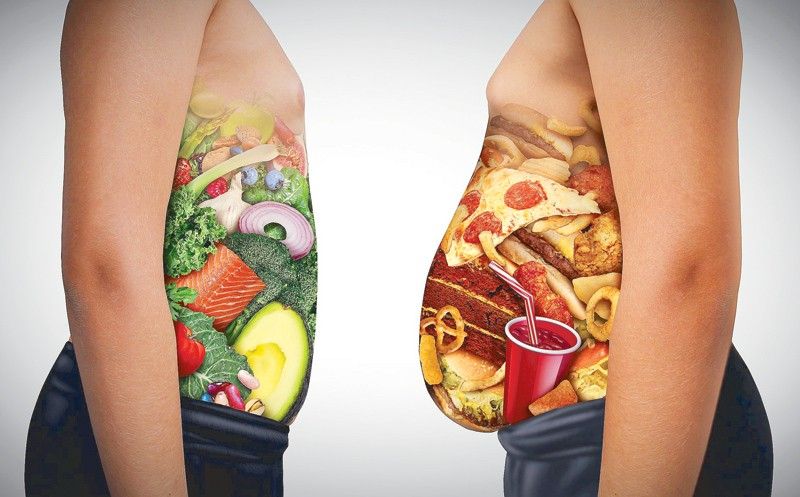 There is more to obesity than meets the eye. What we thought was a mere cosmetic problem is actually responsible for 2.8 million deaths every year around the globe.
Obesity is something we've neglected for far too long, with statistics showing that about 800 million people are living with this chronic disease worldwide.
"In the Philippines alone, one out of three Filipinos is suffering from obesity either as pre-obese or obese," shared Dr. Mia Fojas, an endocrinologist at ManilaMed, during the celebration of World Obesity Day last Friday, March 4, via Zoom. "That's around 37.2 percent as of 2019."
According to the World Health Organization, obesity rates have increased alarmingly in the past 10 to 15 years. In fact, there are approximately 6.6 million obese young children under five and one in five overweight adults.
"One of the reasons is because a lot of people have easier access to unhealthy food items," explains Dr. Fojas. "Also, there's the epidemic of physical inactivity brought about by the pandemic.?And it's something we should look into because obesity paves the way for future diseases like cardiovascular disease, high blood pressure, sleep apnea, certain cancers, diabetes and depression.
"Obesity negatively impacts every aspect of health, including reproductive and respiratory functions," notes Dr. Fojas, who is also the immediate past president of the Philippine Association for the Study of Overweight and Obesity (PASOO). "As a result, there is a higher chance of developing these non-communicable diseases."
The cause of obesity runs deep
According to Fojas, most Filipinos aren't aware that obesity is a chronic disease.
"If you're obese, you will have impaired functioning. It also adds to your comorbodities," she explains. "It's beyond being matakaw or tamad. Obesity increases the risk of sleep apnea progression and is likewise associated with mental health problems."
Indeed, obesity is a complex and chronic disease that has deeper roots. The causes can be genetic, psychological, sociocultural, economic and environmental.
"For example, people living in the Middle East used to believe that when you're big, it means you're rich," shared Dr. Fojas in one of my past interviews. "There are just so many misconceptions about obesity, like the fatter the child is, the cuter. When in fact, leaner children are healthier."
One's environment and culture also play a significant role in our diets. Filipinos love to eat during celebrations and tend to consume a lot of carbohydrates in the form of rice and pancit.
The sexual orientation of an individual also matters.
"Women have more fat because we are created to be able to reproduce. However, when we reach menopause, that's the time when everything slows down, so we burn calories much less. It's quite easy for men to lose weight because they have more muscle," added Dr. Fojas.
People who suffer from obesity don't pay enough attention to the underlying health risks of being obese.
"Don't just aspire to look good physically; aim to be healthy," Dr. Fojas added.
Learn proper weight management
And the first step is lifestyle therapy. It's time to positively alter your lifestyle by being mindful of the food you eat, by exercising regularly, getting enough sleep and avoiding stress.
"People who are living with obesity readily jump into various diets and weight-loss programs only to find that these are not enough," notes the amiable doctor. "There are two common reasons why a weight-loss program fails: Hunger increases when trying to lose weight, and weight regain follows after an intervention is stopped."
And so, instead of doing weight-loss programs on your own, you need to fully understand your condition, medical history, eating habits, activity level, and previous weight-loss attempts.
"You also need to know your body mass index," adds Dr. Fojas.
A measure of nutritional status, BMI is calculated based on the person's weight in kilograms over their heart in meters squared.
Asians follow a specific BMI guideline with lower cutoff point: 23 to 24.9 BMI is pre-obese, while 25 and above is obese.
"An elevated BMI increases a person's risk for a number of non-communicable diseases," noted Dr. Fojas. And since obesity is now considered a chronic disease, I asked Dr. Fojas if people who suffer from obesity come to her clinic for treatment.
"Sadly, they don't," lamented Dr. Fojas, who is an endocrinologist. "They come to me when it's already too late. Meaning, when they already have diabetes and other chronic illnesses."
Seek medical intervention
If you're obese, discuss how you can lose weight with your doctor. They will review any medicines you are taking to determine if they are contributing to your weight gain.
"We will also rule out other causes of obesity that might be treatable, such as thyroid disease," adds Dr. Fojas.
If diet and exercise alone won't do, your doctor may talk to you about medical treatment options to help you lose weight.
"Thank goodness, there are several medical treatment options available now to help you with your weight management," enthuses Dr. Fojas.
Driving change in obesity
In observance of World Obesity Day, Novo Nordisk supports the need to provide people with the right information about obesity and connect them to a network of clinics with doctors to help them find the support they need.
"Driving Change in Obesity" is the company's long-term commitment to improve the lives of people with obesity and change how the world sees, prevents, and treats this chronic disease.
"Obesity is everybody's problem," reiterates Dr. Miroslava Guajardo, senior medical manager, NovoNordisk, Business Area Southeast Asia. "The obesity prevalence rate is alarming and we need to manage it. Everybody needs to act now."
Novo Nordisk has launched the first-ever website dedicated to obesity in the Philippines.
"Through the Body of Truth, we are empowering patients to make better and wiser choices for their health by providing access to evidence-based information, reliable and accurate resources, and a network of clinics with doctors."
* * *
For information about obesity and how to manage the disease, visit the the Body of Truth.