Vaccines reduce COVID-19 transmission by 40%: WHO
November 25, 2021 | 7:45am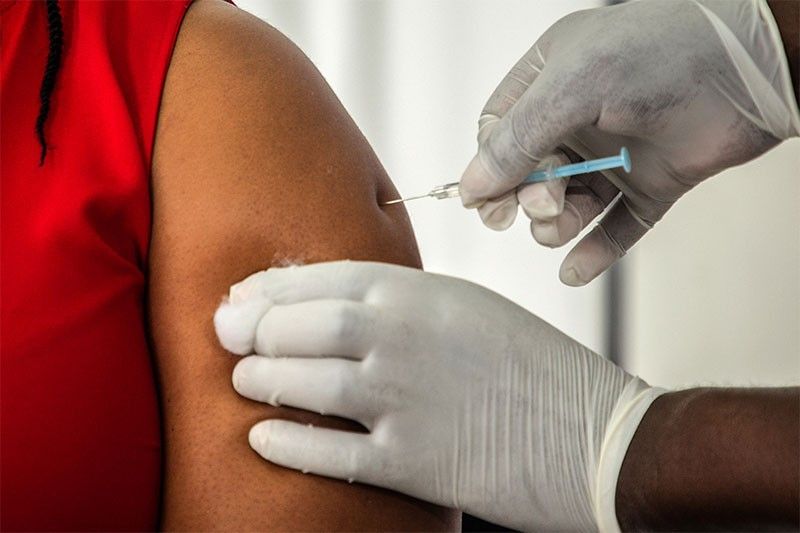 GENEVA, Switzerland — Covid vaccines reduce transmission of the dominant Delta variant by about 40 percent, the WHO said Wednesday, warning that people were falling into a false sense of security concerning jabs.
The World Health Organization's director-general Tedros Adhanom Ghebreyesus said many vaccinated people were wrongly thinking the jab meant they no longer needed to take any other precautions.
Fully-immunised people must stick with measures to avoid catching the virus and passing it on, Tedros insisted, spelling out how the more contagious Delta meant the vaccines were not as effective against transmission.
"We're concerned about the false sense of security that vaccines have ended the pandemic and people who are vaccinated do not need to take any other precautions," Tedros told reporters.
"Vaccines save lives but they do not fully prevent transmission.
"Data suggests that before the arrival of the Delta variant, vaccines reduced transmission by about 60 percent. With Delta, that has dropped to about 40 percent."
The more transmissible Delta variant is now overwhelmingly dominant around the world, having all but out-competed other strains.
"If you are vaccinated, you have a much lower risk of severe disease and death but you are still at risk of being infected and infecting others," said Tedros.
"We cannot say this clearly enough: even if you are vaccinated, continue to take precautions to prevent becoming infected yourself, and infecting someone else who could die."
That meant wearing a facemask, maintaining distance, avoiding crowds and meeting others outside or only in a well-ventilated indoor space, he said.
Delta dominance
Of 845,000 sequences uploaded to the GISAID global science initiative with specimens collected in the last 60 days, 99.8 percent were Delta, according to the WHO's weekly epidemiological report.
Maria Van Kerkhove, the UN health agency's technical lead on Covid, said the Delta variant itself was evolving and the WHO was trying to track circulation and changes in the virus.
"We're making plans here, looking through future scenarios about how much more this virus will change in terms of transmissibility or if there will be potential future immune escape, which will render some of our counter-measures less effective," she said.
The WHO has long stressed that the currently-available Covid-19 vaccines are primarily aimed at reducing the risk of severe illness, hospitalisation and death, rather than transmission.
WHO chief scientist Soumya Swaminathan said that while vaccine protection against infection was not as high with Delta as with the variants it has overtaken, the level of prevention it gives against severe disease was "still above 80 percent in the majority of cases".
Social mixing in Europe
Europe's return as the pandemic's epicentre has been blamed on Delta, sluggish vaccine uptake in some nations, colder weather moving people indoors again and the easing of restrictions.
Last week, more than 60 percent of all reported Covid-19 infections and deaths were in Europe, with the sheer number of cases translating into unsustainable pressure on health systems and exhausted health workers, said Tedros.
Europe recorded more than 2.4 million new cases last week — an 11-percent rise on the week before. Infections were up 31 percent in Germany.
WHO emergencies director Michael Ryan said that people in Europe, even in the midst of a major resurgence in cases and huge pressure on health systems, were "back to pre-pandemic levels of social mixing".
"The reality is the virus will continue to transmit intensely in that environment," he said.
As It Happens
LATEST UPDATE: June 16, 2022 - 8:48am
Pharma giants Sanofi and GSK said on July 29, 2020, that they have agreed to supply Britain with up to 60 million doses of a potential COVID-19 vaccine. The agreement covers a vaccine candidate developed by France's Sanofi in partnership with the UK's GSK and is subject to a "final contract."
This thread collects some of the major developments in the search for a vaccine to ease the new coronavirus pandemic. (Main photo by AFP/Joel Saget)
June 16, 2022 - 8:48am
A panel of experts convened by the US Food and Drug Administration unanimously recommends Covid-19 vaccines for children under five, the final age group awaiting immunization in most countries.
Formal authorizations should follow soon, with the first shots in arms expected early next week, just over a year-and-a-half after the first Covid vaccines were greenlighted for the elderly in December 2020.
"This recommendation does fill a significant unmet need for a really ignored younger population," says Michael Nelson, a professor of medicine at the University of Virginia, one of the 21 experts asked to vote for the milestone meeting. — AFP
June 15, 2022 - 9:24am
A panel of US medical experts recommends the Moderna COVID-19 vaccine for use in children aged six through 17.
Formal authorization should soon follow, at which point families will have a second option against the coronavirus, as Pfizer's vaccine was given the greenlight for teens and younger children last year.
After weighing available data, 22 experts convened by the US Food and Drug Administration unanimously agreed that the known benefits outweighed the known risks when Moderna's vaccine was administered as two shots at the adult dose of 100 micrograms to those aged 12-17, and half of that for children 6-11. — AFP
June 8, 2022 - 10:16am
A panel of experts convened by the US drug regulator recommends the Novavax COVID-19 shot, a late runner in the fight against the virus that could nonetheless play a role in overcoming vaccine hesitancy.
Three vaccines are currently approved in the United States: Pfizer and Moderna, which are based on messenger RNA, and Johnson and Johnson, which recently received a recommendation against broad use becase of links to a serious form of clotting.
Experts voted 21 in favor of the Novavax vaccine, with none against, and one abstention, despite some concerns it may be linked to rare cases of heart inflammation. — AFP
June 4, 2022 - 6:04pm
The Food and Drug Administration voices concern about myocarditis being potentially linked to the Novavax COVID-19 vaccine, just as experts are to weigh its use in the United States.
The Novavax vaccine is already authorized in other countries, particularly in Europe. In the United States, an independent committee convened at the request of the FDA is to meet Tuesday to evaluate data from the clinical trials of Novavax and give its recommendation.
In advance of that, the agency published a lengthy document on Friday analyzing these results, as it had done for the three other vaccines already authorized in the country. — AFP
April 14, 2022 - 9:19am
The head of US pharmaceutical giant Pfizer says a COVID-19 vaccine effective against multiple variants is possible before the end of 2022.
Chairman Albert Bourla says the firm was also working on producing a vaccine that could provide good protection for a whole year, meaning people would come back annually for boosters, as with influenza shots.
"I hope, clearly by autumn... that we could have a vaccine" that worked against not only the dominant Omicron but all known variants, he says. — AFP