Russia says Sputnik gives longer protection than Western jabs
November 25, 2021 | 7:33am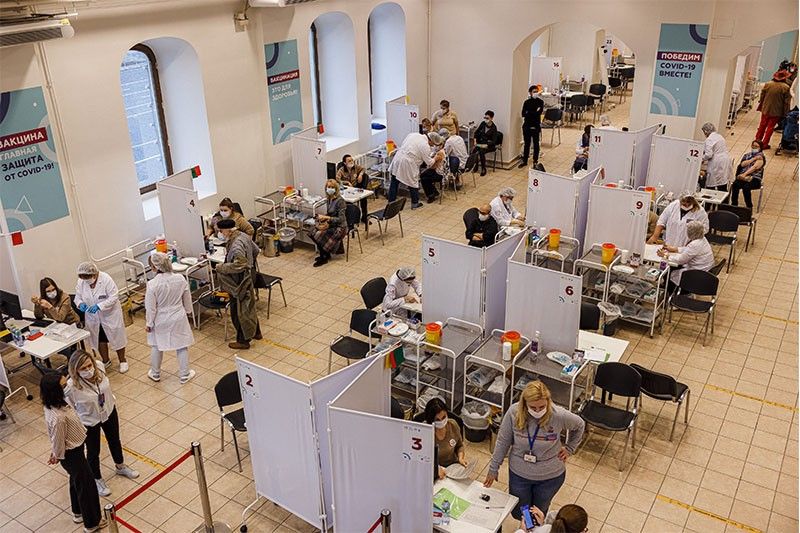 MOSCOW, Russia — The backers of Sputnik V on Wednesday said the Russian vaccine provides longer immunity against coronavirus than Western jabs using messenger RNA (mRNA) technology.
The Russian Direct Investment Fund (RDIF), which supported the vaccine's development, said the Sputnik vaccine is 80 percent effective against coronavirus between six and eight months after the second dose.
The country has recorded more than 9.4 million coronavirus cases, the fifth-highest number in the world, and more than 267,000 virus-related deaths, according to government figures.
"Sputnik V efficacy is significantly higher than for Pfizer after six to eight months," RDIF head Kirill Dmitriev told reporters.
No independent study has confirmed the claim.
The fund said its data was based on the number of coronavirus infections in San Marino in November.
More than 70 percent of the adult population in San Marino, a tiny republic surrounded by Italy, have been vaccinated with Sputnik.
"Efficacy was calculated based on data obtained from over 18,600 individuals fully vaccinated with Sputnik V not less than five months before November," the RDIF said.
The Sputnik team attributed the success of its vaccine to a "longer antibody and T-cell response", referring to the blood components that form part of the human immune system.
Dmitriev said the long-term effectiveness of vaccines was "the key to solve the pandemic".
Denis Logunov, deputy director at the state-run Gamaleya Center that developed Sputnik, said the health ministry was to register the vaccine for adolescents aged 12-17.
Independent experts have accused the authorities of downplaying the severity of the epidemic.
President Vladimir Putin earlier on Wednesday made a new appeal to sceptical Russians to vaccinate themselves but remained opposed to mandatory vaccinations.
Despite his repeated pleas, only around 37 percent of Russians are fully vaccinated. The country has in recent weeks seen more than 1,000 Covid deaths a day.
As It Happens
LATEST UPDATE: November 26, 2021 - 8:06am
Pharma giants Sanofi and GSK said on July 29, 2020, that they have agreed to supply Britain with up to 60 million doses of a potential COVID-19 vaccine. The agreement covers a vaccine candidate developed by France's Sanofi in partnership with the UK's GSK and is subject to a "final contract."
This thread collects some of the major developments in the search for a vaccine to ease the new coronavirus pandemic. (Main photo by AFP/Joel Saget)
November 26, 2021 - 8:06am
Chile on Thursday announces it would start vaccinating children aged three and up against the coronavirus, after successfully innoculating around 90 percent of its initial target population.
Children under the new rollout will receive the Chinese CoronaVac shot already used for kids aged six to 15, the Public Health Institute says.
For 16 to 18-year-olds, Chile uses the Pfizer/BioNTech vaccine. — AFP
November 25, 2021 - 3:09pm
COVID-19 vaccines reduce transmission of the dominant Delta variant by about 40%, the WHO says, warning that people were falling into a false sense of security concerning jabs.
The World Health Organization's director-general Tedros Adhanom Ghebreyesus says many vaccinated people were wrongly thinking the jab meant they no longer needed to take any other precautions.
Fully-immunized people must stick with measures to avoid catching the virus and passing it on, Tedros insists, spelling out how the more contagious Delta meant the vaccines were not as effective against transmission. — AFP
November 25, 2021 - 1:23pm
Canada begins mmunizing children aged 5-11 against COVID-19, joining a handful of nations including Israel and the United States in offering shots to this age group.
At Montreal's convention center, a few dozen youngsters were among the first to receive the Pfizer doses authorized since last Friday for this age group.
To help ease their fears of needles, additional measures have been taken such posting stickers of unicorns or hockey players on partitions between nursing stations, longer appointments than for adults, and a dog to pet. — AFP
November 24, 2021 - 5:29pm
Leading Russian doctors on Wednesday invited celebrities and politicians with anti-vaccine views to visit COVID red zones in hospitals and see for themselves the effects of the pandemic.
In an open letter published by state news agency TASS, 11 doctors from several cities wrote to a dozen public figures who expressed anti-vaccine views to hundreds of thousands of followers on social media.
Russia, one of the countries worst-hit by the coronavirus pandemic, is struggling with widespread opposition to vaccination even though it has developed several homegrown jabs including Sputnik V.
Despite multiple pleas from President Vladimir Putin, only 37% of Russians are fully vaccinated and the country has seen more than 1,000 deaths a day in recent weeks.
In their letter, the doctors told several singers, actors, TV personalities and politicians who had expressed skepticism over vaccinations that they would take the time to show them around COVID treatment centers. — AFP
November 24, 2021 - 7:14am
The United States is shipping another four million Covid-19 vaccine doses to Vietnam, the White House said Tuesday, bringing the total of US doses donated globally to nearly 270 million.
A senior administration official told AFP that 4,149,990 doses of the Pfizer vaccine are being sent, bringing the total delivered to Vietnam by the United States to 17,589,110 doses. Shipments began Tuesday.
Globally, there have now been 268,472,780 doses sent out to 110 countries, which the official, who asked not to be identified, said "is more than all countries combined have shared." — AFP