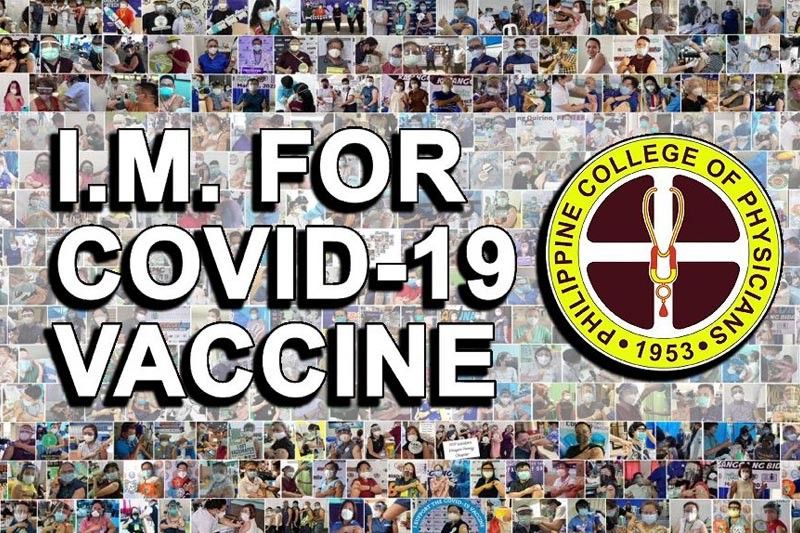 The Philippine College of Physicians (PCP) supports all inoculation efforts against COVID-19.
Photo Release
Philippine College of Physicians advocates vaccine for all in latest online campaign
(Philstar.com) - May 7, 2021 - 3:00pm
MANILA, Philippines — The number of people infected by the COVID-19 virus has been constantly increasing. More Filipinos are at risk of losing jobs, causing more uncertainty in terms of economic rehabilitation, not to mention more strain on everyone's mental health. This is all the more reason to get vaccinated.
The novel coronavirus can only be dealt with by medical science. The benefits of immunization outweigh vaccine fears. So it is strongly recommended that those who are immunocompromised or have chronic medical conditions such as hypertension, cancer, diabetes, kidney or heart disorders consult their physicians as early as today.
The Philippine College of Physicians (PCP) supports all inoculation efforts against COVID-19, particularly in prioritizing the at-risk population who are found to likely suffer severe symptoms—or worse, death—should they get infected.
As of today, vaccination programs are being rolled out by governments at both national and local levels, with the registration process done online. However, we still have to address misinformation and vaccine hesitancy.
Vaccine facts
COVID-19 vaccines that are granted with Emergency Use Authorization (EUA) by the Philippine Food and Drug Administration (FDA) are considered safe and effective based on available evidence to date.
The vaccines that are being administered today in the Philippines are the same efficacious brands used by other countries.
The Department of Health, meanwhile, continues to promote BIDA steps (B-awal walang mask, I-sanitize ang mga kamay, D-umistansya ng isang metrong layo, A-lamin ang tamang impormasyon) and adherence to minimum public health standards.
For PCP, vaccination is an important way to protect yourself, as well as your loved ones, from getting severe COVID-19.
Watch the PCP's "I.M. for Vaccine" campaign video in Facebook here https://www.facebook.com/pcpofficialpage/videos/488762605801974.
Be part of the solution. Get vaccinated today!
The PCP is an affiliate society of the Philippine Medical Association and a member-society of the International Society of Internal Medicine. For more information, visit the PCP website at https://pcp.org.ph/index.php or check out their official Facebook page at https://www.facebook.com/pcpofficialpage.