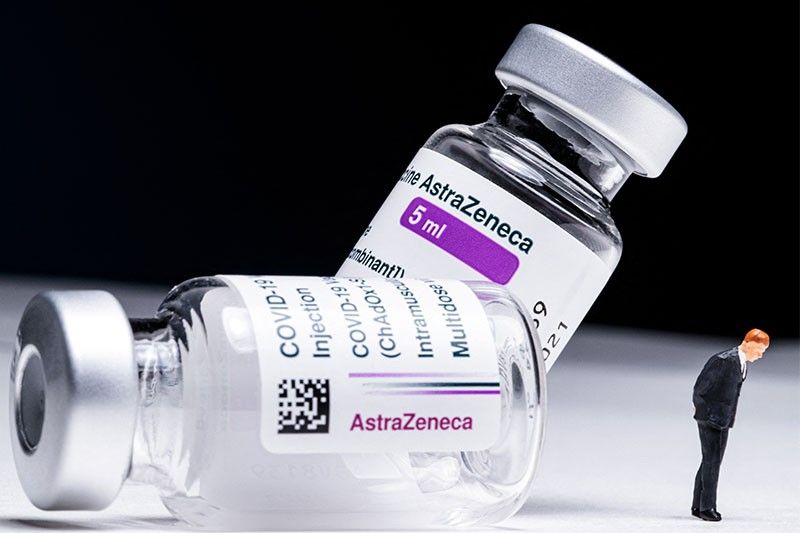 (FILES) This file photograph taken on March 11, 2021, shows vials of the AstraZeneca coronavirus (Covid-19) vaccine and a figurine taken in a studio in Paris.
AFP/Joel Saget
WHO jab experts want more AstraZeneca clot data from outside Europe
GENEVA, Switzerland — The World Health Organization's vaccine advisors called Thursday for more data on the incidence of blood clots in people who received the AstraZeneca Covid-19 vaccine outside Europe.
The WHO's Strategic Advisory Group of Experts (SAGE) on Immunisation updated their guidance on the use of AstraZeneca's coronavirus jab, rewriting the section on precautions in light of data from Europe on clotting.
"WHO continues to support the conclusion that the benefits of these vaccines outweigh the risks," the UN agency stressed in a statement.
On April 7, SAGE said a link between AstraZeneca's Covid-19 jabs and blood clots was plausible but unconfirmed, underlining that reported occurrences were "very rare".
In light of evidence emerging from ongoing vaccination programmes, they have updated their recommendations on the AstraZeneca jab, which is being deployed in 157 territories according to an AFP count.
SAGE said most clotting cases were reported in Britain and the European Union, with very few cases noted in other countries.
They said it was unknown whether there was a risk of clotting from the second dose of the vaccine, while recommending that those who suffered blood clots after their first injection should not be given the second dose of the two-shot vaccine.
'Very rare syndrome'
"A very rare syndrome of blood clotting combined with low platelet counts, described as thrombosis with thrombocytopenia syndrome (TTS), has been reported around four to 20 days following vaccination," the new guidance says.
"A causal relationship between the vaccine and TTS is considered plausible although the biological mechanism for this syndrome is still being investigated.
"Most of these cases were reported from the UK and the EU. There is considerable geographic variation with regards to the reported incidence, with very few cases reported from non-European countries, despite extensive use of the vaccine.
"An estimation of the risk outside Europe needs further data collection and analysis."
The vaccine currently forms the backbone of the Covax scheme, which ensures that poorer countries can access doses, with donors covering the cost.
Covax has so far shipped more than 40.5 million Covid-19 vaccine doses to 118 participating territories.
The SAGE guidance said that data from Britain, dated March 31, suggested the risk of TTS was approximately one case per 250,000 vaccinated adults, while the rate in the EU was estimated at one in 100,000.
It said current data from Europe suggested that the risk might be higher in younger adults compared with older adults.
"No specific risk factors have yet been identified," it said.
Incidence by region, age, sex
Whilst stressing that the benefit of vaccination against Covid-19 "far outweighs" the risks, the assessment may differ between countries.
"Countries should consider their epidemiological situation, individual and population-level risks, availability of other vaccines, and alternate options for risk mitigation," the guidance said.
"The benefit-risk ratio is greatest in older age groups.
"It is currently unknown whether there is a risk of TTS following the second dose."
The safety surveillance and monitoring section was also rewritten,recommending research into serious adverse events including cerebral venous sinus thrombosis and thrombotic events with thrombocytopenia.
It also called for research into the incidence of TTS by region, age and sex.
As It Happens
LATEST UPDATE: May 17, 2021 - 9:14am
Pharma giants Sanofi and GSK said on July 29, 2020, that they have agreed to supply Britain with up to 60 million doses of a potential COVID-19 vaccine. The agreement covers a vaccine candidate developed by France's Sanofi in partnership with the UK's GSK and is subject to a "final contract."
This thread collects some of the major developments in the search for a vaccine to ease the new coronavirus pandemic. (Main photo by AFP/Joel Saget)
May 17, 2021 - 9:14am
Countries belonging to the G7 and the European Union can afford to donate more than 150 million vaccines to countries in need without compromising their own goals, UNICEF said Monday.
The world's seven richest states and the EU could help close the world's vaccine gap by sharing just 20 percent of their June, July and August stocks with the Covax jab scheme for poorer nations, a study by British firm Airfinity showed.
"And they could do this while still fulfilling their vaccination commitments to their own populations," UNICEF director Henrietta Fore said.
The UK is due to host its fellow G7 member states Canada, France, Germany, Italy, Japan and the US for a summit in June.
By that time UNICEF said the Covax program being co-led by Gavi the Vaccine Alliance, along with the World Health Organization (WHO) and Coalition for Epidemic Preparedness Innovations (CEPI) will find itself 190 million doses short of what it had planned to distribute. — AFP
May 17, 2021 - 7:39am
Britain is confident that existing vaccines will provide protection from a more transmissible Indian coronavirus variant now spreading across the country, Heath Secretary Matt Hancock says.
And hours later, he was able to announce that the country had passed the milestone of 20 million adults vaccinated with two doses of the coronavirus jab.
The news came just before England, Scotland and Wales are set to unlock parts of their economy on Monday. — AFP
May 15, 2021 - 9:22pm
France is on track to reach its goal Saturday of 20 million initial doses of coronavirus vaccines, officials say days ahead of a hugely anticipated reopening of restaurant terraces as the government begins lifting a nationwide lockdown.
"Again nearly 600,000 vaccinations today," Health Minister Olivier Veran tweeted late Friday. "Tomorrow, 20 million French will have had at least one dose," which would represent nearly 30% of the population. — AFP
May 12, 2021 - 10:59am
Sao Paulo, Rio de Janeiro and other Brazilian states suspend immunization of pregnant women with the AstraZeneca coronavirus vaccine on the advice of the national health regulator after a reported death.
The suspension was to remain in place until the health ministry establishes the cause of death of a woman in Rio de Janeiro who received the vaccine, Health Minister Marcelo Queiroga tells a news conference.
Queiroga says the call was made by a team of experts and was based "exclusively on technical criteria." — AFP
May 12, 2021 - 7:50am
Brazil will begin vaccinating Olympic athletes and other members of its Tokyo-bound delegation against COVID-19 this week, officials said Tuesday.
The hard-hit South American country is struggling to secure enough vaccines for its 212 million people, but will be able to immunize its Olympians thanks to donated doses from pharmaceutical companies, health officials said.
Health Minister Marcelo Queiroga told a news conference that 1,814 members of the delegation would be vaccinated starting Wednesday, including Olympic and Paralympic athletes, coaches, staff members and journalists traveling to the Games.
"The doses will be donated by pharmaceutical companies so that (the program) will not affect our national immunization campaign," he said.
Pfizer is expected to donate 4,050 doses of its vaccine and Chinese lab Sinovac 8,000, officials said. — AFP