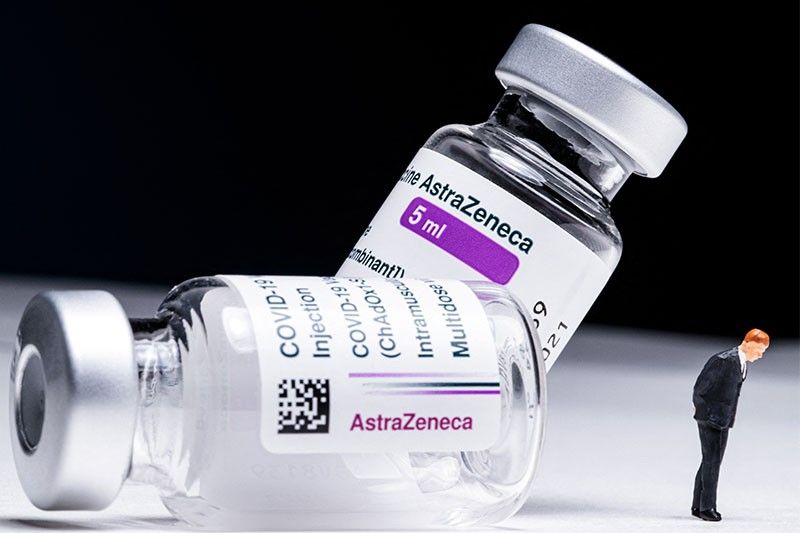 (FILES) This file photograph taken on March 11, 2021, shows vials of the AstraZeneca coronavirus (Covid-19) vaccine and a figurine taken in a studio in Paris.
AFP/Joel Saget
WHO jab experts want more AstraZeneca clot data from outside Europe
GENEVA, Switzerland — The World Health Organization's vaccine advisors called Thursday for more data on the incidence of blood clots in people who received the AstraZeneca Covid-19 vaccine outside Europe.
The WHO's Strategic Advisory Group of Experts (SAGE) on Immunisation updated their guidance on the use of AstraZeneca's coronavirus jab, rewriting the section on precautions in light of data from Europe on clotting.
"WHO continues to support the conclusion that the benefits of these vaccines outweigh the risks," the UN agency stressed in a statement.
On April 7, SAGE said a link between AstraZeneca's Covid-19 jabs and blood clots was plausible but unconfirmed, underlining that reported occurrences were "very rare".
In light of evidence emerging from ongoing vaccination programmes, they have updated their recommendations on the AstraZeneca jab, which is being deployed in 157 territories according to an AFP count.
SAGE said most clotting cases were reported in Britain and the European Union, with very few cases noted in other countries.
They said it was unknown whether there was a risk of clotting from the second dose of the vaccine, while recommending that those who suffered blood clots after their first injection should not be given the second dose of the two-shot vaccine.
'Very rare syndrome'
"A very rare syndrome of blood clotting combined with low platelet counts, described as thrombosis with thrombocytopenia syndrome (TTS), has been reported around four to 20 days following vaccination," the new guidance says.
"A causal relationship between the vaccine and TTS is considered plausible although the biological mechanism for this syndrome is still being investigated.
"Most of these cases were reported from the UK and the EU. There is considerable geographic variation with regards to the reported incidence, with very few cases reported from non-European countries, despite extensive use of the vaccine.
"An estimation of the risk outside Europe needs further data collection and analysis."
The vaccine currently forms the backbone of the Covax scheme, which ensures that poorer countries can access doses, with donors covering the cost.
Covax has so far shipped more than 40.5 million Covid-19 vaccine doses to 118 participating territories.
The SAGE guidance said that data from Britain, dated March 31, suggested the risk of TTS was approximately one case per 250,000 vaccinated adults, while the rate in the EU was estimated at one in 100,000.
It said current data from Europe suggested that the risk might be higher in younger adults compared with older adults.
"No specific risk factors have yet been identified," it said.
Incidence by region, age, sex
Whilst stressing that the benefit of vaccination against Covid-19 "far outweighs" the risks, the assessment may differ between countries.
"Countries should consider their epidemiological situation, individual and population-level risks, availability of other vaccines, and alternate options for risk mitigation," the guidance said.
"The benefit-risk ratio is greatest in older age groups.
"It is currently unknown whether there is a risk of TTS following the second dose."
The safety surveillance and monitoring section was also rewritten,recommending research into serious adverse events including cerebral venous sinus thrombosis and thrombotic events with thrombocytopenia.
It also called for research into the incidence of TTS by region, age and sex.
As It Happens
LATEST UPDATE: June 20, 2021 - 3:19pm
Pharma giants Sanofi and GSK said on July 29, 2020, that they have agreed to supply Britain with up to 60 million doses of a potential COVID-19 vaccine. The agreement covers a vaccine candidate developed by France's Sanofi in partnership with the UK's GSK and is subject to a "final contract."
This thread collects some of the major developments in the search for a vaccine to ease the new coronavirus pandemic. (Main photo by AFP/Joel Saget)
June 20, 2021 - 3:19pm
China has now administered more than a billion doses of Covid vaccines, the country's health authority said Sunday, more than a third of the number given worldwide.
It comes after the number of doses administered globally surpassed 2.5 billion on Friday, according to an AFP count from official sources.
— AFP
June 19, 2021 - 11:52am
The Palestinian Authority says it cancelled a swap deal that would have seen Israel provide it with one million COVID-19 jabs, as the doses were "about to expire".
Israeli officials earlier Friday had announced the deal, saying the Jewish state was to provide the doses to the Palestinian Authority as their expiry date loomed.
The PA, based in the occupied West Bank, had confirmed the delivery "in the coming days" of a million vaccine doses, without mentioning an agreement with the Jewish state. — AFP
June 17, 2021 - 3:16pm
Australia recommends that AstraZeneca's Covid-19 jab should not be given to people under 60 on Thursday, a fresh blow to the country's glacial vaccine rollout.
Health Minister Greg Hunt says concerns over possible links to blood clots meant Pfizer was now "the preferred vaccine" for everyone under 60 years old.
Australian authorities had already restricted the AstraZeneca shot to those over 50 in April, after several cases of severe blood clots were possibly linked to it. — AFP
June 15, 2021 - 8:47pm
Covid vaccine-maker AstraZeneca reveals it had hit a setback in trials of a treatment for the coronavirus.
The drug, made from a combination of two antibodies, failed its main goal to treat COVID-19 symptoms in exposed patients, AstraZeneca says in a statement.
The treatment has been undergoing phase 3 or final clinical trials to assess its safety and efficacy. — AFP
June 12, 2021 - 1:42pm
The US Food and Drug Administration says it had told Johnson & Johnson that millions of doses of COVID-19 vaccine produced at a troubled plant can't be used because of possible contamination issues.
In a statement, the FDA says "several" batches of vaccine manufactured at the Emergent BioSolutions facility in the city of Baltimore are not suitable for use. Each batch is known to correspond to several million doses.
Neither the agency nor J&J revealed the precise number of doses, but The New York Times placed the number at 60 million, quoting people familiar with the matter. — AFP