This smart ref preserves the vitamin content of fruits and veggies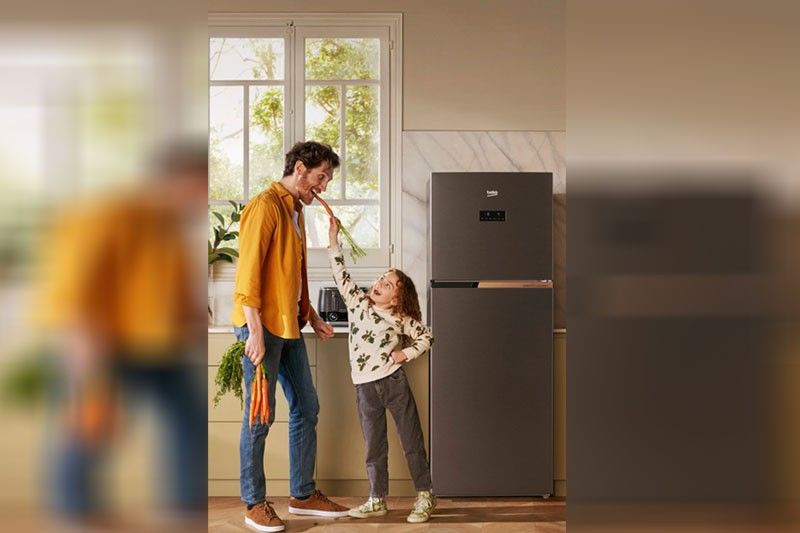 The COVID-19 pandemic has drastically changed the way we live. And as new variants of SARS-CoV-2 crop up across the country infecting almost 8,000 individuals daily it seems like every activity is a bit more risky than it was before.
We can avoid some errands to stay at home during the pandemic, but stocking up on groceries isn't one of them, especially if you're like actor and restaurateur Marvin Agustin and TV host and doting mom Mary Jane Competente, who prefer to pick out their own fresh produce.
These days, being able to stroll through the grocery aisles or run errands on a whim can "feel like a lifetime ago," laments Marvin.
And as the restaurateur contemplates whether it's safe to be walking down those aisles again, Jane makes her trip to the supermarket count by shopping for essentials, including fruits and veggies, on a bimonthly basis, with nary a worry that these food items lose their vitamins over time.
Well, that's because both Marvin and Jane are satisfied owners of a smart refrigerator that mimics the power of the sun to keep fruits and veggies fresh longer and lock in their nutrients.
"Inspired by nature, powered by light"
In these trying times, we all need appliances to do more than just clean, wash, cook and store food. They should also be able to improve the quality of life of the consumers.
Beko, Europe's No. 1 appliance brand, provides technology solutions that can help make daily life easier. Its "white goods," which include refrigerators, cookers, washing machines, ovens and vacuum cleaners, empower people to live better and healthier lives.
"As 2021 continues to pose more challenges for everyone, we need to be there for our consumers. Our technologies and innovations are even better and more mindful of our end-users health and well-being," enthuses Dyeun Zapanta, Beko Pilipinas marketing manager.
For instance, Beko washing machines come with Steamcure to eliminate germs and viruses; the cookers are equipped with Split and Cook and steam-assisted functions that aid in cooking healthy meals.
Last Thursday, Beko launched HarvestFresh, a refrigerator technology that increases the shelf life of fruits and vegetables and preserves their vitamins.
"Even before the pandemic happened, there was already a demand for natural/organic produce," notes Cecil Placia, Beko Pilipinas product marketing head. The demand rose because COVID-19 made us realize that health is, indeed, wealth.
But stocking up on fresh fruits and vegetables for weeks isn't ideal, because shortly after harvesting, they already lost their moisture, which means they're at great risk of spoiling.
"One study shows that fruits and vegetables lose 30 percent of their nutrients three days after harvesting," shares Placia. That's almost half of the nutrients gone in three days.
So will there be enough vitamins left (in the fruits and veggies) if you store them again in the fridge for weeks after buying?
Well, that's the beauty of the Beko refrigerator with HarvestFresh technology. This smart ref was inspired by nature to preserve the vitamin content of your fresh produce.
How does it work?
"Beko's HarvestFresh has this three-color technology: blue, green and red lights," shares Placia. "This technology simulates the sun cycle 24 hours a day. The blue light for dawn; green light for midday; and red light for dusk and darkness for night."
Beko's HarvestFresh technology simulates natural light conditions when the fridge is closed. The LED light illuminates in sequence: blue light for four hours; the green light for two hours; red light for six hours; and 12 hours of darkness.
This technology preserves vitamins A and C for up to five additional days, as verified and approved by leading Total Quality Assurance provider Intertek Laboratories.
Sounds too good to be true, but it's good to be skeptical, especially when you're investing your hard-earned money in a big-ticket item like a refrigerator.
But Placia assured us consumers that there's truth to Beko's claim.
"The Interktek claim report proves that Beko HarvestFresh refrigerator preserves, locks in and increases the vitamin content of fruits and vegetables," says Placia.
During the first four hours of the HarvestFresh cycle, the crisper lights will shine blue, mimicking dawn and the first light of the day. This is followed by two hours of green light replicating midday, and a further six hours of red light imitating the more muted tones of dusk. The drawers then turn dark for 12 hours to represent nighttime.
This innovative technology ensures the fruits and vegetables are exposed to a similar light cycle as they would be when still growing outdoors in their natural environment.
"Consumers' preference for natural and healthy food is no longer just a growing trend. It is a way of life. HarvestFresh is part of our commitment to doing all we can to help make their lives easier and healthier," said Gurhan Gunal, country manager of Beko Pilipinas Corporation.
HarvestFresh not only preserves vitamin content, but also helps keep fruits and vegetables fresher and thus, reduces the number of times you have to go out and shop for food. This is very important in these times, particularly as the public has been urged to stay at home if they can.
* * *
For more information, visit Beko Philippines' Facebook page at facebook.com/bekoph. https://storage.beko.co.uk/assets/beko/campaigns/harvestfresh/landing-page/img/drawers/blue@2x.png.