First COVID-19 vaccine shot alone not protective: Chile study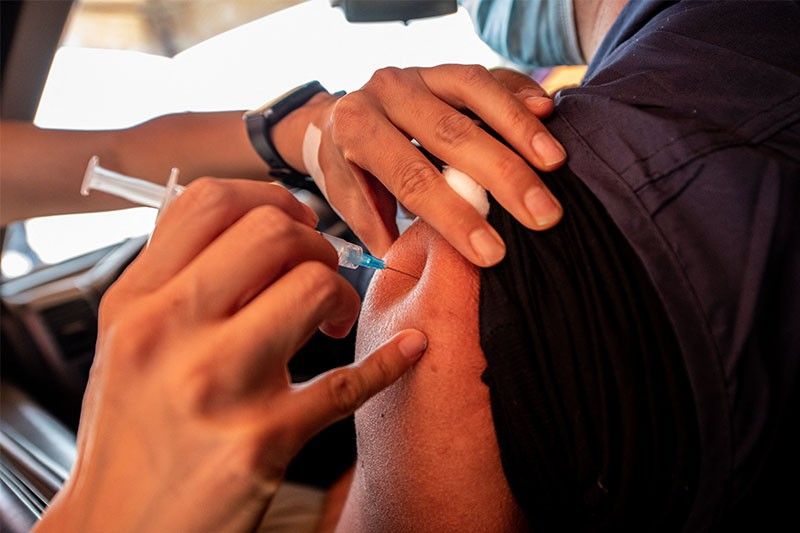 SANTIAGO, Chile — A study in Chile, which has one of the furthest-advanced vaccination campaigns in South America — mainly with China's Coronavac, has found that a first dose alone does not protect against coronavirus infection.
The study by the University of Chile found inoculation to be 56.5 percent effective in protecting recipients two weeks after the second dose, and 27.7 percent effective within the first two weeks.
But for a single dose, efficacy in the 28 days between the first and second dose was only three percent — on par with the margin of error in such studies, it said.
Researchers looked at the combined effect of Coronavac, which accounts for about 93 percent of doses being administered, and the Pfizer-BioNTech vaccine.
It estimated Coronavac's efficacy in real-life conditions at 54 percent — in line with trial results in Brazil.
The Pfizer jab has been estimated to be about 94 percent effective in an Israeli study.
Chile has so far given at least one shot to 7.07 million people, and both shots to 4.04 of 15.2 million inhabitants being targeted for vaccination.
Like the rest of Latin America, the country has seen a steep rise in new infections and has surpassed the daily rate of the first wave last year, with more than 8,000 new cases per day.
"Getting vaccinated very significantly decreases the possibility of infection, it does not eliminate it, but it decreases it a lot, therefore you have to get vaccinated," University of Chile rector Ennio Vivaldi told a virtual press conference.
But it was also clear that the first dose on its own "does not have any relevant effect after four weeks" which means the recipient was for all intents and purposes just as vulnerable to infection as a non-vaccinated person.
The study estimated that for people between 75 and 79 — targeted in the initial vaccination campaign — there would have been 80 percent more infections without the vaccine.
For those aged 70 to 74, the percentage dropped to 60 percent.
As It Happens
LATEST UPDATE: December 1, 2021 - 10:11am
Pharma giants Sanofi and GSK said on July 29, 2020, that they have agreed to supply Britain with up to 60 million doses of a potential COVID-19 vaccine. The agreement covers a vaccine candidate developed by France's Sanofi in partnership with the UK's GSK and is subject to a "final contract."
This thread collects some of the major developments in the search for a vaccine to ease the new coronavirus pandemic. (Main photo by AFP/Joel Saget)
December 1, 2021 - 10:11am
Pfizer announces it was seeking US authorization for Covid booster shots among adolescents aged 16 and 17, as concerns grow about the impact of the new Omicron variant.
The Food and Drug Administration (FDA) has so far only granted emergency use authorizations (EUAs) for boosters to people aged 18 and over, six months after their primary series of the Pfizer or Moderna Covid vaccine, or two months after the Johnson & Johnson shot.
"Today, we submitted a request to the @US_FDA to expand the emergency use authorization of a booster dose of our COVID-19 vaccine to include 16- and 17-year-olds," Pfizer CEO Albert Bourla wrote on Twitter. — AFP
Today, we submitted a request to the @US_FDA to expand the emergency use authorization of a booster dose of our COVID-19 vaccine to include 16- and 17-year-olds. It is our hope to provide strong protection for as many people as possible, particularly in light of the new variant.

— Albert Bourla (@AlbertBourla) November 30, 2021
November 30, 2021 - 3:58pm
Existing Covid-19 jabs will struggle against the Omicron variant and it will take months to develop a new shot that works, the head of US vaccine manufacturer Moderna tells the Financial Times.
Stephane Bancel tells the newspaper in an interview published Tuesday that data would be available on the effectiveness of current vaccines in the next two weeks but scientists were not optimistic.
"All the scientists I've talked to ... are like 'this is not going to be good'," he tells the newspaper. — AFP
November 26, 2021 - 8:06am
Chile on Thursday announces it would start vaccinating children aged three and up against the coronavirus, after successfully innoculating around 90 percent of its initial target population.
Children under the new rollout will receive the Chinese CoronaVac shot already used for kids aged six to 15, the Public Health Institute says.
For 16 to 18-year-olds, Chile uses the Pfizer/BioNTech vaccine. — AFP
November 25, 2021 - 3:09pm
COVID-19 vaccines reduce transmission of the dominant Delta variant by about 40%, the WHO says, warning that people were falling into a false sense of security concerning jabs.
The World Health Organization's director-general Tedros Adhanom Ghebreyesus says many vaccinated people were wrongly thinking the jab meant they no longer needed to take any other precautions.
Fully-immunized people must stick with measures to avoid catching the virus and passing it on, Tedros insists, spelling out how the more contagious Delta meant the vaccines were not as effective against transmission. — AFP
November 25, 2021 - 1:23pm
Canada begins mmunizing children aged 5-11 against COVID-19, joining a handful of nations including Israel and the United States in offering shots to this age group.
At Montreal's convention center, a few dozen youngsters were among the first to receive the Pfizer doses authorized since last Friday for this age group.
To help ease their fears of needles, additional measures have been taken such posting stickers of unicorns or hockey players on partitions between nursing stations, longer appointments than for adults, and a dog to pet. — AFP