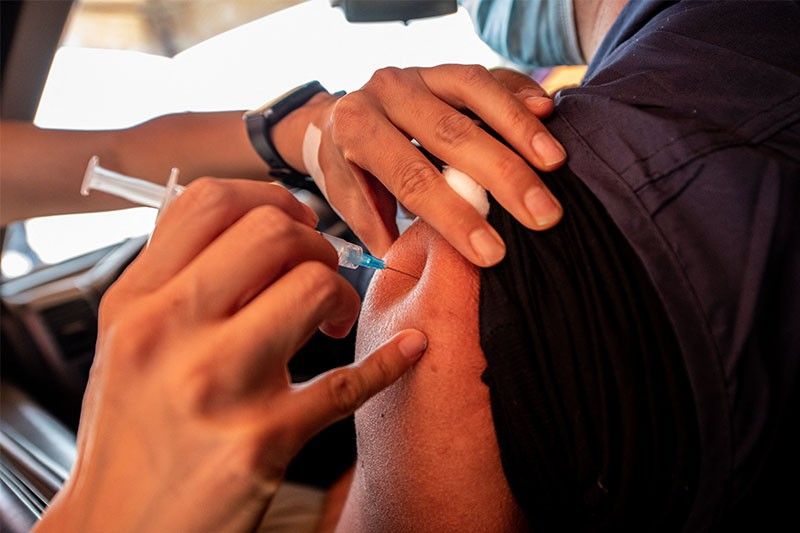 A health worker administers a dose of the Chinese CoronaVac vaccine against COVID-19 to a man at a vaccination centre in Santiago, on March 30, 2021. Chile announced on Tuesday that it received 1.8 million doses of the vaccine against covid-19 from the Chinese laboratory CanSino, in addition to the 35 million that the government has already agreed with other firms to advance its broad immunization process. Almost 16 million people, about 80% of the population, began a new quarantine in Chile due to a sharp increase in new cases of Covid-19, despite an impressive vaccination campaign.
AFP/Martin Bernetti
First COVID-19 vaccine shot alone not protective: Chile study
(Agence France-Presse) - April 7, 2021 - 8:09am
SANTIAGO, Chile — A study in Chile, which has one of the furthest-advanced vaccination campaigns in South America — mainly with China's Coronavac, has found that a first dose alone does not protect against coronavirus infection.
The study by the University of Chile found inoculation to be 56.5 percent effective in protecting recipients two weeks after the second dose, and 27.7 percent effective within the first two weeks.
But for a single dose, efficacy in the 28 days between the first and second dose was only three percent — on par with the margin of error in such studies, it said.
Researchers looked at the combined effect of Coronavac, which accounts for about 93 percent of doses being administered, and the Pfizer-BioNTech vaccine.
It estimated Coronavac's efficacy in real-life conditions at 54 percent — in line with trial results in Brazil.
The Pfizer jab has been estimated to be about 94 percent effective in an Israeli study.
Chile has so far given at least one shot to 7.07 million people, and both shots to 4.04 of 15.2 million inhabitants being targeted for vaccination.
Like the rest of Latin America, the country has seen a steep rise in new infections and has surpassed the daily rate of the first wave last year, with more than 8,000 new cases per day.
"Getting vaccinated very significantly decreases the possibility of infection, it does not eliminate it, but it decreases it a lot, therefore you have to get vaccinated," University of Chile rector Ennio Vivaldi told a virtual press conference.
But it was also clear that the first dose on its own "does not have any relevant effect after four weeks" which means the recipient was for all intents and purposes just as vulnerable to infection as a non-vaccinated person.
The study estimated that for people between 75 and 79 — targeted in the initial vaccination campaign — there would have been 80 percent more infections without the vaccine.
For those aged 70 to 74, the percentage dropped to 60 percent.
As It Happens
LATEST UPDATE: April 20, 2021 - 8:53pm
Pharma giants Sanofi and GSK said on July 29, 2020, that they have agreed to supply Britain with up to 60 million doses of a potential COVID-19 vaccine. The agreement covers a vaccine candidate developed by France's Sanofi in partnership with the UK's GSK and is subject to a "final contract."
This thread collects some of the major developments in the search for a vaccine to ease the new coronavirus pandemic. (Main photo by AFP/Joel Saget)
April 20, 2021 - 8:53pm
The EU will have enough COVID-19 vaccine doses to cover 70% of its adult population by mid-July due to higher production within the bloc, a senior official said Tuesday.
"Fifty-three factories are producing vaccines in the EU. Our continent is now the largest producer in the world after the United States," internal markets commissioner Thierry Breton told French daily Le Figaro in an interview.
"I am now certain of how many doses are currently in production and I know how many millions will be delivered each week," he said.
"This allows me to assure you that we well have by mid-July the number of doses necessary for vaccinating 70% of the European Union's adult population," he said, citing the threshold many health experts say is necessary to achieve "herd immunity". — AFP
April 20, 2021 - 12:50pm
The US Food and Drug Administration requests that production of the Johnson & Johnson coronavirus vaccine be halted at a factory that previously reportedly ruined about 15 million doses of the shot.
The pharmaceutical giant told AFP at the end of March it had identified a batch of doses at a plant in Baltimore run by Emergent BioSolutions "that did not meet quality standards," but did not confirm the specific number affected.
The New York Times later reported the batch consisted of about 15 million doses. — AFP
April 16, 2021 - 5:21pm
The European Union is very unlikely to renew its COVID-19 vaccine contracts with pharmaceutical company AstraZeneca, a French minister says.
Denmark this week banned the use of AstraZeneca jabs over blood clot concerns, just as the EU said it was expecting 50 million Pfizer vaccine doses earlier than expected.
No final EU decision had been taken, French Industry Minister Agnes Pannier-Runacher tells RMC radio, but "it is highly probable" that no further AstraZeneca doses would be ordered. — AFP
April 16, 2021 - 1:03pm
The head of Pfizer says in an interview that people will "likely" need a third dose of his company's COVID-19 shot within six to 12 months of vaccination, while elsewhere defending the relatively higher cost of the jab.
CEO Albert Bourla also says annual vaccinations against the coronavirus may well be required.
"We need to see what would be the sequence, and for how often we need to do that, that remains to be seen," Bourla tells CNBC in an interview. — AFP
April 15, 2021 - 8:36am
A pause on all US vaccinations with the Johnson & Johnson Covid shot will continue for at least another week after members of a government-convened expert panel said Wednesday they needed more time to assess its possible links to a clotting disorder.
The Centers for Disease Control and Prevention (CDC) convened a meeting a day after authorities reported six cases of women developing brain clots along with low blood platelet counts, including one death, within two weeks of people getting the one-dose Covid-19 vaccine.
The shot has been given to some 7.2 million Americans, and participants at the meeting were told on Wednesday a seventh case involving a 28-year-old woman has been identified. — AFP