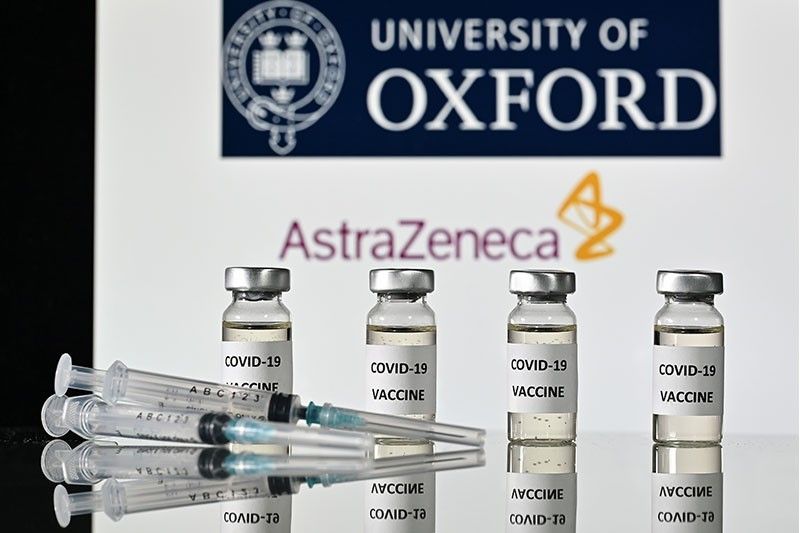 (FILES) In this file photo taken on November 17, 2020 An illustration picture shows vials with Covid-19 Vaccine stickers attached and syringes, with the logo of the University of Oxford and its partner British pharmaceutical company AstraZeneca. British drugs group AstraZeneca and the University of Oxford on November 23, 2020 said their jointly-developed vaccine against Covid-19 has shown "an average efficacy of 70 percent" in trials. The results ranged between 62 and 90 percent efficacy depending on the vaccine dosage.
AFP/Justin Tallis
AstraZeneca/Oxford say COVID-19 vaccine shows 70% efficacy
(Agence France-Presse) - November 23, 2020 - 5:28pm
LONDON, United Kingdom — British drugs group AstraZeneca and the University of Oxford on Monday said their jointly-developed vaccine against COVID-19 has shown "an average efficacy of 70%" in trials.
"This vaccine's efficacy and safety confirm that it will be highly effective against COVID-19 and will have an immediate impact on this public health emergency," AstraZeneca chief executive Pascal Soriot said in a statement.
The results ranged between 62 and 90% efficacy depending on the vaccine dosage.
The 70% average is lower compared with the efficacy of coronavirus vaccines trialed by rivals Pfizer/BioNTech and Moderna which have come in above 90%.
Monday's statement said "positive high-level results from an interim analysis of clinical trials of AZD1222 in the UK and Brazil showed the vaccine was highly effective in preventing COVID-19... and no hospitalisations or severe cases of the disease were reported in participants."
It added: "One dosing regimen (n=2,741) showed vaccine efficacy of 90% when AZD1222 was given as a half dose, followed by a full dose at least one month apart."
The pair said that regimen n=8,895 showed 62% efficacy when given as two full doses at least one month apart.
"The combined analysis from both dosing regimens (n=11,636) resulted in an average efficacy of 70%."
AstraZeneca said it would "immediately prepare regulatory submission of the data to authorities around the world that have a framework in place for conditional or early approval".
It added that it would seek emergency-use listing from the World Health Organization to accelerate vaccine availability in low-income countries.
AstraZeneca said it is looking at a capacity of up to three billion doses of the vaccine in 2021 pending regulatory approval.
It said the vaccine can be stored, transported and handled "at normal refrigerated conditions" of between two and eight degrees Celsius (36-46 degrees Fahrenheit) for at least six months.
'Save many lives'
More than 23,000 adults are currently being assessed in the trials, with the number expected to rise to up to 60,000, the statement said.
"Clinical trials are also being conducted in the US, Japan, Russia, South Africa, Kenya and Latin America with planned trials in other European and Asian countries," it added.
Oxford professor Andrew Pollard said the latest findings show "an effective vaccine that will save many lives".
"Excitingly, we've found that one of our dosing regimens may be around 90% effective and if this dosing regime is used, more people could be vaccinated with planned vaccine supply.
"Today's announcement is only possible thanks to the many volunteers in our trial, and the hard working and talented team of researchers based around the world," added Pollard, who is chief investigator of the Oxford Vaccine Trial.
As It Happens
LATEST UPDATE: January 20, 2021 - 7:12pm
Pharma giants Sanofi and GSK said on July 29, 2020, that they have agreed to supply Britain with up to 60 million doses of a potential COVID-19 vaccine. The agreement covers a vaccine candidate developed by France's Sanofi in partnership with the UK's GSK and is subject to a "final contract."
This thread collects some of the major developments in the search for a vaccine to ease the new coronavirus pandemic. (Main photo by AFP/Joel Saget)
January 20, 2021 - 7:12pm
Japan aims to start vaccinating the general public against the coronavirus in May -- just two months before the postponed Olympics -- following targeted jabs for the most vulnerable, reports said Wednesday.
The Yomiuri Shimbun newspaper said the government is hoping the majority of adults will be vaccinated by July, when the Games are due to open.
The country has agreed with pharmaceutical firms to receive enough doses for all 126 million residents and is working to approve the Pfizer jab as the first to be used in Japan from next month. — AFP
January 20, 2021 - 8:31am
Mexican authorities are investigating the theft of several coronavirus vaccines from a public hospital, the army said Tuesday, underscoring the challenges of distributing the shots across the crime-plagued country.
Mexico, which has one of the world's highest COVID-19 death tolls, has deployed the military to guard the vaccines and prevent them falling into criminals' hands.
The army said that the stolen vaccines were under the control of a public health institution in a hospital in central Morelos state whose security is overseen by a private company.
"This theft could have been a dishonest act of self-interest by a member of the hospital's vaccination team," it said in a statement. — AFP
January 16, 2021 - 7:37pm
Serbia becomes one of the first European countries to receive a Chinese-made COVID-19 vaccine on Saturday when one million doses of a jab produced by Sinopharm arrived at Belgrade airport.
President Aleksandar Vucic posted a picture of himself on Instagram, standing next to the plane carrying the vaccine.
"We are proud of our friendship with China," he was quoted as saying by Beta news agency, telling reporters that he hoped to be inoculated with the Sinopharm vaccine in six or seven days. — AFP
January 14, 2021 - 7:41pm
Both Pope Francis and his predecessor, former pope Benedict XVI, have received the coronavirus vaccine, the Vatican says on Thursday.
"I can confirm that as part of the Vatican City State vaccination programme to date, the first dose of the Covid-19 vaccine has been administered to Pope Francis and the Pope Emeritus," spokesman Matteo Bruni says. — AFP
January 13, 2021 - 1:25pm
President Joko Widodo receives the first COVID-19 vaccine in Indonesia. The shot, from China's Sinovac, kicks off the massive immunization campaign in the country dealing with one of most number of cases in the region.
Indonesia opted to secure millions of doses from the Chinese pharmaceutical company whose lack of transparency about its vaccine sparks concerns. While the Philippines ordered 25 million doses, Indonesia secured 125.5 million from Sinovac.
Indonesia is also expecting 50 million doses from Astrazeneca, 150 million from American biotech firm Novovax, 60 million from Sinopharm and 20 million from CanSino, making it the third territory in the world with the most number of confirmed doses after Europe and the United States. (Handout photo)