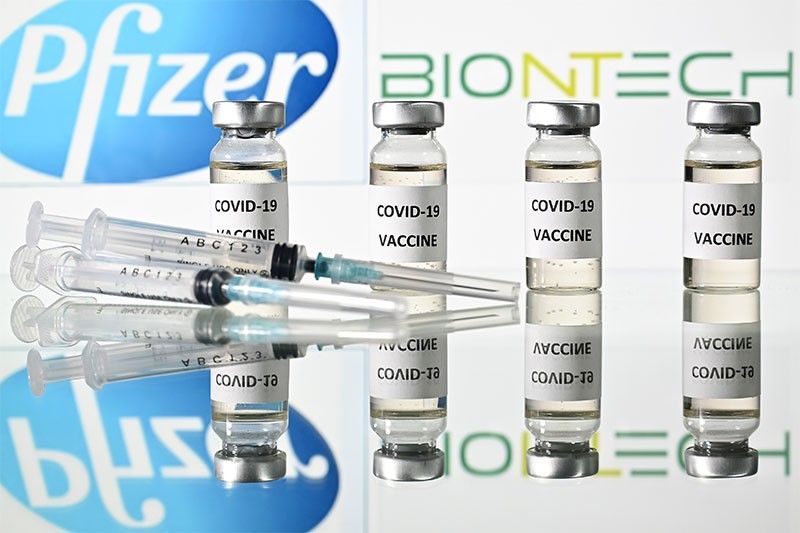 An illustration picture shows vials with Covid-19 Vaccine stickers attached and syringes with the logo of US pharmaceutical company Pfizer and German partner BioNTech, on November 17, 2020.
AFP/JUSTIN TALLIS
Pfizer/BioNTech say final results show vaccine 95% effective
(Agence France-Presse) - November 18, 2020 - 9:19pm
WASHINGTON, United States — Pfizer and BioNTech said Wednesday that a completed study of their experimental Covid-19 vaccine showed it was 95% effective.
They said the two-dose vaccine had no serious safety concerns and that the companies will apply for emergency use authorization from US regulators "within days."
The announcement came as coronavirus cases are surging in the US and other parts of the world, and boosted hopes for an end to the pandemic that has upended life around the globe.
"The study results mark an important step in this historic eight-month journey to bring forward a vaccine capable of helping to end this devastating pandemic," said Pfizer CEO Albert Bourla.
"With hundreds of thousands of people around the globe infected every day, we urgently need to get a safe and effective vaccine to the world," he added.
Pfizer had said last week after a preliminary analysis that its product was more than 90 percent effective.
On Monday another biotech firm involved in the race to develop a vaccine, Moderna, said its own vaccine was 94.5 percent effective, according to a preliminary analysis.
Pfizer has previously said it expected to contact the US Food and Drug Administration to apply for an Emergency Use Authorization by the third week of November.
The FDA had imposed a requirement on COVID-19 vaccine makers of having at least two months of follow-up with volunteers after their second dose, taken 28 days after the first, in order to ensure the drugs are safe.
Moderna developed its vaccine along with the US National Institutes for Health.
Both vaccines use mRNA (messenger ribonucleic acid) technology to deliver genetic material to the body that makes human cells create a protein from the virus.
This trains the immune system to be ready to attack if it encounters SARS-CoV-2.
Other vaccines that are in late-stage trials, such as one being developed by Johnson & Johnson and another by Oxford University and AstraZeneca, use modified viruses to deliver genetic material for the same purpose.
No mRNA vaccines have ever been approved, but Anthony Fauci, the United States' top infectious disease scientist, told AFP Tuesday the technology had now "established itself."
As It Happens
LATEST UPDATE: February 26, 2021 - 6:13pm
Pharma giants Sanofi and GSK said on July 29, 2020, that they have agreed to supply Britain with up to 60 million doses of a potential COVID-19 vaccine. The agreement covers a vaccine candidate developed by France's Sanofi in partnership with the UK's GSK and is subject to a "final contract."
This thread collects some of the major developments in the search for a vaccine to ease the new coronavirus pandemic. (Main photo by AFP/Joel Saget)
February 26, 2021 - 6:13pm
The United States hails progress in turning around its troubled COVID-19 vaccine rollout, as the European Union says it was on track to meet jab targets and Asia's inoculation drive gained pace on Friday.
Brazil hit 250,000 fatalities -- the second-highest national death toll after the United States -- while the worldwide vaccine campaign received the endorsement of Queen Elizabeth II, 94, who urged people not to be wary of the shot.
President Joe Biden declared the US rollout is now "weeks ahead of schedule" as he celebrated 50 million doses administered since he took office on January 20, but he warned Americans to keep masking up. — AFP
February 26, 2021 - 9:49am
A US panel of independent experts is set to vote Friday on whether to recommend emergency approval of Johnson & Johnson's single-shot Covid-19 vaccine, potentially paving the way for at least three million doses to ship next week.
The committee's 22 members, who were convened by the Food and Drug Administration and include leading scientists as well consumer and industry representatives, will hold a daylong virtual meeting to decide if the known benefits of the drug outweigh its risks.
It is an exercise in transparency without parallel among other advanced countries, giving the public access to the nitty gritty details of the scientific debate. — AFP
February 24, 2021 - 4:59pm
Ghana receives the first shipment of COVID-19 vaccines from Covax, a global scheme to procure and distribute inoculations for free, as the world races to contain the pandemic.
Covax, launched last April to help ensure a fairer distribution of coronavirus vaccines between rich and poor nations, said it would deliver two billion doses to its members by the end of the year. — AFP
February 22, 2021 - 2:02pm
The world's biggest vaccine maker, India's Serum Institute, has urged other countries to be "patient" about it supplying anti-coronavirus shots, saying it has been instructed to prioritize its home market.
"Dear countries & governments, as you await #COVISHIELD supplies, I humbly request you to please be patient," Serum chief Adar Poonawalla tweeted on Sunday.
"@SerumInstIndia has been directed to prioritise the huge needs of India and along with that balance the needs of the rest of the world. We are trying our best."
Serum, from its sprawling facility in Pune in western India, is producing hundreds of millions of doses of the AstraZeneca vaccine.
Many countries around the world, particularly poorer nations, are relying heavily on the company for supplies of the vaccine, and it has already shipped millions of doses abroad. — AFP
February 22, 2021 - 8:08am
Australia launches its public rollout of the COVID-19 vaccine Monday amid protests over the campaign, including a vocal show of opposition by crowds at the final of the Australian Open.
Some 60,000 doses are set to be given this week, starting with frontline workers — from healthcare staff to hotel quarantine employees and police — and residents of aged care homes.
Morning television news programmes show the first shots being administered to medical and quarantine staff in Melbourne and Sydney, a day after Prime Minister Scott Morrison received his jab in a "curtain-raiser" event aimed at convincing Australians the vaccine was safe. — AFP