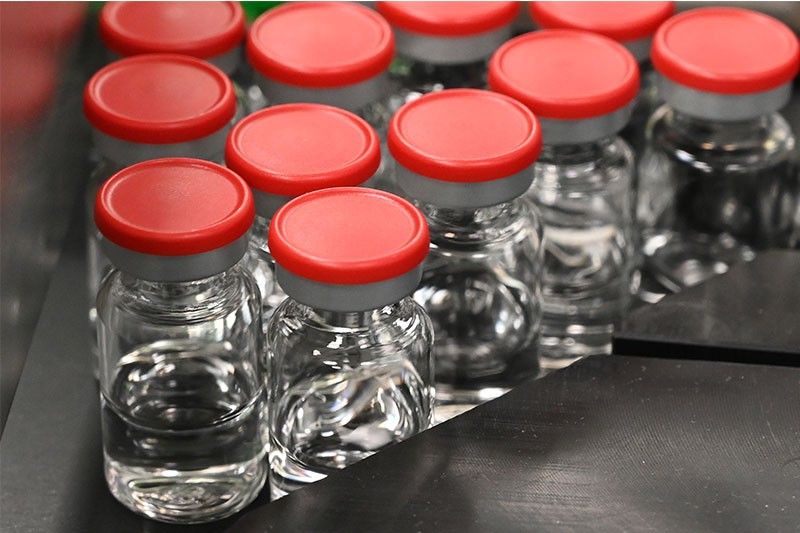 Capped vials are being pictured during filling and packaging tests for the large-scale production and supply of the University of Oxford's COVID-19 vaccine candidate, AZD1222, conducted on a high-performance aseptic vial filling line on September 11, 2020 at the Italian biologics' manufacturing facility of multinational corporation Catalent in Anagni, southeast of Rome, during the COVID-19 infection, caused by the novel coronavirus. Catalent Biologics' manufacturing facility in Anagni, Italy will serve as the launch facility for the large-scale production and supply of the University of Oxford's Covid-19 vaccine candidate, AZD1222, providing large-scale vial filling and packaging to British-Swedish multinational pharmaceutical and biopharmaceutical company AstraZeneca.
AFP/Vincenzo PINTO
Vaccine trial resumes as virus continues grim march
Daniel Lawler
(Agence France-Presse) - September 13, 2020 - 8:29am
PARIS, France — Clinical trials of one of the most advanced experimental Covid-19 vaccines resumed Saturday after a brief safety pause, as infection numbers continued to march upward in countries across the globe.
The world's hopes for a reprieve from the pandemic were dealt a blow earlier in the week when pharmaceutical company AstraZeneca and Oxford University announced they had "voluntarily paused" their vaccine trial after a UK volunteer developed an unexplained illness.
But on Saturday the trial was given the all clear by British regulators to resume following a safety review.
The global death toll from the coronavirus has risen to 916,000 with 28.5 million infections, while France and the United Arab Emirates posted grim new milestones for daily infections on Saturday.
And with billions still suffering from the fallout of the pandemic, a worldwide race for a vaccine is underway, with nine companies already in late-stage Phase 3 trials.
Even during the pause, AstraZeneca said it remained hopeful that the vaccine could still be available "by the end of this year, early next year".
Oxford University said that "in large trials such as this, it is expected that some participants will become unwell and every case must be carefully evaluated".
Charlotte Summers, lecturer in intensive care medicine at Cambridge University, said the pause showed the researchers' commitment "to putting safety at the heart of their development programme."
"To tackle the global Covid-19 pandemic, we need to develop vaccines and therapies that people feel comfortable using, therefore it is vital to maintaining public trust that we stick to the evidence and do not draw conclusions before information is available," she said.
Backlash
That public trust will be crucial to convincing a public that is impatient for a vaccine -- and in some corners sceptical.
Among the impatient is US President Donald Trump, who has been accused by rival Joe Biden of "undermining public confidence" by regularly raising the possibility that a vaccine will be ready before November's election.
Biden also called Trump "reckless" for holding a rally in the Nevada city of Reno even after the venue had to be changed because the event breached local Covid-19 restrictions.
Some of those potentially sceptical about a vaccine meanwhile turned out in numerous German cities and Poland's capital Warsaw on Saturday, protesting against anti-coronavirus measures and often defying mask-wearing rules.
The movement is made up of a number of different groups, from self-declared "free thinkers" to anti-vaccine campaigners, conspiracy theorists and far-right activists.
France, UAE milestones
There are signs of a resurgence of the virus in numerous countries that lifted many coronavirus measures after beating back the first wave of infections months ago.
France reported 10,000 new infections on Saturday, the country's highest daily number since launching wide-scale testing.
The milestone came a day after Prime Minister Jean Castex declined to announce any new major restrictions despite a "clear worsening" in the country's outbreak.
"We have to succeed in living with this virus, without returning to the idea of a generalised lockdown," Castex said, himself recently having left isolation after testing negative twice for the virus.
Fears were briefly raised after the prime minister spent part of last weekend with the boss of the Tour de France Christian Prudhomme, who tested positive for Covid-19.
Another country to hit a daily milestone on Saturday was the United Arab Emirates, which recorded more than 1,000 new coronavirus cases on Saturday for the first time.
In Spain, which this week became the first EU country to pass half a million infections, an infection was detected among Princess Leonor's classmates.
The 14-year-old heiress to the Spanish throne -- who only returned to school in Madrid on Wednesday -- will now have to observe a two-week quarantine.
The uncle of Syrian President Bashar al-Assad, businessman Mohamad Makhlouf, died from Covid-19 on Saturday, two close sources told AFP.
And in Latin America, which this week passed the milestone of eight million virus cases, worst-hit Brazil charted more than 131,000 deaths from Covid-19 as of Saturday, the second-highest in the world behind the US.
Latvia meanwhile reinstated a compulsory 14-day quarantine for arrivals from neighbouring Estonia due to an upsurge in cases there.
As It Happens
LATEST UPDATE: September 16, 2020 - 10:40am
Pharma giants Sanofi and GSK said on July 29, 2020, that they have agreed to supply Britain with up to 60 million doses of a potential COVID-19 vaccine. The agreement covers a vaccine candidate developed by France's Sanofi in partnership with the UK's GSK and is subject to a "final contract."
This thread collects some of the major developments in the search for a vaccine to ease the new coronavirus pandemic. (Main photo by AFP/Joel Saget)
September 16, 2020 - 10:40am
President Donald Trump says that a coronavirus vaccine may be available within a month -- an acceleration of even his own surprisingly optimistic predictions -- but added that the pandemic could go away by itself.
"We're very close to having a vaccine," he tells a town hall question-and-answer session with voters in Pennsylvania aired on ABC News.
"We're within weeks of getting it you know -- could be three weeks, four weeks," he says. — AFP
September 15, 2020 - 7:11pm
A China-developed coronavirus vaccine could be ready for the public as early as November, a Chinese official has told state television, as the global race to clear the final round of trials heats up.
Chinese manufacturers have been bullish about development, with companies Sinovac Biotech and Sinopharm even putting their vaccine candidates on display at a trade fair in Beijing this month.
Representatives of the firms told AFP that they hope their vaccines will be approved after phase 3 trials as early as year-end.
And on late Monday, the chief biosafety expert at the Chinese Centre for Disease Control told state broadcaster CCTV that a vaccine would be available to the general public "around November or December."
Wu Guizhen did not specify which vaccine she was referring to, but said "based on the phase 3 clinical results, the current progress is very smooth." — AFP
September 10, 2020 - 7:59pm
Drugs giant AstraZeneca says a COVID-19 vaccine could still be available by as early as the end of this year, despite a randomized clinical trial in the UK being paused.
"We could still have a vaccine by the end of this year, early next year," the company's chief executive Pascal Soriot says, adding it depended on how fast regulators moved. — AFP
September 9, 2020 - 6:17pm
EU reserves 200 million more coronavirus vaccines from Pfizer.
September 9, 2020 - 7:44am
Pharmaceutical company AstraZeneca says it has "voluntarily paused" a randomized clinical trial of its coronavirus vaccine in what it called a routine action after a volunteer developed an unexplained illness.
"As part of the ongoing randomized, controlled global trials of the Oxford coronavirus vaccine, our standard review process was triggered and we voluntarily paused vaccination to allow review of safety data by an independent committee," a spokesperson says in a statement. — AFP