Art heals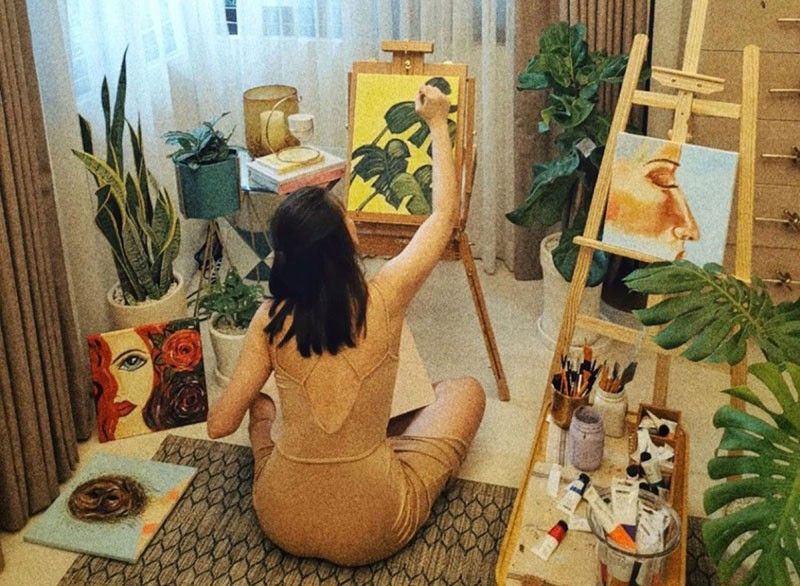 You need not create a visual masterpiece to enjoy the benefits of creating art. Much like language, art is a creative expression of our emotions, our thoughts, and our vision.
The process of creating art "reduces stress and promotes relaxation in people who are hospitalized or homebound due to illness," according to Harvard Health Publishing. They reported that many studies have confirmed that art can help people with depression, anxiety or cancer.
Art is also a good activity for everyone in the family, including seniors. A report from the Mayo Clinic Study of Aging indicated that people over 70 who did crafts had a lower risk of developing mild cognitive impairment. A German study also reported that retirees who painted and sculpted had greater improvements in spatial reasoning and emotional resilience.
In psychology, art therapy is used to promote mental and physical well-being. Experts maintain that art can help people explore their emotions, develop self-awareness, manage stress and improve self-esteem. Art therapy may involve drawing, painting, coloring, sculpting or collage.
Bea Alonzo, in a recent Instagram post, revealed to her 7.8 million followers how she tried painting and growing plants while in quarantine.
"I realized that arts and plants go very well together. It's like reading a book, you are taken to another world — a world where you are the only one allowed to enter. It's an escape," she posted. "Since I haven't been acting for quite some time now because of the pandemic, I thought I should find an outlet for my creativity. It's nice. It makes my heart happy."
Last March 25, Sharon Stone posted on Instagram a video showing her finished paint-by-the-numbers painting, which she said was her first attempt. A few weeks after, by mid-April, she posted again on Instagram her "first attempt at painting without paint by numbers." She scribbled SQ for Self Quarantine 4/2020 opposite her signature.
Pierce Brosnan always wanted to be an artist and he started as a trainee in a small studio in South London. He painted a lot of landscapes and abstracts until he attended a theater workshop and got sidetracked into an acting career.
He resumed painting in the late Eighties when his first wife became ill. "Sometimes dramatic moments affect the way you see yourself in the world. I started painting again and out came every color," he said. His first wife passed away and painting was one of his therapeutic crutches (the other being prayer).
Johnny Depp, just a few weeks ago, posted a painting he started in 2006 and vows now to continue. "It's odd, the things that we once gave such pure, intense focus and devotion to for months on end. Then suddenly the wind shifts and off we go on a new tack. I found this painting, which I had started in 2006. For 14 years, I'd never touched the painting — the occasional glance, at best. Yet, it somehow always lingered in my mind, this piece of unfinished business."
There are many more local celebrities who express their creativity and talent through painting such as Ian Veneracion, Xian Lim, Tom Rodriguez, Michael V, Heart Evangelista, Bangs Garcia, Solenn Heussaff and Maria Isabel Lopez, to name a few.
In Hollywood, Jim Carrey, James Franco, Sylvester Stallone, Bob Dylan, David Bowie, Jane Seymour and Lucy Liu are some of those who use the canvas to showcase their creativity.
Healing With The Arts, a book by Michael Samuels, M.D. and Mary Rockwood Lane, PhD, features a 12-week program that incorporates art projects, spiritual practices and guided imagery to help you heal physically, mentally, emotionally and spiritually.
Dr. Samuels has used art, guided imagery and spiritual visions with terminally ill patients for over 25 years. He personally experienced the power of art as he wrote a journal and a novel while his wife battled and eventually lost to breast cancer. Art kept him positive and allowed him to shower her with love.
Mary, on the other hand, is a professor, painter and nurse. She went through severe depression and was healed through art and spirituality. She is currently associate professor of Nursing at the University of Florida, where she teaches Creativity and Spirituality in Healthcare.
* * *
Post me a note at [email protected] or [email protected].