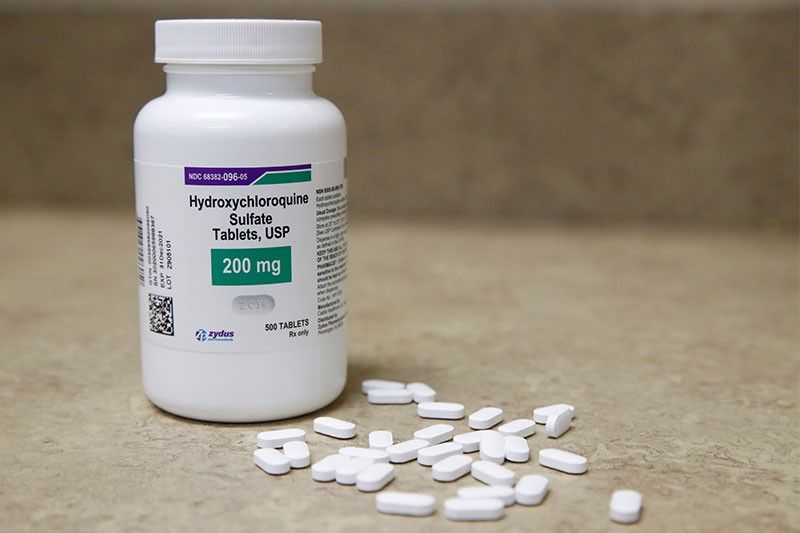 In this file photo taken on May 20, 2020 a bottle and pills of Hydroxychloroquine sit on a counter at Rock Canyon Pharmacy in Provo, Utah. The World Health Organization said on May 25, 2020 that it had "temporarily" suspended clinical trials of hydroxychloriquine as a potential treatment for COVID-19 being carried out across a range of countries as a precautionary measure.
AFP/George Frey
WHO suspends trials of hydroxychloroquine as virus treatment
Nina Larson
(Agence France-Presse) - May 26, 2020 - 8:18am
GENEVA, Switzerland — The World Health Organization said on Monday it had temporarily suspended clinical trials of hydroxychloroquine as a potential treatment for coronavirus.
The decision came after a study published in The Lancet medical journal last week suggested the drug could increase the risk of death among COVID-19 patients, WHO chief Tedros Adhanom Ghebreyesus told a virtual press conference.
Tedros said the executive group of the so-called Solidarity Trial, in which hundreds of hospitals across the world have enrolled patients to test several possible treatments for the novel coronavirus, had suspended trials using that drug as a precaution.
"The Executive Group has implemented a temporary pause of the hydroxychloroquine arm within the Solidarity Trial while the safety data is reviewed by the Data Safety Monitoring Board," Tedros said.
"The other arms of the trial are continuing."
Hydroxychloroquine is normally used to treat arthritis but public figures including US President Donald Trump have backed the drug as a virus treatment, prompting governments to bulk buy.
Trump said last week he was taking the drug as a preventative measure, but in an interview aired on Sunday on Sinclair Broadcasting he said he had completed his course.
"Finished, just finished," Trump said. "And by the way, I'm still here. To the best of my knowledge, here I am."
Brazil's health minister also recommended last week using hydroxychloroquine, as well as the anti-malarial chloroquine, to treat even mild COVID-19 cases.
The Lancet study found that both drugs could produce potentially serious side effects, particularly heart arrhythmia.
And neither drug helped patients hospitalised with COVID-19, according to the study, which looked at the records of 96,000 patients across hundreds of hospitals.
Tedros said both drugs were generally safe for patients with autoimmune diseases or malaria.
WHO chief scientist Soumya Swaminathan told Monday's briefing the Solidarity Trial had been looking only at the effects of hydroxychloroquine and not chloroquine.
The decision to suspend enrolment for trials using hydroxychloroquine was "a temporary measure", she said.
'Dangerous assumption'
The COVID-19 pandemic, which began late last year in China, has killed nearly 350,000 people worldwide and infected almost 5.5 million, according to an AFP tally using official sources.
While there is still no approved treatment or vaccine, drastic measures that at one point saw half of humanity under lockdown have pushed down transmission rates in several countries.
As many nations begin to gradually lift restrictions, the WHO stressed the need to maintain physical distancing and to scale up efforts to test and detect cases.
"All countries need to remain on high alert," WHO expert Maria Van Kerkhove said.
"The virus will take the opportunity to amplify if it can."
WHO emergencies chief Michael Ryan warned against the idea that the pandemic might move in seasonal waves.
"Making an assumption that it is on a downward trajectory, and the next danger point is some time in October or November, I think that would be a dangerous assumption," he said.
As It Happens
LATEST UPDATE: March 6, 2021 - 11:37am
Follow this page for updates on a mysterious pneumonia outbreak that has struck dozens of people in China.
March 6, 2021 - 11:37am
The US Senate broke a logjam late Friday when a centrist Democrat compromised on a key provision of the Covid relief package, setting the $1.9 trillion bill on a likely path to passage.
Democrats had struggled to keep Senator Joe Manchin's support for expanded unemployment aid in the sprawling measure, and he threatened to side with Republicans in the evenly divided chamber.
But the deal, which reduced the jobless benefits, kept Manchin on board and allowed action to resume in the Senate as it navigates toward passage of President Joe Biden's top legislative priority sometime this weekend.
Manchin, keen on more fiscal restraint than was evident in the Biden package, was flexing his political muscle, balking at an amendment that would increase weekly additional unemployment benefits from $300 to $400, and extending them through August. — AFP
March 5, 2021 - 4:02pm
The Philippines records 3,045 new coronavirus infections Friday—the highest single day rise since mid-October, pushing the country's caseload to 587,704.
The department also records 178 new recoveries and 19 more fatalities, bringing the total of survivors to 535,207 and the death toll to 12,423, respectively.
Active cases in the country are at 40,074 or 6.8% of the total cases.
March 5, 2021 - 12:49pm
The World Health Organization has scrapped plans for a team that visited Wuhan, China to probe the origins of the coronavirus pandemic to issue an interim report, The Wall Street Journal reports late Thursday.
Wuhan is the city where the pandemic is believed to have originated in late 2019.
The WHO team returned recently from its visit there saying it had no clear finding on the genesis of the virus, amid tensions between the US and China on what caused the once-in-a century global health crisis. — AFP
March 5, 2021 - 11:43am
The United States records fewer than 40,000 new cases of Covid-19 in one day for the first time in five months on Thursday, according to the Johns Hopkins University pandemic tracker.
This number peaked at nearly 300,000 new cases on January 8 in the country hardest hit by the pandemic, with more than half a million fatalities.
But now it is back down to the levels of before Thanksgiving and Christmas, when holiday travel and gatherings in defiance of safety warnings were blamed for spreading the virus further in the US. — AFP
March 4, 2021 - 9:38am
Brazil registers a record of Covid-19 deaths for the second straight day Wednesday, with 1,910 lives lost to the pandemic.
With a surge in cases currently pushing health systems to the limit in many areas, Brazil has recorded a total of 259,271 deaths, according to the health ministry — the second-highest death toll worldwide, after the United States.
"For the first time since the pandemic began, we are seeing a deterioration across the entire country," public health institute Fiocruz said before the latest figures were published.
"The situation is alarming." — AFP