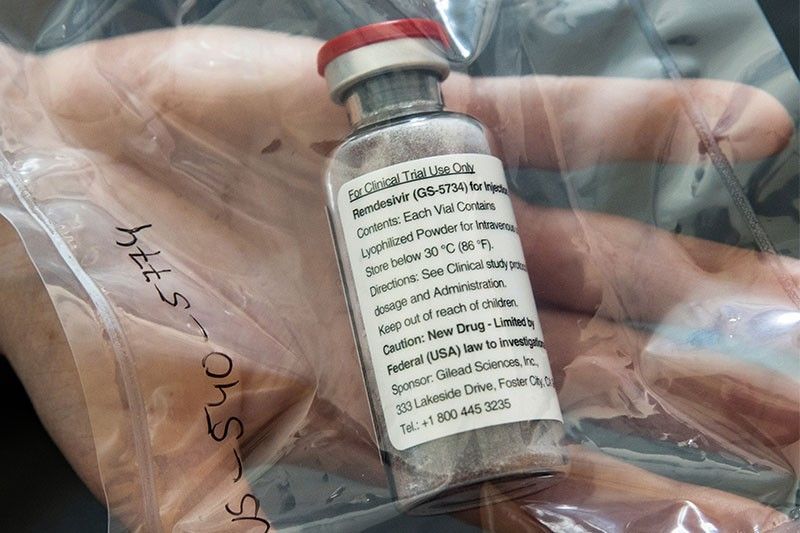 In this file photo one vial of the drug Remdesivir is viewed during a press conference about the start of a study with the Ebola drug Remdesivir in particularly severely ill patients at the University Hospital Eppendorf (UKE) in Hamburg, northern Germany on April 8, 2020, amidst the new coronavirus COVID-19 pandemic. Gilead Science's remdesivir, one of the most highly anticipated drugs being tested against the new coronavirus, showed positive results in a large-scale US government trial, the company said on April 29, 2020."We understand that the trial has met its primary endpoint and that NIAID (National Institute of Allergy and Infectious Diseases) will provide detailed information at an upcoming briefing," the company said.
AFP/Ulrich Perrey/Pool
Remdesivir: The COVID-19 drug helping patients recover faster
Issam Ahmed
(Agence France-Presse) - May 1, 2020 - 8:47am
WASHINGTON, United States — Remdesivir has been shown to speed up recovery times for patients with COVID-19 in a major US-led trial, becoming the first drug with proven benefit against the disease.
Here is what you need to know.
What is remdesivir?
Remdesivir is an experimental, broad spectrum antiviral made by US pharmaceutical Gilead Sciences that was first developed to treat Ebola, a viral hemorrhagic fever.
It showed early promise in a primate study in 2016 and was later rolled out for a major trial in the Democratic Republic of Congo, where it was compared against three other medicines.
That study concluded in 2019 when it was discontinued because it did not boost survival rates as greatly as two monoclonal antibody drugs, which are lab-engineered immune system proteins.
In February, the US National Institute of Allergy and Infectious Diseases (NIAID) announced it was dusting off remdesivir to investigate against SARS-CoV-2, the pathogen that causes COVID-19, because it had shown promise in animal testing against fellow coronaviruses SARS and MERS.
How effective is it?
The NIAID announced the results of its trial involving more than 1,000 people on Wednesday, finding that hospitalized COVID-19 patients with respiratory distress got better quicker than those on a placebo.
Specifically, patients on the drug had a 31 percent faster time to recovery.
"Although the results were clearly positive from a statistically significant standpoint, they were modest," Anthony Fauci, the scientist who leads the NIAID told NBC News on Thursday.
In other words, while it works, it's not a miracle cure.
It is however considered a "proof of concept" that could pave the way for better treatments — just as the early medicines developed to treat HIV in the 1980s weren't nearly as effective as those used today.
The results suggested remdesivir might lower mortality rates — from 11.7 percent to 8.0 percent, but this data is considered less reliable because it was above the cut-off of statistical significance.
Why have there been mixed results?
The findings from the US-led trial were announced on the same day as the results of a smaller study were published in The Lancet, which found no statistical benefit from remdesivir.
This study involved just over 200 people in Wuhan, China, and was also a randomized controlled trial — considered the gold standard for evaluating treatments.
Importantly, however, it had to be stopped early because it could not recruit enough patients, and was roughly five times smaller than the NIAID study.
"The numbers in the trial are too small to draw strong conclusions," said Stephen Evans, a medical statistics expert at London School of Hygiene & Tropical Medicine.
When might it be available?
Remdesivir has already been given to patients around the world, both in clinical trials and outside, with Gilead responding to "compassionate use requests" for emergency access.
In the United States, the Food and Drug Administration (FDA) is soon expected to issue an "emergency use authorization" which would expand its use further, prior to its formal approval.
"I was speaking with the commissioner of the FDA yesterday evening, last night, and he's moving along very quickly," Fauci said Thursday.
"They have not made a final decision yet, they have not announced it, but I would project that we're going to be seeing that reasonably soon."
Since the medicine is complex to manufacture and is administered via injection, rather than a pill, there have been questions about whether supply could initially be limited.
In an open letter published late Wednesday, Daniel O'Day, Gilead's chairman, wrote that the company currently had 1.5 million doses either finished or nearly finished.
"We had estimated that this would be 140,000 treatment courses based on a 10-day treatment duration," he said, but another trial has shown that five-day courses are as effective as ten.
This means "we can significantly increase the number of courses available, all of which Gilead has committed for donation," said O'Day.
The company is also looking into potentially developing an inhaled formulation, but hasn't given a timeline.
How does it work?
Remdesivir belongs to a class of drugs that directly attack viruses.
It is what's called a "nucleotide analog" that mimics adenosine, one of the four building blocks of RNA and DNA.
"The virus is not very careful about what it incorporates," said virologist Benjamin Neuman, of Texas A&M University.
"Viruses usually try to go fast and they trade speed for caution."
Remdesivir sneakily incorporates itself into the virus's genome instead of adenosine, which in turn short circuits its replication process.
Speaking during an earnings call Thursday, Gilead's chief medical officer Merdad Parsey said that while patients who had had symptoms for less time seemed to respond better to the medicine, there also appeared to be some benefit for those who were more critical.
This is because the virus triggers an abnormal immune reaction called cytokine storm responsible for lung injury.
"By limiting the viral replication, you're going to limit the inflammation, you're going to reduce the number of people who develop lung injury, and you're going to get them off the ventilator faster," said Parsey.
As It Happens
LATEST UPDATE: January 26, 2021 - 1:07pm
Follow this page for updates on a mysterious pneumonia outbreak that has struck dozens of people in China.
January 26, 2021 - 1:07pm
Mexico's coronavirus death toll has surpassed 150,000, the government says, a day after President Andres Manuel Lopez Obrador announced he had Covid-19.
The health ministry reports 659 more deaths in its daily update, taking the total to 150,273, behind only the United States, Brazil and India.
The overall number of infections registered now stands at more than 1.77 million in the nation of around 128 million, an increase of 8,521 from the previous day. — AFP
January 26, 2021 - 11:41am
Thousands of Australians defy coronavirus rules to protest the country's national day, held on the anniversary of British colonization of the vast continent that its Indigenous population brands "Invasion Day".
Officially recognized as Australia Day, January 26 also sees annual rallies drawing attention to the injustices faced by Indigenous people and calling on the government to change the date of the national holiday.
The celebration of the origins of the modern nation is a time of mourning for Indigenous Australians, who have inhabited the land for 65,000 years and view the arrival of British settlers in 1788 as the beginning of two centuries of pain and suffering.
Thousands of people gathered at a central Sydney park in defiance of police threats of fines and arrests for breaching a 500-person limit on gathering in public places, though organizers called off a march through the city that usually follows. — AFP
January 26, 2021 - 7:38am
The Netherlands was hit by a second wave of riots Monday evening, as protesters again went on the rampage in several cities following the introduction of a coronavirus curfew over the weekend.
Riot police clashed with groups of protesters in Amsterdam as well as the port city of Rotterdam, where people smashed shop windows and ransacked their supplies.
The unrest also hit Amersfoort in the east, the small southern city of Geleen near Maastricht, The Hague and Den Bosch, police and news reports said.
More than 70 people had been rounded up by 2200 GMT, public newscaster NOS reported.
Geleen police said in an earlier tweet that they were dealing with "rioting youths who are throwing fireworks". — AFP
January 25, 2021 - 2:17pm
New Zealand's first case of coronavirus in the community for more than two months has been identified as the more contagious South African variant, prompting Australia to suspend quarantine-free travel from the neighbouring country for at least 72 hours.
A 56-year-old New Zealander, who recently returned from Europe, tested positive on Saturday to the infectious strain, 10 days after she completed her compulsory two weeks in isolation.
New Zealand has been widely praised for its handling of the pandemic, with just 25 deaths from 1,927 confirmed virus cases in a population of five million. — AFP
January 25, 2021 - 1:05pm
Hong Kong lifted its first neighbourhood coronavirus lockdown on Monday morning after testing some 7,000 people and finding 13 cases as debate swirled over the efficacy of the move.
Over the weekend police moved in to seal off a poor and densely populated neighbourhood of about 150 apartment blocks where coronavirus clusters had sprung up in recent weeks.
Officials went door to door conducting mandatory tests and found 0.17 percent of those tested had the virus.
Some community and business leaders were critical of how the lockdown was carried out.
But officials defended the move as proportionate and said they would not rule out similar neighbourhood lockdowns. — AFP