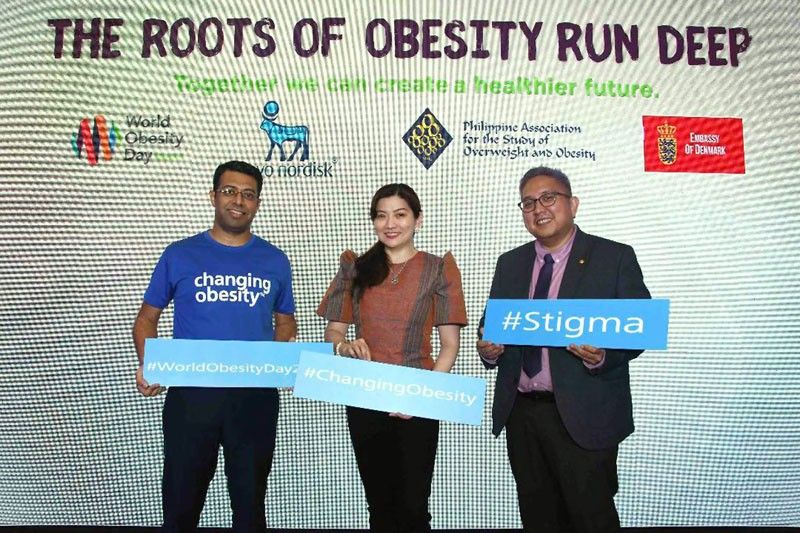 Breaking the stigma against obesity: (From left) Dr. Ahsan Shoeb, Novo Nordisk Philippines head of Clinical, Medical and Regulatory, Quality and Pharmacovigilance, Dr. Mia Fojas, president of the Philippine Associate for the Study of Overweight and Obesity (PASOO) president and Dr. Cyrus Pasamba, Novo Nordisk senior medical manager
Obesity is a chronic disease: here's how to fight it
What we thought as a mere cosmetic problem is actually responsible for 2.8 million deaths every year around the globe. And before we lose someone dear to us to this modern-day plague, it's time to rethink what we know about this chronic disease obesity.
Obesity is something we've neglected for far too long. And before we knew it, about 650 million adults and 150 million children live with it.
In the Philippines alone, three out of 10 adult Filipinos are overweight and obese. And based on the recent National Nutrition Survey, it was revealed that the prevalence of obesity increased from 20.2 percent in 1998 to 37.2 percent in 2018. And it's something we should look into because obesity paves the way for future diseases like cardiovascular disease, high blood pressure, sleep apnea, certain cancers, diabetes and depression.
"Most Filipinos aren't aware that obesity is a chronic disease," shares Dr. Mia Fojas, president of the Philippine Association for the Study of Overweight and Obesity (PASOO). "It impairs your body's normal function."
Studies show that 40 percent of people living with obesity experience judgment and humiliation, making them feel ashamed and afraid to ask for help.
The root causes of obesity run deep
We live in a society where physical appearance is given more value, and many people who suffer from obesity are constantly shamed and blamed for their disease. This is because many people — including doctors, policy makers and others — do not understand that obesity is a chronic disease. They see it as a simple lack of willpower, laziness, or a refusal to "eat less and move more."
It's time to break the vicious cycle of shame and blame directed towards people suffering from obesity.
This was the resounding clamor of multi-sectoral groups pushing for a better understanding of obesity, which impacts around 650 million people around the globe, during the observance of World Obesity Day last March 4 at Grand Hyatt Hotel in BGC, Taguig.
"Obesity is a complex and chronic disease that has deeper roots," explained Dr. Fojas.
The causes can be genetic, psychological, sociocultural, economic and environmental.
"For example, people living in the Middle East used to believe that when you're big, it means you're rich," shared Dr. Fojas. "There are just so many misconceptions about obesity, like the fatter the child is, the cuter. When in fact, leaner children are healthier."
One's environment and culture also play a significant role in our diets. Filipinos love to eat during celebrations and tend to consume a lot of carbohydrates in the form of rice and pancit.
The sexual orientation of an individual also matters. "Women have more fat because we are created to be able to reproduce. However, when we reach menopause, that's the time when everything slows down, so we burn calories much less. It's quite easy for men to lose weight because they have more muscle," added Dr. Fojas.
According to the World Health Organization (WHO), obesity is the abnormal or excessive fat accumulation in the body that elevates the risk of common non-communicable diseases such as type 2 diabetes, cardiovascular disease, hypertension and stroke, and various forms of cancer.
Dr. Fojas cited the current prevalence rate at 31.1 percent, meaning three out of the 10 people are either pre-obese or obese based on their Body Mass Index. A measure of nutritional status, BMI is calculated based on the person's weight in kilograms over their heart in meters squared.
Asians follow a specific BMI guideline with lower cutoff point: 23 to 24.9 BMI is pre-obese, while 25 and above is obese.
"An elevated BMI increases a person's risk for a number of non-communicable diseases," noted Dr. Fojas. And since obesity is now considered a chronic disease, I asked Dr. Fojas if people who suffer from obesity come to her clinic for treatment.
"Sadly, they don't," lamented Dr. Fojas, who is an endocrinologist. "They come to me when it's already too late. Meaning, when they already have diabetes and other chronic illnesses."
People who suffer from obesity don't pay enough attention to the underlying health risks of being obese.
"Don't just aspire to look good physically, aim to be healthy," Dr. Fojas added.
And the first step is lifestyle therapy. It's time to positively alter your lifestyle by being mindful of the food you eat, by exercising regularly, getting enough sleep and avoiding stress.
It is also vital for family members and friends to avoid blaming them for being obese.
"Being obese isn't entirely the patient's fault," noted Dr. Ahsan Shoeb, head of the Clinical, Medical and Regulatory, Quality and Pharmacovigilance, Novo Nordisk Philippines. "Instead, support them in their weight-loss journey."
While obesity is manageable, treatment is anchored on lifestyle modification and behavioral therapy, as needed, with limited medical options. Weight regain remains a challenge in attempting weight loss and it can be addressed with professional medical care.
For those with BMI above 27 and have obesity-related complications, and 30 above with our without complications, doctors may recommend anti-obesity medication in addition to lifestyle therapy. Weight-loss surgery may also be an option for patients with a BMI of 40 and above and also have obesity-related complications.
Driven by its dedication in addressing the significant unmet needs in obesity and tackling the barriers to effective care, Novo Nordisk recognizes the importance of fostering empathy and respect towards patients.
The company goes beyond developing medicines that target weight loss. It also strives to advocate patient rights to respectful and evidence-based care and support as well as assist healthcare practitioners to learn more about their role in treating obesity with evidence-based non-stigmatizing, person-centered approaches.
"Five to 10 percent weight loss in 12 weeks at least may help reduce the risk of obesity-related complications. With proper diet, exercise and medications, we can reduce the risk of obesity-related complications," shared Dr. Fojas. "The roots of obesity run deep. It's very complicated. But if we all work together, we can create a healthier future for everyone."