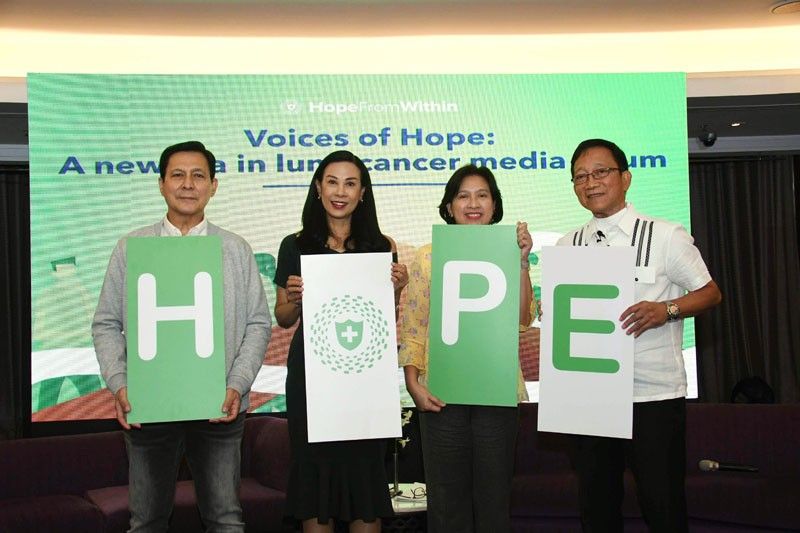 Hope From Within ambassador and lung cancer survivor Tirso Cruz III, Hope From Within ambassador and cancer patient caregiver Susan Africa, Lung Cancer of the Philippines oncology section head Dr. Guia Ladrera and New Vois patient group president, engineer Emer Rojas
Lung cancer survivor Tirso Cruz III on fighting the Big C
Veteran actor Tirso Cruz III looked at death in the eye and came out triumphant.
The actor, who admitted he used to drink and smoke a lot, was diagnosed with stage 2 lung cancer in 2014.
"As an actor, we work more than the prescribed working hours. The nature of our job is unhealthy," he shared. "Also, we work hard and party harder," he shared.
Little did he realize that his unhealthy lifestyle was already taking a toll on his body. "I had a persistent cough, but dismissed it as a smoker's cough," Tirso said.
And since our lungs are huge, you wouldn't feel that something's wrong until the mass (tumor) is already big.
"Unfortunately, when you start to feel the pain and there's blood in your sputum, that means the disease is in its advanced stage already," Tirso shared.
Thank goodness, Tirso's lung cancer was detected early on (stage 2). He initially didn't want to have a checkup, but his son Bodie Cruz encouraged him to do so.
"Bodie kept on dreaming about a passage in the Bible," related Tirso.
The young Cruz was trying to equate it to his life, but soon realized it was for his father. So Bodie talked to his mom Lynn about it and said: "I think the Lord is sending this message not for me, but for Papa."
That's why when Lynn prodded him to have a checkup, Tirso followed his commander's advice like a dutiful soldier.
"By God's grace, I found out what I feared. The biopsy and CT-scan results showed there was a lump in my lungs," Tirso related. "When the doctor confirmed it, I went on battle mode right away and discussed with doctors the possible treatments."
It was Tirso's wife Lynn who took the blow the hardest. "She broke down in tears and was in denial at first. But, of course, we had to go through this trial together and slowly, she was able to compose herself and become a much stronger person than I am," enthused Tirso.
In September 2014, Tirso went through surgery and rounds of treatment as well.
Last year, the veteran actor was declared cancer-free.
Don't rely much on 'Dr. Google'
Tirso shared his cancer journey to inspire cancer survivors and their caregivers not to give up the fight during the cancer forum organized last Thursday by Hope From Within, a multi-stakeholder advocacy program led by MSD Philippines.
Held at Manila Diamond Hotel, the forum focused on the increasing prevalence of lung cancer in the Philippines, and the stronger chance of survival for patients, caregivers and medical professionals to combat and win over cancer.
In 2018, the International Agency for Research on Cancer recorded 18.1 million new cases of cancer and 9.6 million deaths worldwide, with over 80,000 people of those deaths occuring in the Philippines. This alarming statistic puts cancer as a top healthcare burden, not just locally but also worldwide.
The event highlighted that despite the overwhelming statistics, Filipino cancer patients and their loved ones can have a stronger fighting chance, starting with "not relying much on Dr. Google."
"For a life-threatening disease like lung cancer, you need to consult with your physician," advised Dr. Herdee Luna, multimedia associate of the Philippine Society of Medical Oncology. "I am firm in not resorting to Google for self-diagnosis and symptom finding because you might be putting yourself under unnecessary stress, anxiety and confusion that might arise from that navigation. You need a specialist to help you navigate that important information."
Cancer is no longer a death sentence
"Cancer is no longer a death sentence but an awakening for everyone (the patient and caregiver) who has gone through and survived it," shared Tirso. "Lung cancer is a silent killer, so listen to your body more."
So when cancer is presented in front of you, what should you do?
"You cry a little, but you have to face reality and the changes right away," said seasoned actress Susan Africa, whose husband Spanky Manikan succumbed to the disease a few years back. This doting wife and caregiver proved to Spanky that "in sickness and in health, till death do us part."
With a multi-stakeholder approach of doctors, researchers, government regulators, community members and advocates working together, cancer mortality can be lowered.
At the center of the new era of cancer care and management are breakthrough novel treatment options like immunotherapy and targeted therapies. These options were proven to prolong the survival and quality of life of many patients with advanced lunger cancer.
And with new mandates like the new National Integrated Cancer Control Act (NICCA), diagnosis, care, and treatments can be made more accessible to Filipino cancer patients regardless of the type and stage of their disease.
Under the NICCA, the government's cancer care facilities will be expanded to include the development of a Philippine Cancer Center and regional cancer centers, and will broaden PhilHealth benefits to inlcude, not only treatment but also screening, rehabilitation, pain management and palliative care.
The law will also grant cancer patients and survivors 20-percent discount on medicines and maintenance drugs, among other benefits under the Magna Carta for Disabled Persons. Until the law is fully implemented, patients and caregivers can avail of financial assistance provided by DOH, DSWD and the PCSO.
The "Voices of Hope: a new era in lung cancer" was hosted by Hope From Within, an advocacy program led by MSD Philippines.
The program is aligned with its corporate anthem, "Inventing for Life," which encapsulates the company's vision and efforts towards invention and innovation to help address some of the world's most life-threatening diseases like lung cancer.
These innovations and inventions aim to utilize world-class science to provide quality medical solutions, and likewise spearhead and strengthen multi-sectoral collaboration to broaden the reach of healthcare with the goal of improving patient outcomes and saving more lives.