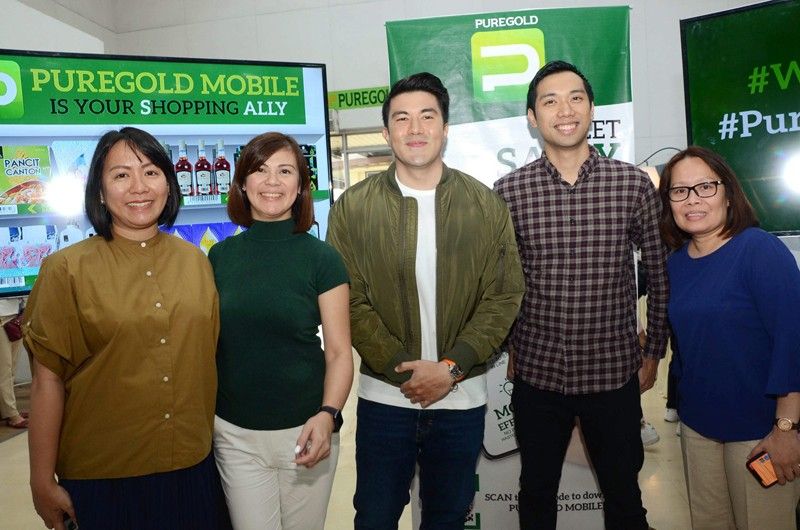 Puregold senior manager for marketing Ivy Piedad, Globe Telecom senior account manager Glenise Apolto, Luis Manzano, Globe business development manager Roy Baviera, and Puregold senior manager for merchandising and marketing services Jenny Jacintos
Meet SALLY, your virtual GROCERY shopping ally
If you're one of those commuters (like me) who got intrigued by giant billboards that read, "SALLY, where are you?" "Has anyone seen SALLY?" and "Help, me SALLY," while stuck in traffic along EDSA, C5 and in Commonwealth and eventually joined the "manhunt," the search is finally over. I personally met SALLY just last week and I wasn't surprised why everyone's excited to meet "her."
So who, exactly, is SALLY?
"SALLY is everyone's shopping alalay," said Antonio delos Santos, vice president for operations of Puregold, at the launch of Puregold's mobile app that takes the grocery-shopping experience to the next level.
SALLY is a coined term for Shopping Ally. This is what the newly launched Puregold Mobile app stands for. Designed by Globe Telecom, the app is aimed at adapting to consumers' evolving needs and makes their lives easier.
"With all that's going on in our lives, we've become masters of multi-tasking," Delos Santos said. "We juggle several things at the same time and this has become an acquired — if not a required skill. The quest to find a solution to make our lives easier continues on a daily basis. We need to keep up with the times or else we fall behind."
And so we keep asking ourselves, is there a better way to do things?
When it comes to grocery shopping, Puregold believes that there is always a better way.
Introducing Puregold Mobile, an app that makes cart-less grocery shopping possible.
"Puregold has been known for its endless desire to bring the best to all our shoppers with programs like Tindahan ni Aling Puring, Kaindustriya, Perks and a multitude of unique store promotions," added Delos Santos.
Puregold is also on the lookout for the next big shopping innovation. And with digital trends becoming the norm, Puregold steps up and keeps its pace with technological advancements to offer a better and easier way to shop.
App, App and Away
Puregold Mobile acts as your virtual assistant, "an alalay or ally that will stand by you."
Just download the Puregold Mobile app on your mobile phone and you're good to go.
Just click the items you need on the list, put it in your shopping cart, pay and inform SALLY (through the ASK SALLY in-app chat) the pickup time.
Using the app allows you to shop at your convenience — during office breaks, while stuck in traffic, even while having your nails done at the salon — and skip the long lines in the cashier checkout.
Or, if you're physically in a Puregold store, all you have to do is scan the barcode of the items that you want to purchase. When you're done, await confirmation.
"The assigned pickers and baggers will put together your basket, while you wait. Or you can come back to pick up at a later time. The app gives you the convenience to do other things instead of hauling around a cart and falling in line," explained Jenny Jacintos, Puregold senior manager for merchandising and marketing services.
The app is perfect not just for busy moms and people who are always on the go but also sari-sari storeowners.
"Another feature of the app is that you can reorder products from the Order History," added Jacintos. "This is ideal for all negosyantes or SMEs who need to replenish stocks."
You can also get real-time responses about order status and other grocery-related inquiries through the ASK SALLY in-app chat.
Puregold Mobile also offers flexible payment methods. You can choose to pay cash at the store or use your credit/debit card. GCASH option is also available since Puregold Mobile is powered by Globe Telecom.
"Puregold has always been a tremendous partner of Globe Telecom for over 10 years now," enthused Ernest Cu, president and CEO of Globe Telecom. "The openness of Puregold to chart out innovations truly makes the experience of the consumers better. And we're proud to help make Puregold the most digital retail supermarket operation in the country today."
Puregold Mobile, poised to be the Shopping Ally or SALLY, is a scan-and-pay app that simplifies grocery shopping.
Aren't you glad you've met SALLY?